Presented by: HarperCollins, New Harbinger Publications, New World Library, Simon & Schuster, Severn House, and Library Journal
Event Date: Wednesday, February 9, 2022
Are you wondering what you'll be reading this spring? Join this webcast to hear about the latest big-buzzing books that you won't want to miss! Publishing insiders will present their favorite forthcoming can't-put-down titles, from mysteries and feel-good escapism to spirituality and hot-button nonfiction.
Here are just a few of the upcoming titles to be featured...
Jameela Green Ruins Everything by Zarqa Nawaz - For fans of Where'd You Go, Bernadette? and My Sister, the Serial Killer, Jameela Green Ruins Everything is a whip-smart black comedy about the price of success, and a biting look at what has gone wrong with American foreign policy in the Middle East. It is a compulsively readable, yet unexpectedly touching novel about one woman's search for meaning and connection, and about the lengths we go for those we love.
Living Untethered: Beyond the Human Predicament by Michael A. Singer - It's time to let your spirit soar! From world-renowned spiritual teacher Michael A. Singer—author of the #1 New York Times bestseller, The Untethered Soul—this highly anticipated, timely, and transformative guide offers a crucial reminder that true inspiration, fulfillment, and joy exist within each and every one of us, and provides a clear path to understanding ourselves and finding unconditional happiness—every day.
The Dharma Bum's Guide to Western Literature: Finding Nirvana in the Classics by Dean Sluyter (pronounced 'Slighter') - Some of us were lucky enough to have one passionate, funny, inspiring English teacher who helped us fall in love with books. Add a lifetime of teaching Dharma — authentic, traditional approaches to meditation and awakening — and you get award-winning author Dean Sluyter.
Sluyter's habit of finding enlightenment in unexpected places started at the age of twelve, when Mad magazine triggered his first glimpse of deep transcend- ence. He went on to discover how "Eastern" spirituality — the light of nirvana — illuminates all the big questions of birth and death, hope and despair, love and fear that Western literature explores.
With droll humor and irreverent wisdom, the Guide unpacks the Dharma of more than twenty major writers, from Shakespeare to Dr. Seuss. It will inspire readers to deepen their own spiritual life and see literature in a fresh, new way: as a path of awakening.
The Candy House by Jennifer Egan - From one of the most celebrated writers of our time, a literary figure with cult status, a "sibling novel" to her Pulitzer Prize- and NBCC Award-winning A Visit from the Goon Squad—an electrifying, deeply moving novel about the quest for authenticity and meaning in a world where memories and identities are no longer private.
What We May Become by Teresa Messineo - In 1945 secrets hidden at an Italian estate could prove just as vital to humanity's fate as the war efforts on the frontlines . . . if nurse Diana Bolsena can get to them first. A meticulously researched and plotted historical mystery set during World War II featuring a heroic American Red Cross nurse.
Presenters:
Lainey Mays, Library Marketing Associate, HarperCollins Publishers
Margo Beren, Sales Manager, New Harbinger Publications
Monique M. Muhlenkamp, Publicity Director, New World Library
Joanne Grant, Publisher, Severn House
Melissa Croce, Marketing Manager, Education & Library, Simon & Schuster
Moderator:
Barbara Hoffert, Editor of Prepub Alert, Library Journal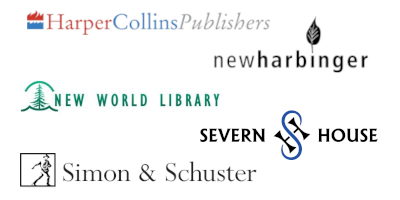 Follow us on Twitter! @LibraryJournal #LJPrePub
Need help getting registered? Send us an email describing your problem.