Presented by: Library Journal
Event Date: Tuesday, April 19, 2022
With countless new titles in every conceivable genre, read by A-list voice talent and recorded with top notch production, today's audiobooks are more popular and more compelling than ever. Join Library Journal and publishing insiders from Blackstone Publishing, Dreamscape Media, and Macmillan Audio for this showcase of some of the best new audiobook titles coming your way this spring.
Here's a sneak peak at some of the titles we'll be featuring...
Finding the Other Woman by Cole Baxter, narrated by Jennifer Jill Araya
All Amelia has been told about the missing four years of her life is that her husband Carl found her after the car accident that killed her father, and they lived in the city together before moving to the suburbs.
She has no reason to question his story, but she knows Carl, and she can tell he's holding something back. When he cries out in his sleep for Emily, she suspects he had an affair during her missing time and is trying to hide it from her.
When flashes of memories begin to return, Amelia knows she can't sit back any longer. But once she opens the floodgates, the truth is more twisted than she ever could have imagined.
The Book of Night by Holly Black, narrated by Sara Amini
Charlie Hall has never found a lock she couldn't pick, a book she couldn't steal, or a bad decision she wouldn't make. She's spent half her life working for gloamists, magicians who manipulate shadows to peer into locked rooms, strangle people in their beds, or worse. Gloamists guard their secrets greedily, creating an underground economy of grimoires. And to rob their fellow magicians, they need Charlie.
Now, she's trying to distance herself from past mistakes, but going straight isn't easy. Bartending at a dive, she's still entirely too close to the corrupt underbelly of the Berkshires. Not to mention that her sister Posey is desperate for magic, and that her shadowless and possibly soulless boyfriend has been keeping secrets from her. When a terrible figure from her past returns, Charlie descends back into a maelstrom of murder and lies. Determined to survive, she's up against a cast of doppelgängers, mercurial billionaires, gloamists, and the people she loves best in the world — all trying to steal a secret that will allow them control of the shadow world and more.
God, Family, Country by Craig Morgan
Country music icon, army veteran, father, outdoorsman—Craig Morgan shares all aspects of his life, revealing stories even his most avid fans don't know.
In 1989, as US news outlets declared an end to Operation Just Cause, Craig Morgan was part of an elite group of military operatives jumping into the jungle along the Panamanian border on a covert operation. Fans know the country music star from his hit songs and acclaimed albums, but there's a lot more to him—a soldier who worked with the CIA in Panama, an undercover agent who fought sex traffickers in Thailand, and a dedicated family man who lives the values he sings.
Craig details these many facets of his life and more in God, Family, Country. An on-stage appearance with his father's band at age ten may have planted the seeds for life as a country star, but first he trained as a paratrooper in the army. After earning numerous distinctions, his path to sergeant major was all but assured. Then came a momentous decision: he left the active military to pursue music.
With unwavering support from his wife and a pack of part-time jobs, he toughed out the lean years and achieved his first success with the poignant ballad "Almost Home." Other hits soon followed, from party songs like "Redneck Yacht Club" to the soul-rending "The Father, My Son, and the Holy Ghost." Born from the anguish of his son Jerry's passing, the song's tribute has consoled and inspired millions across the world.
Duty to country has been a constant throughout his life and globe-spanning career. In 2006, as "That's What I Love about Sunday" topped country radio charts, Craig was riding in a convoy of Humvees in Iraq. An avid outdoorsman, a former sheriff's deputy who's still a member of the auxiliary, and always a husband and father first, Craig Morgan will inspire you with his life lived by the deepest values: God, family, country.
Presenters:
Anne Fonteneau, Chief Sales Officer, Blackstone Publishing
Jolene Barto, Marketing Executive, Dreamscape Media
Samantha Edelson, VP of Marketing, Macmillan Audio
Sponsored by: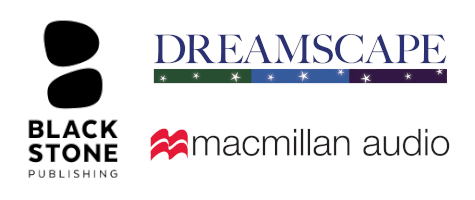 Follow us on Twitter! @LibraryJournal #LJAudioBooks
Need help getting registered? Send us an email describing your problem.