Presented by: Harvard Business Review Press, HarperCollins Leadership, Ideapress, and Bard Press and Library Journal
Event Date: Thursday, October 27, 2022
Business books are always useful, guiding readers in times of boom and bust. Whether they help us better understand the current economic landscape or show readers how to plan for the future, whether they offer a guide to finding success in business or to wrestling your life back from it, these titles will appeal to a broad array of patrons. Join us to hear about some of the most compelling business titles for general readership coming this fall and spring from Harvard Business Review Press, HarperCollins Leadership, Ideapress, and Bard Press.
Cupcake Sweepstakes!
During their presentation, HarperCollins Leadership will discuss the upcoming release from Sprinkles Cupcakes Founder Candace Nelson, Sweet Success: A Simple Recipe to Turn Your Passion into Profit. Attend the live webcast on October 27, 2022 to be entered for a chance to win a dozen free cupcakes! (See Official Rules here)
Featured Titles:
Leading Through Inflation
by Ram Charan
(Ideapress Publishing, November 29, 2022)
Inflation is here. Do you know how it's impacting your company?
It's not just a matter of rising costs. Inflation eats cash, squeezes margins, threatens working capital, and throws all your great forecasts and plans into question. Its effect is cumulative and pervasive.
Yet this period of economic discontinuity is a huge opportunity to come out stronger for those who know how to lead in the face of inflation and a looming recession.
Ram Charan has guided hundreds of companies through many tough business challenges. In the early 1980s, he helped GE preserve its teetering credit rating in the face of double-digit inflation. Now, in Leading Through Inflation, he brings the same common sense and wisdom that made his book Execution, coauthored with Larry Bossidy, a long-time New York Times bestseller.
When Everyone Leads: How The Toughest Challenges Get Seen and Solved
by Ed O'Malley and Julia Fabris McBride
(Bard Press, January 31, 2023)
Leadership is not about authority and position.
Leadership is actually an activity—small actions taken in moments of opportunity. That mean everyone can lead.
And when everyone leads, we make progress on our most important challenges.
It All Adds Up: Designing Your Game Plan for Financial Success
By Devon Kennard
(HarperCollins Leadership, April 18, 2023)
NFL linebacker and investor Devon Kennard grants access to his master plan for financial freedom to encourage the Black community to build wealth for today and future generations.
Good Power: Leading Positive Change in Our Lives, Work, and World
By Ginni Rometty
(Harvard Business Review Press, March 3, 2023)
One of the world's most respected leaders, former IBM CEO Ginni Rometty overcame childhood and financial struggles to embark on a groundbreaking career that took her from entry-level engineer to eight years as the first woman CEO of an iconic global company.
Forty years in business and public advocacy taught Rometty the transformative power of leadership that blends authenticity, relationships, and curiosity with vision, rigor, and conviction. In her personable yet direct voice, Rometty reveals experiences that taught her how to orchestrate change for clients, companies, and communities. Her lessons and stories offer a blueprint for how we can all drive meaningful change in positive ways—a concept she calls "good power."
Good power is a purposeful, practical approach to problem-solving, available to anyone, at any time. It's a choice.
The book begins with raw, vivid memories from Rometty's youth and early professional life as she reflects on the trauma and role models that influenced how she later thought about good power.
Rometty then shares how she strived to use good power during her career and as a transformative CEO. Five principles—be in service of many stakeholders, build belief among skeptics, make tough choices, champion tech ethics and inclusion, be resilient—show how to navigate tension and build trust on the path to real change.
Inspiring and edifying, Good Power offers a new approach to change that our world needs now.
Presenters:
Todd Sattersten, Publisher, Bard Press
Sicily Axton, Director of Marketing, HarperCollins Leadership
Josh deLacy, Marketing Manager, HarperCollins Leadership
Briá Woods, Digital Strategy Manager, HarperCollins Leadership
Julie Devoll, Director of Marketing and Communications, Harvard Business Review Press
Erika Heilman, Commercial Director and Associate Publisher, Harvard Business Review Press
Rohit Bhargava, Founder & Chief Trend Curator, Ideapress Publishing
Sponsored by: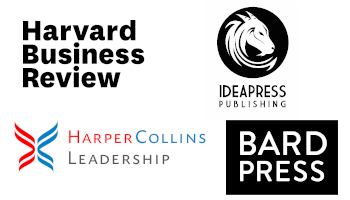 Follow us on Twitter! @LibraryJournal #LJBusinessBooks
Need help getting registered? Send us an email describing your problem.