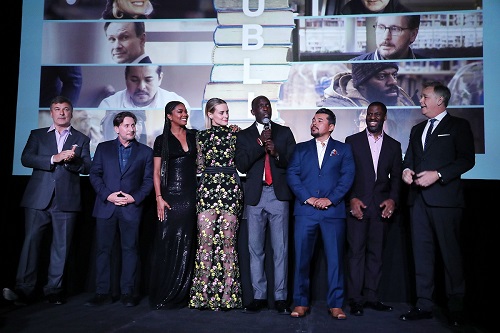 Emilio Estevez's new film The Public, which puts the challenges and ideals of a large urban public library in the spotlight, held its premiere April 1 at the New York Public Library. Fans from both the film and library worlds packed the Celeste Bartos Forum, where NYPL president and CEO Anthony Marx introduced Estevez and members of The Public 's cast, many of whom had a shout-out or two for libraries.
A solid playbook for managers overseeing all types of projects. Those who have struggled with this skill in the past, as well as those new to it, will find this title invaluable.
Viewers concerned about the environment and democracy in developing nations will be strongly disturbed by this horrific situation.
The true story of mutiny on the high seas in 1787 benefits from a new perspective taken by scriptwriter Robert Bolt (
Lawrence of Arabia
) and New Zealand director Roger Donaldson (
Smash Palace
)...
A totally engaging series filled with unconventional characters and amusing situations; an A+ choice for public libraries.
Featuring a who's who of British performers and a smattering of lesser-known but gifted American ones, Robert Altman's tongue-in-cheek comedy of manners laced with a period murder mystery à la Agatha Christie plays like a trial run for scripter Julian Fellowes's subsequent
Downton Abbey
...
This fascinating look at an important but poorly understood country reveals the gulf that lies between the government's harsh anti-American rhetoric and the feelings of ordinary Iranians. Highly recommended.
A valuable resource for students as well as an entertaining addition to Caine's previous autobiographies
What's It All About?
? and
The Elephant to Hollywood
.
Rape may be difficult to talk about, but we need to, Abdulali says. Especially when "we raise our children with such unclear standards that they don't have the tools to recognize rape when they see it." ["Guaranteed to become an important part of the canon on gender studies and sexual assault":
LJ
12/18 starred review of the New Pr. hc.]