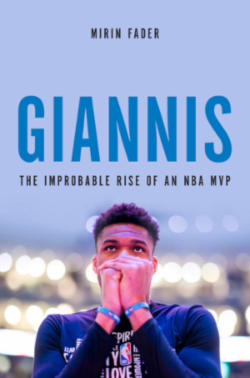 Though the narrative is occasionally slowed by an overabundance of detail, the depth of Fader's research and the uniqueness of Antetokounmpo's story make this a compelling read. Basketball fans will love it all, especially with Giannis becoming a star player for the Milwaukee Bucks.
A beautiful meditation on the author's lifelong connections with nature and running, and the inevitable end of those relationships. Readers who enjoyed Heinrich's other books will find, and welcome, the familiar themes of his extraordinary life.
An insightful book about the wide-reaching effects of Kaepernick's protests. This book is highly recommended and is necessary reading for all, especially those who want to make a difference in promoting social justice, equity, and inclusion, and end police brutality.
This comprehensive portrait will thrill tennis fans and will also draw in and capture readers unfamiliar with Federer or professional tennis. An essential addition to sports and biography collections.
Fans of Gracie's fights, practitioners or fans of martial arts, and those interested in the evolution of Gracie Jiu-Jitsu will find excellent insight here.
Over 50 years after he first covered these games, Montville gives basketball fans a book they won't want to put down.
A must-read for its in-depth look at the mental, economic, and political tribulations of NBA players. A good complement to Ben Golliver's Bubbleball that will give readers a full understanding of the struggles and dynamics of the 2019–20 NBA season.
As surfing will make its Olympic debut in 2021, this book's eye-catching cover and well-organized history make it an outstanding choice for sports and surfing aficionados. Recommended for public library sports collections, especially in areas where surfing is popular.
A wonderful read from start to finish. Fans of Sabathia, and baseball in general, will love this honest memoir.