Overall, a rare glimpse into American gothic from an African American perspective.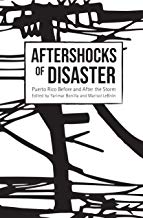 For specialists, academic libraries, and those interested in a broader and deeper understanding of the impact of Maria on Puerto Rico; recommended for teen and adult readers interested in Puerto Rican history and the effects of colonialism; particularly important to readers with a connection to Puerto Rico
Theobald's use of oral histories and interviews with Native women makes for an intimate, affecting exploration of resilience under assimilationist pressures.
Using an array of resources from primary sources such as local newspapers and secondary sources written both then and now, Kierner presents an in-depth, well-researched and persuasive thesis for the beginning and eventual continuation of a cultural mind-set that has remained fairly intact since the 19th-century. Even with its academic presentation, this should be enjoyed by readers who appreciate disaster histories.
Crucet's well-written essays are entertaining and accessible, without letting readers or the author herself off the hook for reflecting on and addressing cultural issues. Strongly recommended for all readers.
One of America's most controversial policies as seen through the career of one of its most outspoken advocates; an essential read.
Provocative in its review of and reflections on race and racism amid continuing de facto segregation, this work argues that personal identity does not exist as a checked box. It promises to appeal to readers willing at least to consider unlearning race so as to imagine a future without it and advance his vision of a multigenerational transformation of social repair.
Though it might have been more effective at half the length, this is an important contribution to the debate on economic inequality and of note to policymakers, activists, and scholars.
A fascinating, lyrical, wide-ranging work sharing thoughts on past and present that will appeal to a wide range of readers, including those interested in memoirs and reflections on the world around us.