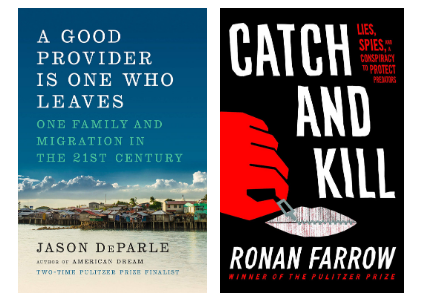 Deep dives into contemporary issues of mass incarceration, gun violence, systemic injustice. The best social science books published in 2019.
While many of the most shocking incidents discussed here are public knowledge, the significant new material and the book's usefulness as a single-volume source on the topic make this not only a critical current read but one likely to become even more important in the future.
A compelling accounting of the events that helped ignite Me Too. Highly recommended for readers interested in social justice and the reporting process.
Rivers were once the major highway systems of this country and Hildebrand's rediscovery of this history feels so foreign to the point of near exposé. A must for Wisconsinites, but a recommended journey for socioculturalists in general.
Plenty of food for thought for all educators and parents preparing their children for future success.
A helpful and perspective-giving tool for anyone who is wading through tragedy and in need of support and inspiration.
At just 100-plus pages, this breezy but impactful read provides concrete ideas for teaching children healthy ways to deal with anger.
Parents and caregivers of autistic children and teens will find this work offers sensible and realistic ideas that apply to all areas of a child's life.
Those looking for inspirationally based advice will appreciate Willis's suggestions on subjects as current as the headlines.