Healy might never quite get to the bottom of America, but his thoughtful storytelling provides a funny and honest peek into a life-changing quest most people will never experience firsthand, making it appealing for hiking enthusiasts and couch potatoes alike.
Davis's subtle take on a major philosophical question is an efficient and affective read for anyone struggling to find purpose in trying times.
A new story existing in Gaiman's Sandman Universe, this ongoing series, cowritten by Nalo Hopkinson (Midnight Robber) and Dan Watters (24 Panels; Limbo), collects the first story line in a delightfully dark magical adventure that credibly utilizes the wonderful Americana of mythic New Orleans as the enchanted setting.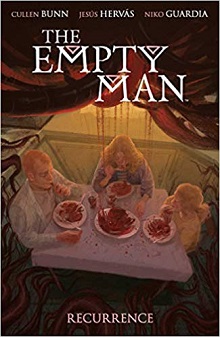 Veteran scribe Bunn (Harrow County), with artist Hervás (Lucas Stand) and colorist Guardia, brings dense plotting and chilling body-horror imagery in this gripping first installment of an ongoing series that metaphorically uses social media as a strange virus metastasizing terror.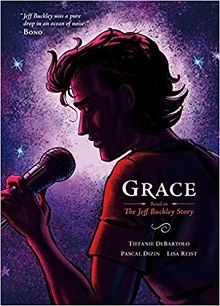 Passion and sincerity make this take on Buckley's tale stand out--just as with Buckley's music. Recommended not just for Buckley enthusiasts but also for fans of music and biographies of all stripes; some profanity and sensual imagery, suitable for all but the youngest readers.
A visually engaging and human story of early trauma and how art and the imagination persist through the toughest of times. For those interested in real-world stories of accounts of people coping with difficult family situations.
Intensely personal and sexually explicit, this chronicle of Lust's young adulthood life is told with specificity and scrutiny, ideal for adult graphic memoir enthusiasts. [Previewed in Ingrid Bohnenkamp's "Mass Appeal," 6/19.]
With this Eisner Award–winning volume, expanding stories first serialized in the "Criminal" series, the incomparable team of Brubaker and Phillips (
My Heroes Have Always Been Junkies; The Fade Out
) once again prove themselves among the best creators of crime fiction in any genre.
Sharp's (The Brave and The Bold: Batman and Wonder Woman) illustrations suggest legendary comics artist Neal Adams paying homage to surrealist painter H.R. Giger (or vice versa). Morrison's (Batman by Grant Morrison Omnibus, Vol. 2) script mixes police procedural thriller plot points with mind-boggling sf concepts. Not to be missed. Collecting Issues 1–6 of a new ongoing series.