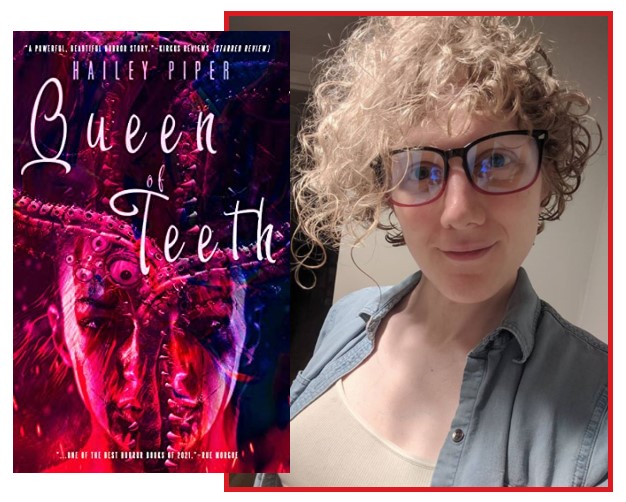 Hailey Piper discusses the intersection of romance and horror, her literary and film influences, and her first novel, Queen of Teeth.
Rocklyn has written an astounding story that will leave readers begging for more, recalling other critically acclaimed novellas like Priya Sharma's
Ormeshadow
and P. Djèlí Clark's
Black God's Drum
.
Tem has won just about every major speculative fiction prize (including a 2015 Bram Stoker Award for Blood Kin), but he has slipped through the cracks because his work doesn't fit neatly into established genre boxes. Library workers can make up for this oversight by confidently suggesting this collection to fans of creepy, weird fiction by the likes of Carmen Maria Machado and John Langan.
Quigley, cohost of the award-winning Ladies of the Fright podcast, is well-versed in active contemplation of the horror genre itself, and it shows here with a story line that could be described as a 21st-century update to Shirley Jackson's "The Lottery." Fans of Hex, by Thomas Olde Huevelt, and The Twisted Ones, by T. Kingfisher, will find a kindred spirit in Quigley's debut.
An obvious choice for fans of female-driven psychological horror (e.g., Sarah Pinborough's Cross Her Heart and Rachel Harrison's The Return). Also a good suggestion for readers who want to explore the trauma and inequalities in mental health treatment (like in Victor LaValle's The Devil in Silver).
An essential purchase for the quality of stories included in the volume, as well as for Datlow's extensive "Summation" section, in which she recaps the year in awards, key publications, and horror news. Readers will not find a more comprehensive (yet still easily digestible) snapshot of the entire genre anywhere else.
This is a fun page-turner on its surface, but as soon as readers pause for breath, the real-world issues at play will wrap their tentacles around them. Readers who like old school science fiction dystopias (à la Philip K. Dick), with a healthy dose of cosmic awe (as in Caitlin Kiernan's "Tinfoil Dossier" series) and a few dashes of kaiju mayhem, will be in horror heaven with this mesmerizing, original, and breathtaking debut.
Most readers will focus on the epic table of contents, but ardent horror fans will appreciate this volume's ode to the seminal out-of-print Dark Forces anthology edited by Kirby McCauley.Dark Forces similarly strove to bring horror to a wider audience in the 1980s and featured both an early Campbell story and Stephen King's The Mist (which many consider to be his best novella).
Malerman delivers with another completely different yet equally crowd-pleasing and awesome horror novel that is not to be missed. Fans of tales as varied as
Eden
by Tim Lebbon,
Tender Is the Flesh
by Agustina Bazterrica, or
The Night of the Mannequins
by Stephen Graham Jones will all find something to savor and enjoy here.