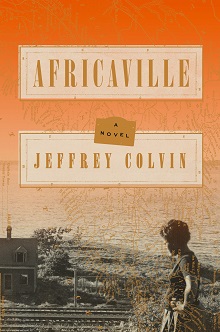 Excellent reading that revives our sense of community while revealing North America's racial complexity in a new light. [See Prepub Alert, 5/20/19.]
Australian author Gentill's seventh installment featuring Rowland Sinclair (after
A Murder Unmentioned
) is as fun and consuming as his previous novels. The writing is superb, providing fascinating historical context as well as depth in his characters. Highly recommended for fans of the series and historical crime mysteries.
Essential reading as Americans continue to grapple with our involvement in Asia and for anyone interested in top-drawer literature. [See Prepub Alert, 7/15/19.]
Shupe (A Scandalous Deal) continues her lusciously detailed Gilded Age–set series with a dynamic duo determined to get what they want at any cost. Sensual and passionate and with an unconventional, intriguing story line, this second in the series (after The Rogue of Fifth Avenue) is one readers will clamor for.
Peeters is a compositional genius, utilizing stunning swaths of negative space and thick fields of inky darkness that imbue nearly every panel on every page of this volume with dynamism and pathos.
Dinksi (
Trying Not To Notice
) borrows heavily from the life of charismatic cult leader Jim Jones and the tragic events at Jonestown to create commentary on social media and the dangers of group think, illustrated in a deceptively simple cartooning style that makes the inevitable tragic ending truly jarring.
Unimpressed at meeting Santa Claus but ebullient while serving out a prison sentence, Jesse is a scrappy yet supremely confident spitfire with appeal to readers of all ages.
If the internationally acclaimed master of horror Ito (
Smashed: Junji Ito Story Collection
) seems at first a strange choice to adapt Dazai's 1948 novel, his skill for stories mixing existential dread, body horror, and nightmarishly surreal imagery quickly prove him matched to the material. This unsparingly intense vision of life as a journey through hell, reminiscent of Dostoyevsky and Kafka, just might be Ito's magnum opus.
Memoir and fiction stand side by side, often in the same story, in this frequently hilarious, occasionally melancholy collection that affirms Bell's status as one of the best cartoonists of her generation.