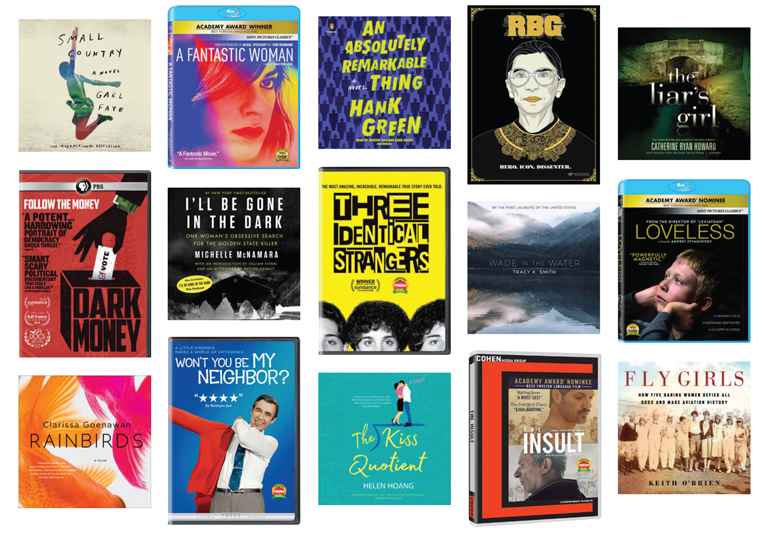 LJ editors and reviewers and our Fast Scans columnist have chosen the year's best audiobooks and films for those continually popular media collections. One thing is clear: Mr. Rogers is a hit no matter the format.
LJ's new gaming columnists have chosen their favorite games of the year. The titles include board games, video games, and a mobile title that will appeal to a wide range of patrons with differing interests and experience.
LJ video reviewer/Fast Scans columnist Jeff T. Dick sticks to feature films for this annual best-of, listing more independent and international titles with greater diversity in genre and format
The best audiobooks of 2017 include short story collections, debut novels, memoirs, true crime, astrophysics, and poetry.
This year, our ears were graced by many great albums—even a few brilliant ones. But two stood out from the crowd: Nicole Mitchell's Mandorla Awakening II: Emerging Worlds—my pick for album of the year—and ­Thundercat's Drunk.
Music columnists Robin Bradford and Steve Kemple score their Top Five albums of 2016, which include artists Beyoncé, Nick Cave, and Bruno Mars, along with a slew of Honorable Mentions to keep users glued to their devices. Will we ever see the end of Hamilton?
This year was a challenging year for games, gamers, and gaming everywhere, according to LJ's gaming columnist M. Brandon Robbins. Some controversial releases that failed to deliver on developers' promises cast a dark shadow on what would have otherwise been a stellar year. Fortunately, we still have a lot of great titles that came out in 2016, and they're definite must-haves for your gaming collection. As you move into next year, be sure to pick up these essentials for your patrons to enjoy.
We thank our hardworking reviewers for coming up with a list of the top 20 audiobooks of the year, among them Tracy Chevalier's hard-hitting At the Edge of the Orchard and Helen Oyeyemi's interconnected tales in What Is Not Your Is Not Yours, as well as Jennifer Boylan's story of her transition, She's Not There, with an afterword written and read by Richard Russo, and Matthew Desmond's LJ Top Ten Best Book Evicted, about precarious housing in Milwaukee.
LJ video reviewer/Fast Scans columnist Jeff T. Dick rounds up his favorite discs in a varied list that necessarily omits streaming-only titles from Netflix, Amazon, et al., and primarily favors recent releases over titles originally shown in the prior calendar year. Documentaries are limited to popular programs in lieu of arguably more worthy educational material. The biggest takeaway this year? Sixteen-plus hours—two miniseries—devoted to O.J. Simpson.