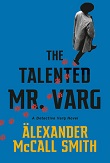 The prolific and popular McCall Smith offers the second in his Swedish-set "Detective Varg" series, headlining a bunch of great series additions forthcoming from authors ranging from Rita Mae Brown to Martin Walker. In addition, Caroline Cooney, best known as a successful YA author, steps up with adult mystery.
The Night Fire by Michael Connelly leads holds this week. Watchemen seems to delight fans in its debut. Entertainment Weekly looks at fall books and films. The British Fantasy Awards are announced. There are plenty of booklists and new adaptations news, including word that Jacqueline Carey's "Kushiel's Legacy" series is getting closer to some kind of on-screen version.
Taylor's fans will need no convincing, but also suggest this warm story to those who enjoy novels by Maeve Binchy.
Old Hollywood, silent film stars, the Jazz Age, and strong female characters all combine to create a solid read for crime fiction fans of all stripes.
Serrano knows how to craft a think piece, and his perspective is illuminating. With essays on Get Out, the Marvel Cinematic Universe, and Booksmart, this is also a timely read to be enjoyed by film buffs and general audiences alike.
With an academic focus, this extensively researched, fascinating account of two distinct arenas of thought and forms of expression will be essential for students and scholars of religion, fashion, cultural studies, and sociology.
For anyone seeking a factual and fun take on a subject that should never have been, yet still is, taboo, this book will be much appreciated.
Despite its misleading title, this work remains a thoughtful take on an intriguing period of American history.
An insightful work about an influential but often overlooked political figure.