A deeply felt work that reveals both the poet's inner life and the political complexities of the world in which he lives.
As one might expect, these poems are replete with numerous allusions to Catholicism
The poem "Magritte, The Empire of Light," describes this paradoxical painting, which shows a daylight sky over a nighttime scene
Any new collection by Bierds is a blessing, and this one will not disappoint; her sensitive poems about Turing are lessons for aspiring readers or poets on the application of history to the creative impulse and power of poetry to illuminate the past.
Young's improvisations are simultaneously hilarious and poignant, revealing a deeply felt humanity and a covert awareness of our shared zeitgeist ("If you didn't wake up/ screaming, you didn't wake up") that cause them to inspire no less than they entertain.
Throughout, Boruch easily folds storytelling into her poems and makes deep emotional connections, as when Dorothy Wordsworth's life segues into that of the poet's grandmother. Repetition is occasionally overused, and the poet loses focus in the long poem "Keats Is Coughing," which compares visits to Rome and Alaska, but overall this is a collection not to be missed.
Hofmann's condensed, serrated screeds against a gradually dehumanizing culture might seem unduly dyspeptic to some readers, but others will appreciate their unglossed vision and resistance to passive acceptance.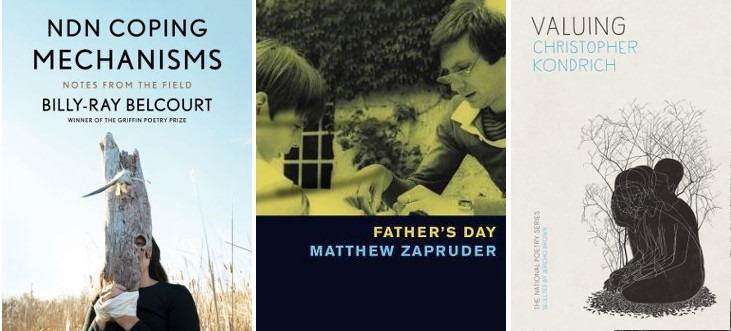 Almallah's poetry-cum-memoir doesn't shout but with pointed, persistent, limpid lines minimized to the very essence sums up loss and fractured identity; Belcourt is not just a poet to watch but one to read now; the masterly Flynn doesn't drag us into the depths but rises to meet us; Giménez Smith asks key questions in roiled times; Filipino American poet Gloria ably articulates contemporary crisis on both sides of the Pacific; moody and meditative, cheeky and bright, Guez's poems will satisfy; Kondrich delivers a stunning work with a one-of-a-kind feel; a profoundly heartfelt and thoughtful book for all readers
At once moody and meditative, cheeky and bright, Guez's poems will satisfy many readers, matching their own sense of upheaval.