Although set centuries apart, Clark's tenth medieval mystery (following Murder at Meaux) and Cora Harrison's 1920s-set "Reverend Mother" series share similarly rich details of religious and political life. Readers who favor the political tensions and historical aspects of Ellis Peters's "Brother Cadfael" mysteries will further appreciate this leisurely paced story.
Director and author Meyer puts his own stamp on the Holmes and Watson tradition, basing his story on historic events with contemporary relevance, as lies become accepted as truth by means of willful ignorance. Holmes enthusiasts will relish this well-crafted novel.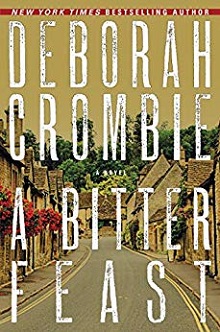 This superbly entertaining crime novel will delight mystery fans who crave character-rich, classically composed mysteries in the style and manner of those written by the late, great P.D. James. [See Prepub Alert, 3/25/19.]
Obvious comparisons to Charles Todd's Bess Crawford and Jacqueline Winspear's Maisie Dobbs are warranted, but this novel also hearkens back to Helen MacInnes's classic spy thrillers and Mary Stewart's romantic suspense novels. At turns heartbreaking and action-packed, this gripping and superbly written story proves Perry still has what it takes. [See Prepub Alert, 2/25/19.]
This debut novel is most notable for Ellett's supremely witty prose and the oddball but deeply relatable characters. Readers looking for a fresh, offbeat voice in the mystery genre will find it here.
Featuring family loyalties, surfing, and a distinct lifestyle, this character-driven, atmospheric mystery may appeal to new adults and those readers interested in Hawaiian culture.
The tenth Monkeewrench novel is as intense and fast paced as its predecessor, The Guilty Dead, and includes the best elements for crime fiction readers: an intricate plot weaving multiple story lines. Though the backstory is disturbing, fans of the compelling series will appreciate the focus on Roadrunner and a glimpse of his past.
The precise wordplay and convoluted crime plot of this 1950s British blackish comedy will please fans and attract more readers to the series.
With a mystery involving a poet's chair and Irish Travelers, the award-winning author of Murder on the Hour focuses on the culture of Wales in her latest cozy. The charming characters will appeal to Jane K. Cleland's readers.