For lovers of puzzle-solving detective fiction in the style of Kathy Reichs.
The amusing sequel to the first book in the series, Ghost on the Case, is a warmhearted traditional mystery that will appeal to fans of Nancy Atherton's "Aunt Dimity" books. [See Prepub Alert, 1/22/20.]
The emotionally sophisticated characters work through the brutality of their jobs in this dynamic psychological thriller and police procedural that will please readers of Slaughter's "Grant County" series. For fans of Meg Gardiner, David Baldacci, and Carrie Smith.
While this second book in the series has as much fast-paced action as its predecessor, Marah Chase and the Conqueror's Tomb, there's more depth to the story. The action-packed narrative touches on issues of cultural appropriation, identity, history, and environmental change, which featuring a variety of LGBTQ characters. Fans of Indiana Jones or the Marvel action series will appreciate this cinematic adventure.
The fifth "Kendra Donovan" novel is an atmospheric and character-driven mystery. The time travel, intrigue, romance, and returning characters will appeal to Diana Gabaldon's fans
Ware's fans will devour this in a sitting, as will readers who love Lucy Foley's The Hunting Party or locked-room mysteries in general. [See Prepub Alert, 2/24/20.]
In this delightful addition to the series, which would serve as a good introduction to newcomers, Maxwell's focus on class and gender division is sharp and accomplished. Come for the late 19th-century historical detail; stay for the intrigue.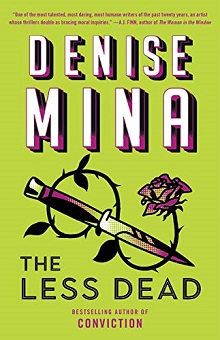 Mina's (Conviction; The Long Drop) concern with the effects of class on individual lives is evident, as Margo learns about sex workers, coming to admire Susan as she ferrets out the reason for her death. As the plot gains speed to a startling and abrupt end, readers will be left agasp and wanting more. [See Prepub Alert, 11/25/19.]
The main protagonist is an unreliable narrator, but then all the characters are unreliable, making this a fast-paced, unputdownable roller-coaster of a read sure to appeal to fans of Gillian Flynn or Paula Hawkins.