Hausmann's English-language debut is absorbing and sinister, with a tightening web of psychological intrigue. Tiny clues are steadily inserted into this fast-paced, shivery tale with an unforeseen denouement. Inevitably likened to Emma Donoghue's Room, also suggest Sarah Pinborough's Behind Her Eyes.
This enjoyable series debut, with its diverse cast of characters and clever amateur sleuth, will appeal to readers of Elizabeth J. Duncan's "Penny Brannigan" mysteries.
Kelly successfully combines police procedural with cozy in a mystery that has moments of humor. Readers of the previous title in the "Paw Enforcement" series, Paw of the Jungle, will be familiar with the author's style of incorporating viewpoints from Megan, Brigit, and the primary criminal. Fans of Spencer Quinn's "Chet and Bernie" books will enjoy Brigit's comments and the dog-human partnership.
The follow-up to Cox's award-winning The Man on the Washing Machine includes a delightful amateur sleuth and eccentric characters with appeal for fans of traditional mysteries. The intricate plotting will keep readers guessing.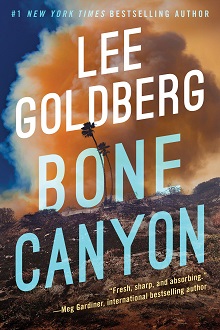 Goldberg follows Lost Hills with a riveting, intense story. Readers of Karin Slaughter or Michael Connelly will want to try this.
Fans of Tom Clancy or Lee Child will love this latest installment of the "Orphan X" series by Hurwitz ("Tim Rackley" series), which offers twists and turns, danger and adrenaline, and gadgetry worthy of James Bond. There is an underlying examination of the meaning of family that lends extra depth to the book.
There is nothing cozier than the second "Amish Matchmaker Mystery" (after Matchmaking Can Be Murder); it's filled with silly animals, including two Boer goats and a pig. However, the mystery itself is well plotted and will appeal to fans of Flower's Amish "Candy Shop" mysteries, set in the same community with crossover characters.
The shifting perspectives, from Shecky's heartbreaking reminiscences to Kerasha's painful memories of her mother and therapy sessions, provide the desired emotional depth but may leave readers a bit disoriented. Fans of gritty, dark, mysteries with dysfunctional characters will appreciate this one.
It's Janet Evanovich's Grandma Mazur times four when the "direct, loud, demanding, impatient, and tactless" women get together for their fourth case (after Murder at Icicle Lodge). Fans of Stephanie Plum's adventures might want to sample the escapades of four Italian American women in New Jersey.
2,385 articles