As Baron says in his introduction, the basic story is "a theme as old as fiction"--unfortunately, this means there's a lot of competition. Orson Scott Card's Ender's Game and Hideaki Anno's Neon Genesis Evangelion tell the story better. Not recommended, except for serious Robotech fans.
An empathetic, uncommonly nuanced, and thoroughly brilliant family saga presented with real daring and true artistry.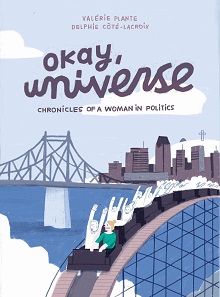 As Simone's quest to win municipal office progresses, readers will find themselves unable to resist rooting for her victory, and even inspired to become more politically active.
While this opening volume is largely devoted to worldbuilding and character development, Urasawa's masterful storytelling, idiosyncratic plotting, and richly complex, empathetic characters combine for a thoroughly entertaining and intriguing introduction to what promises to be an epic story.
Readers willing to roll with the bawdy humor and gore on display will find themselves increasingly engaged in a legitimately suspenseful plot and anxiously awaiting follow-ups from this wildly talented debut author.
Readers will devour this action-packed, wildly sexy, witty, and ultra-cool crime story built around the complicated relationship between three charismatic women and rejoice to discover a note at the end promising they'll return for further adventures in future volumes.
Tidhar (By Force Alone) propels an ensemble of historical figures and literary characters through a knotty and thrilling plot packed with intrigue and visceral action, illustrated with a keen eye for historical detail by McCaffrey (Anno Dracula–1895: Seven Days in Mayhem).
Ennis's talent for revealing character through naturalistic dialogue combines with illustrations detailing the chaotic brutality of battle to emphasize the human cost and spiritual toll of war in this stirring, tragic trilogy.
A genuinely fun, energetic collection, as well as a lasting testament to Sala's distinct talent.