Libin's lyrical, short prose poems are consistently bleak and sometimes maddeningly vague, but she occasionally hits on an evocative image that transports readers straight to the frigid midnight streets of Moscow. The book's design will appeal to fans of zines and other DIY literature, making it a good fit for edgier, experimental adult collections.
A perfectly imperfect read for a moment of existential reckoning with masculine conceptions of spirituality, this book gleefully reminds us how much feminine energy lies bubbling underneath patriarchal systems, barely concealed, and nearly ready to burst free.
Yanow's voice is pointed, her cartooning delightfully specific without being precious or showy. This debut subtly, effectively challenges readers to dig into their own internal dissonance.
Offering a unique account of contemporary Korea and the world from the perspective of women who might otherwise be overlooked, this is a fresh entry that would be a solid addition to any adult collection.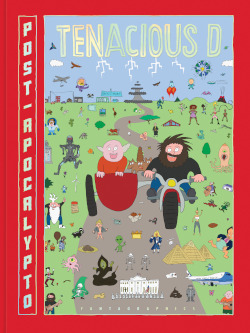 Jack Black and Kyle Gass, aka Tenacious D, discuss their latest project, previously released as an animated film and music album. The ribald rock opera Post-Apocalypto finds the pair wandering a postapocalyptic world ruled by monsters, robots, and hate-mongers.
Carpinteri's imaginative worldbuilding and astonishing illustration more than compensate for a relatively slight plot. Recommended for larger graphic novels collections.
A long overdue and revelatory collection of masterfully crafted and deeply affecting stories.
Wih this work, North and Monteys have created the best, and most effective, graphic novel adaptation of a literary novel in recent memory.
Som's experimental approach to autofiction is intriguing, and her illustration and composition bring a sense of dynamism to short, diary-style chapters that coalesce into a fascinatingly complex portrait.