National Book Award winner Erdrich once again calls upon her considerable storytelling skills to elucidate the struggles of generations of Native people to retain their cultural identity and their connection to the land. [See Prepub Alert, 9/9/19.]
Though her talent and aplomb win out in a satisfying conclusion, Gwen struggles with the inequality and oppression of AutoAmerica, and readers will be left wondering whether we are living in such a culture today. Highly recommended for discerning readers. [
Much is unpacked by the time the book reaches its lovely and heartfelt climax, as McBride shows what can happen when people set aside their differences. Highly recommended, especially for fans of Jacqueline Woodson and Spike Lee. [See Prepub Alert, 9/9/19.]
DeForge (Leaving Richard's Valley) pushes his ability to wring pathos out of surreal situations further than ever in this dazzling satire of technology run rampant that doubles as a meditation on the sense of alienation that often grows out of heartbreak.
An incendiary corrective to the myths and misconceptions surrounding these events and a memorial to the lives lost or forever altered that should be required reading for all Americans.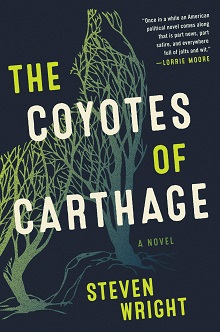 This is an archly comic and ultimately chilling political novel on the effects of the dark money unleashed by the Supreme Court's Citizens United decision on the American political soul as well as on the souls of individuals. Thoughtful, sharp-edged fare for the upcoming election year. [See Prepub Alert, 10/14/19.]
While never minimizing the seriousness of Casey's personal problems, the book is also funny and romantic and hard to put down, full of well-observed details of restaurant culture and writer's workshops. It's hard to imagine a reader who wouldn't root for Casey. [See Prepub Alert, 9/9/19.].
While structurally challenging, Roca's massively appealing illustration and masterly sense of narrative make this true story exceptionally compelling.
A heady literary and genre-bending novel for fans of Jorge Luis Borges, Carlos Fuentes, and Adolfo Bioy Caseres.