Presented by: HMA2 Architects, Johnson Favaro, Tappé Architects, and Library Journal
Event Date: Tuesday, June 8, 2021
Even before COVID, libraries sought to better serve their patrons through design considerations and improvements. And now, with spaces opening up and a new normal in front of us, each community faces its own set of evolving needs and challenges.
Join this webcast to learn from leading library architects as they discuss:
Flexible design
Pandemic lessons
Workforce development and retraining
Food resources
Outdoor spaces
And more…
Presenters:
Henry Myerberg, Principal, HMA2 Architects
Jim Favaro, Principal, Johnson Favaro
Jeffrey Hoover, AIA, Principal, Library Design Director, Tappé Architects
Moderator:
Lauren Stara, Library Building Specialist, Massachusetts Board of Library Commissioners
Sponsored By: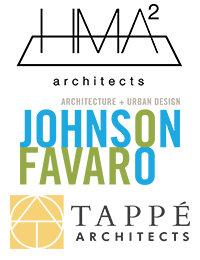 Follow us on Twitter! @LibraryJournal #LJDesign
Need help getting registered? Send us an email describing your problem.