From the rise of Adolf Hitler to Buchenwald and Auschwitz to the South Pacific, wide-ranging perspectives on a world-changing event.
Click here for additional new Prepub Alert columns
Clavin, Tom. Lightning Down: A World War II Story of Survival. St. Martin's. Nov. 2021. 320p. ISBN 9781250151261. $29.99. CD. BIOGRAPHY
A 22-year-old farm boy from Washington State, Joe Moser flew off on his 44th combat mission over occupied France on August 13, 1944, and joined nearly 150 Allied airmen as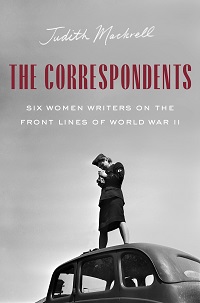 prisoners in the brutal Buchenwald concentration camp after having to bail out of his burning plane. The men were barely surviving when orders came down from Hitler to execute them all. No. 1 New York Times best-selling author Clavin reveals what happened next; with a 150,000-copy first printing.
Hellinger, Magda & Maya Lee with David Brewster. The Nazis Knew My Name: A Remarkable Story of Survival and Courage in Auschwitz. Atria. Nov. 2021. 352p. ISBN 9781982181222. $27. MEMOIR
In March 1942, 25-year-old kindergarten teacher Hellinger arrived in Auschwitz on the second transport from Slovakia, among nearly 1,000 women and some of the camp's first Jewish prisoners. She was one of the few to survive. Daughter Lee drew on her mother's personal account, augmented by research, to provide this chronicle of Hellinger's time in the camp. There, she was placed in charge of hundreds of women in the notorious Experimental Block 10 and sought to save lives while having to deal regularly with the SS guards and avoid their suspicions—and summary execution. With a 60,000-copy first printing.
Mackrell, Judith. The Correspondents: Six Women Writers on the Front Lines of World War II. Doubleday. Nov. 2021. 464p. ISBN 9780385547666. $30. Downloadable. BIOGRAPHY
Costa Biography Award short-listed Mackrell limns six women journalists who triumphed during World War II despite restrictions placed on them because of gender. They include Clare Hollingworth, the first war correspondent to report the outbreak of World War II; Martha Gellhorn, who beat out husband Ernest Hemingway with her big D-Day story; Vogue cover model Lee Miller, who became the magazine's official war correspondent; society columnist–turned–combat reporter Virginia Cowles; Sigrid Schultz, who hid her Jewish identity as she reported on the Nazi regime; and Helen Kirkpatrick, the first woman to report from an Allied war zone with equal privileges to men.
McKean, David. Watching Darkness Fall: FDR, His Ambassadors, and the Rise of Adolf Hitler. St. Martin's. Nov. 2021. 416p. ISBN 9781250206961. $29.99. HISTORY
Five key American diplomats in Europe witnessed the rise of Hitler firsthand: William Dodd in Berlin, Joseph Kennedy in London, William Bullitt in Paris, Breckinridge Long in Rome, and George Kennan in Moscow. They all clamored for Franklin D. Roosevelt's attention, yet as McKean points out, they generally underestimated Hitler's power and failed to communicate to Roosevelt the looming threat that was the Third Reich. From the director of Policy Planning for the U.S. Department of State; with a 60,000-copy first printing.
McManus, John C. Island Infernos: The US Army's Pacific War Odyssey, 1944. Dutton Caliber. Nov. 2021. 576p. ISBN 9780451475060. $34. Downloadable. HISTORY
Winner of the Gilder Lehrman Prize for Military History, McManus's Fire and Fortitude chronicled the U.S. Army's sacrifices in the Pacific War over the two years from the bombing of Pearl Harbor to the capture of Makin Island. Here he continues the story with the army proceeding to Saipan, Guam, and Okinawa, then finally regaining control of the Philippines in one of the war's costliest battles.