New directions from former defense secretary Robert M. Gates and Rev. Al. Sharpton, studies on free speech from Ellis Cose and Stanley Fish, Harvard professor Michael J. Sandel on the tyranny of merit, and more essential titles.
Crossroads
Gates, Robert M. Exercise of Power: American Failures, Successes, and a New Path Forward in the Post–Cold War World. Knopf. Sept. 2020. 464p. ISBN 9781524731885. $29.95. lrg. prnt. CD/downloadable. POLITICAL SCIENCE
Sharpton, Al. Rise Up: Confronting a Country at the Crossroads. Hanover Square: Harlequin. Sept. 2020. 304p. ISBN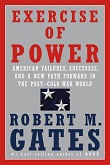 9781335966629. $27.99.  POLITICAL SCIENCE
Former defense secretary and mega-best-selling author Gates (Duty) returns to examine America's Exercise of Power—or lack thereof, for as he argues, America was once a leading nation that has floundered since the end of the Cold War because it has failed to see power not simply as a matter of military might or do-as-we-do hectoring but of vision in diplomacy, economics, intelligence, development assistance, and ideology—all of which need to be nurtured now (just moved up from September to June). Longtime activist/politician Sharpton, currently host of MSNBC's PoliticsNation, looks at the current political landscape and argues that we need to Rise Up now that we face a test of our values—indeed, our very character (200,000-copy first printing).
Donald Trump
Bade, Rachael & Karoun Demirjian. A Perfect Phone Call: The Impeachment of Donald Trump. Morrow. Sept. 2020. 368p. ISBN 9780063040793. $28.99  POLITICAL SCIENCE/CORRUPTION & MISCONDUCT
 
Hoffman, Carl. Liar's Circus: A Strange and Terrifying Journey Into the Upside-Down World of Trump's MAGA Rallies. Morrow. Sept. 2020. 288p. ISBN 9780063009769. $26.99. lrg. prnt.  POLITICAL SCIENCE
Washington Post journalists Bade and Demirjian had a front-row seat on the impeachment hearings and share their insights and expertise in A Perfect Phone Call, intriguingly BISACed Political Science/Corruption & Misconduct (75,000-copy first printing). An Edgar Award nominee and former contributing editor to National Geographic Traveler, Hoffman rides through more rough terrain as he reports on Donald Trump's MAGA rallies (more than 550 ticketed events since 2015), focusing not on what Trump said but on the people attending to better understand Trump's base (200,000-copy first printing).  
Free Speech
Cose, Ellis. The Short Life and Curious Death of Free Speech in America. Amistad. Sept. 2020. 192p. ISBN 9780062999719. $23.99.  POLITICAL SCIENCE/CIVIL RIGHTS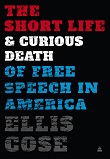 Fish, Stanley. The First: How to Think About Hate Speech, Campus Speech, Religious Speech, Fake News, Post-Truth, and Donald Trump. One Signal: Atria. Sept. 2020. 240p. ISBN 9781982115258. pap. $17.  POLITICAL SCIENCE/COMMENTARY & OPINION
In The Short Life and Curious Death of Free Speech in America, journalist and best-selling author Cose (The Rage of a Privileged Class) reveals what's really threatening our constitutional right to free speech: while an imbalance of economic, political, and technological power gives Donald Trump (and his followers) great room to decry so-called fake news and use hate language to attack minorities and immigrants, ordinary individuals have little comparable voice, with the free speech of the top dogs threatening everyone else (40,000-copy first printing). As he considers Colin Kaepernick, trigger warnings, whether Facebook should monitor speech, and whether hate speech should always be banned, former New York Times columnist and best-selling author Fish also sees The First—amendment, that is—as sharply double-edged: it knocks down constraints but lets us say and do awful things.  
Personal Insight
Arsenault, Kerri. Mill Town: Reckoning with What Remains. St. Martin's. Sept. 2020. 368p. ISBN 9781250155931. $27.99. CD.  MEMOIR
Lovato, Roberto. Unforgetting: A Memoir of Revolution and Redemption. Harper. Sept. 2020. 304p. ISBN 9780062938473. $26.99.  MEMOIR
In Mill Town, Orion book review editor Arsenault looks back at her childhood in working-class Mexico, ME, and realizes that the local paper mill that employed most of the townsfolk also despoiled the environment and undermined the community's physical and emotional health, ultimately earning the area the nickname "Cancer Valley" (50,000-copy first printing). The child of Salvadoran immigrants, including an abusive father shaped by his country's 1932 massacre of tens of thousands of indigenous peoples, Lovato grew up in 1970s California, joined a gang in his teens, and after surviving his own shooting joined the guerrilla movement in El Salvador fighting against the corrupt government. Back in the States, he became a journalist, with Unforgetting discussing not only his and his father's painful upbringings but big issues like gangs, immigration, and how they have impacted the relationship between El Salvador and the United States (25,000-copy first printing).  
More on the Modern World
Curie, Elliot. A Peculiar Indifference: Race, Violence, and Social Justice. Metropolitan: Holt. Sept. 2020. 304p. ISBN 9781250769930. $27.99.  SOCIAL SCIENCE/VIOLENCE IN SOCIETY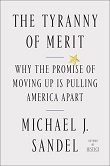 Issenberg, Sasha. The Engagement: A Quarter Century of Defending, Defining, and Expanding Marriage in America. Pantheon. Sept. 2020. 944p. ISBN 9781524748739. $40. Downloadable.  DOMESTIC POLITICS/LGBTQ
Meier, Barry. Spooked: Inside the Secret World of Private Spies. Harper. Sept. 2020. 352p. ISBN 9780062950680. $28.99.
POLITICAL SCIENCE/INTELLIGENCE & ESPIONAGE
 
Sandel, Michael J. The Tyranny of Merit: Why the Promise of Moving Up Is Pulling America Apart. Farrar. Sept. 2020. 256p. ISBN 9780374289980. $27. CD.  POLITICAL SCIENCE
 Shuler, Jack. This Is Ohio: The Overdose Crisis and the Front Lines of a New America. Counterpoint. Sept. 2020. 304p. ISBN 9781640093553. $26.  SOCIAL SCIENCE/DISEASE & HEALTH ISSUES
 Swan, Shanna, & Stacey Colino. Count Down: How Our Modern World Is Threatening Sperm Counts, Altering Male and Female Reproductive Development, and Imperiling the Future of the Human Race. Scribner. Sept. 2020. 320p. ISBN 9781982113667. $28. SCIENCE
 
In A Peculiar Indifference, Pulitzer Prize finalist Currie (Crime and Punishment in America) explores racial disparities in violent death and injury in America, where a young black man is 16 times more likely than a young white man to die violently—and most often in "everyday" incidents of violence that are part of a structurally disadvantaged community (75,000-copy first printing). In The Engagement, former Slate columnist and Votecastr cofounder Issenberg tracks the momentous legalization of same-sex unions, from the opening gambit in 1990s Hawaii to the definitive Supreme Court decisions in Windsor and Obergefell. A member of a New York Times team that won the 2017 Pulitzer for International Reporting, Meier reveals that we're Spooked, with private spying (e.g., checking our emails, influencing what we see on social media) now the name of the game in business, politics, and the entertainment world (40,000-copy first printing). Harvard political philosopher Sandel's The Tyranny of Merit argues that focusing relentlessly on equal opportunity as the wellspring of merit misses the point, allowing winners to preen unnecessarily, failing to recognize that luck plays a part, and ignoring the value of solidarity as community glue and goal. In This Is Ohio, journalist Shuler uses events in a state hit badly by the opioid crisis to argue that our addiction crisis—to all substances, not just opioids—is a human rights issue reflecting policy inadequacies regarding poverty and healthcare. Finally, in Count Down, award-winning Mt. Sinai epidemiologist joins with health/environmental journalist Colino to detail a report recently completed by Swan and her colleagues regarding plummeting male sperm counts, finally concluding that reduced fertility and changes in sexual development result from chemicals in the environment (75,000-copy first printing).