Day of Dialog 2019's "Women Have Their Say" featured memoirists Nefertiti Austin, Adrienne Brodeur, Sarah M. Broom, Jaquira Díaz, and Aarti Namdev Shahani.
As evidenced by "Women Have Their Say," moderated by associate reviews editor Stephanie Sendaula, writing memoir means more than just revisiting the past. Noted Adrienne Brodeur, whose Wild Game: My Mother, Her Lover, and Me (Houghton Harcourt, Oct. 2019) recounts becoming her mother's confidante at age 14 when her mother launched a longstanding affair, "At the risk of sounding a little bit self-righteous, when you've had an upbringing like mine, a very lie-laden childhood, I think I became a truth seeker in a very big way."
Seeking her own truths in Ordinary Girls (Algonquin, Oct. 2019), Jacquira Díaz investigates growing up queer and biracial in Puerto Rico; her father was black and her mother white, the neighborhood harbored antiblack feelings, and girls shared stories about sexual violence. But her hardest truth was her mother's mental illness, which meant she didn't have a normal childhood, and the absence of any real mothering compelled her to "[go] out into the world searching for what motherhood meant." Still, a friend had to point out a startling absence in her book's first draft: "I wrote a book about my mother, and she did not even make an appearance," exclaimed Díaz. In the end, she felt she had done justice to her mother, herself, and their relationship.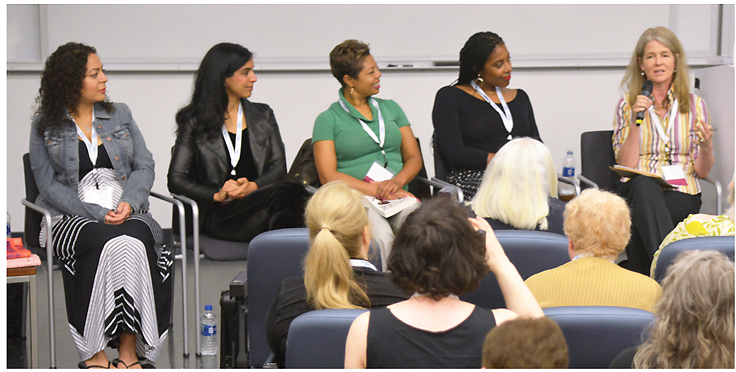 "Women Have Their Say" panelists, l.-r.: Jaquira Díaz, Aarti Namdev Shahani, Nefertiti Austin, Sarah M. Broom, and Adrienne Brodeur
Nefertiti Austin had to work on opening up while writing
Motherhood So White: A Memoir of Race, Gender, and Parenting in America
(Sourcebooks, Sept. 2019), which was inspired by her experience as a single African American woman adopting a black baby boy in foster care. When her editor applauded her first draft but said it needed a story, she realized, "You're going to have to talk about yourself." With her parents involved in the Civil Rights movement and also struggling with drugs, she was raised by loving grandparents. But as she admitted, "There was a lot of silence in my household; my friends' parents were teachers and lawyers, and my dad was in jail." Talking about herself meant dropping the strong-woman guise with which African American women are particularly burdened and admitting things even her closest friends didn't know. In
The Yellow House
(Grove, Aug. 2019), Sarah M. Broom grounds the story of her family in the yellow shotgun house in New Orleans East her mother bought as a young woman. To write, Broom had to conquer feelings that she was "transgressing." Her mother always warned her not to speak about what passed in the house, she explained, adding, "I am the baby in a family of 12 and should not be writing the history of this family, right?" In addition, Broom feared she was "telling on the city of New Orleans," beloved worldwide but facing hard times, and had to figure out how to write about her father, who died when she was six months old. In the end, her memoir was "a journey of discovery to know him and how he made the yellow house possible." In contrast to her fellow panelists, NPR technology correspondent Aarti Namdev Shahani proclaimed, "I was dying to tell my secrets!"
Here We Are: American Dreams, American Nightmares
(Celadon: Macmillan, Oct. 2019) explores her immigrant family's experiences in New York, particularly her father's lengthy legal battle after the family's small electronic store inadvertently sold products to the Cali drug cartel. Having campaigned hard for her father's exoneration before heading off to her journalism career, Shahani has had "two careers with a public voice." But even so, she explained, "I wasn't allowed to tell the truth about me"—that is, "the emotional, nuanced truth where you can talk about how much things hurt" that she articulates in her memoir. In her memoir, Brodeur worked hard to unpack hidden hurts; her role growing up was to keep secrets, and her goal when writing was "to uncover my family secrets on my own." While acknowledging that "my complicity as a child was very forgivable," she also felt compelled to explore why she remained her mother's secret keeper into adulthood. In the end, Brodeur wasn't interested in
Mommie Dearest
–like reprisal, just the kind of sunderstanding that all these memoirs delivered.
Photos by William Neumann