Intriguingly different maps on subjects from world happiness to climate change and using maps to assay world regions that will shape our future.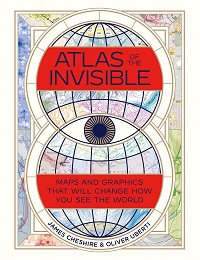 Cheshire, James & Oliver Uberti. Atlas of the Invisible: Maps and Graphics That Will Change How You See the World. Norton. Nov. 2021. 224p. ISBN 9780393651515. $40. SOCIAL SCIENCE/HUMAN GEOGRAPHY
Chesire (geographic information and cartography, University Coll. London) and Uberti, a former design editor for National Geographic, together constitute an award-winning geographer-designer team using a range of data sets to create useful and intriguingly different maps. The maps here show us everything from happiness levels worldwide to the hidden dangers of geopolitics to how the heating up of our planet impacts everything from hurricanes to the hajj. From the authors of the sleeper hit London: The Information Capital; full color throughout.
Marshall, Tim. The Power of Geography: Ten Maps That Reveal the Future of Our World. Scribner. Nov. 2021. 320p. ISBN 9781982178628. $27. POLITICAL SCIENCE/GEOPOLITCS
Diplomatic editor at Sky News and author of the Sunday Times best-selling Prisoners of Geography, Marshall wields ten maps of crucial regions worldwide to explore geopolitics today—especially with regard to the strategies of world powers—and the consequences for tomorrow. The regions he considers: Australia, Iran, Saudi Arabia, the UK, Greece, Turkey, the Sahel, Ethiopia, Spain, and Space. With a 75,000-copy first printing.