Pulitzer Prize–winning journalist Chris Hedges discusses the creation and staging of a play written by his students at East Jersey State Prison. Nigel Poor and Earlonne Woods expand on their Pulitzer Prize finalist podcast, Ear Hustle, launched at San Quentin State Prison. Two books in the surge of publications addressing the serious crisis of incarceration.
Hedges, Chris. Our Class: Trauma and Transformation in an American Prison. S. & S. Oct. 2021. 272p. ISBN 9781982154431. $26.99. SOCIAL SCIENCE
Since 2013, Pulitzer Prize–winning journalist Hedges has taught drama, literature, philosophy, and history in the college degree program offered by Rutgers University at East Jersey State Prison. Here, he returns to his first class there, where 28 students read plays by authors including Amiri Baraka and August Wilson, then wrote scenes crafted over the years into a play. Called Caged, it is credited to the New Jersey Prison Theater Cooperative and expresses the inmates' suffering, frustrations, and dreams. In 2018, it had a sold-out run at Trenton's Passage Theatre and was published in 2020 by Haymarket Press. With a 50,000-copy first printing.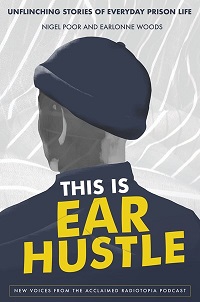 Poor, Nigel & Earlonne Woods. This Is Ear Hustle: Unflinching Stories of Everyday Prison Life. Crown. Oct. 2021. 304p. ISBN 9780593238868. $28. SOCIAL SCIENCE
Poor, a white visual artist and photography professor at California State University, Sacramento, and Woods, a Black former inmate whose 31-year prison sentence was commuted by California Governor Jerry Brown in 2018, are cocreators and cohosts of the podcast Ear Hustle, a Pulitzer Prize finalist also nominated for Peabody honors. Woods is currently its full-time coproducer and also founded CHOOSE1, which aims to repeal the California Three Strikes Law under which he was sentenced. First created and produced entirely within San Quentin State Prison, the podcast allowed prisoners to share their thoughts and experiences about incarceration and the paths that led them there; it now tell post-incarceration stories as well. Here, the coauthors offer almost all-new stories (only two podcasts are excerpted) while framing these narratives with their own perspectives; with 40 original black-and-white illustrations.