Lowell, MA, is home to the second-highest Cambodian population in the country, many of whom (or their families) settled there after fleeing genocide. The University of Massachusetts Lowell recently launched its Southeast Asian Digital Archive to serve as a resource for the community, teachers, scholars, and more.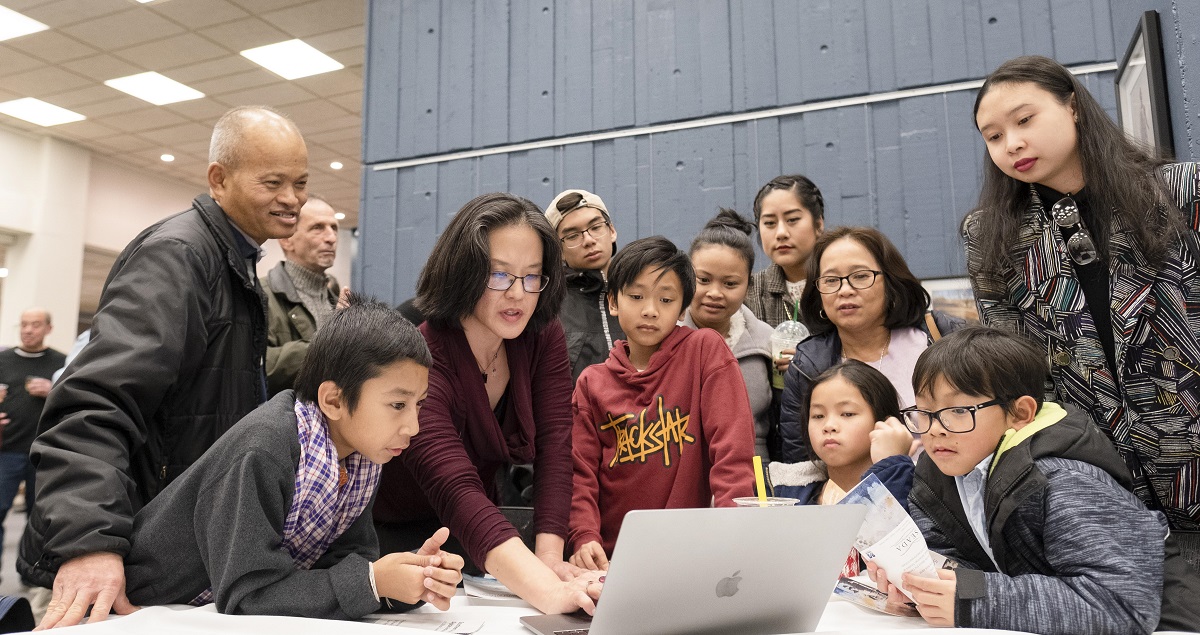 Sue J. Kim demonstrates SEADA site to Angkor Dance Troupe members at UMass Lowell's O'Leary Library
Photo courtesy of Southeast Asian Digital Archive at UMass Lowell
Lowell, MA, is home to the second-highest Cambodian population in the country, many of whom (or their families) settled there after fleeing genocide. Until recently, much of that history specific to the Lowell area from the 1970s on was not documented in a central location. The University of Massachusetts (Umass) Lowell is looking to change that, having recently launched its Southeast Asian Digital Archive (SEADA) to serve as a resource for the community, teachers, scholars, and more.
UMass Lowell professors Sue J. Kim and Phitsamay Uy are codirectors of the archive. Uy is from Laos and was also a refugee; Kim is Korean-American. SEADA was launched in collaboration with the university's Center for Asian American Studies, of which Kim and Uy are also codirectors, UMass Lowell Libraries, and members of the community. Uy, who previously worked for the Long Beach Unified School District. CA, took her inspiration from the University of California Irvine, which has a Southeast Asian Archive; nearby Long Beach has the highest Cambodian population in the country. Uy thought UMass Lowell should be able to collect local Cambodian residents' stories as well.
"We're walking this fine line between preserving the firsthand narratives and documents, but also being sensitive to having the community members choose what they think is appropriate," Uy said.
Kim and Uy stressed the importance of local involvement for both the launch and sustainability of the archive. In 2015, a community meeting was held to gather feedback on the types of materials stakeholders wanted to see preserved and documented in SEADA.
The new digital archive is now home to about 600 items that help preserve the stories of the Southeast Asian community in the Lowell area. Those materials include photographs, oral histories, transcribed interviews, artwork, and newspaper clippings.
Sovanna Pouv, executive director of Lowell's Cambodian Mutual Assistance Association (CMAA), is one of the members on the SEADA Advisory Board. The CMAA is also a partner in the project.
"We're looking into having the CMAA as a space where the community can come to drop off their documents, or any materials they want to share with the digital archive at our space," said Pouv. "And then we will work with the university and our partners to see if we can have some individuals to manage and take care of some of the items that are being dropped off here."
He anticipates people will bring in family photos from when they first moved to Lowell, personal letters, clothing, pendants, and other significant items.
SHARING SENSITIVE STORIES
Pouv was born in a refugee camp and immigrated to the United States with his family as an infant. He said that growing up, it was difficult and too hurtful to hear stories his mother would attempt to share about the war and the genocide in Cambodia.
Now, however, he feels differently. "As I grow up and start to understand the importance of sharing and the importance of healing and using our history to bring us together, I think it's really powerful that people are starting to share more now," Pouv said.
At the same time, Pouv said he would not be part of any effort that seeks to pressure people to share their stories, because of the trauma it can unearth for many. He said Kim and Uy have proceeded with the project in a respectful way.
While most of Lowell's Southeast Asian population is Cambodian, the archive will focus on other groups of that heritage as well, including the Laotian, Vietnamese, and Indonesian communities. Since 1975, it is estimated that 1.2 million refugees from Southeast Asia came to the United States.
Pon Nokham also serves on the SEADA Advisory Board. She is a lawyer based in Chelmsford, a town outside the city of Lowell, where she grew up.
"I volunteered to try to reach out to the older Laotian generation—they are the most shy about coming forward and sharing their story," Nokham said. "I'm having trouble reaching out to that population, but I'm working on it."
Given the current political climate in the United States concerning immigration, Nokham said the SEADA launch is important. It not only shows the power in immigrant stories, she noted, but shows an example of how different groups of people can sustainably live together.
"Every immigrant story is worth telling, especially in this country." said Nokham. "The uniqueness of the Southeast Asians I think can serve [as] inspiration of how one population comes into one very particular area of the country and [was] able to acclimate, flourish, push the boundaries of people who were already living here, accept them, learn with them, and help them grow."
There is a hope, too, that these stories will counter negative stereotypes about immigrants.
"It's critical for people to know how and why did we come to where we are today. These people didn't just show up out of nowhere," Kim said. "There's a history of U.S. policy abroad and the Cold War. Everybody needs to know this history."
Kim said the project is only beginning. By the end of the summer, they hope to have 1,000 objects in the archive, including video. Kim and Uy are searching for grants and other sources of funding to help sustain the digital archive.
When asked about the most rewarding part of the whole process, Uy said it's the response from the community.
"For me, it's seeing the community's reaction, from the little kids, to our elders who are proud, because there's so many times when they've had to hide their identity," she said. "It's…been a catalyst for new conversations and discussions."
UMass Lowell's Southeast Asian Digital Archive is accessible online at www.uml.edu/seada.