June memoir leads off with key #ownvoices narratives.
Brammer, John Paul. Hola Papi: How To Come Out in a Walmart Parking Lot and Other Life Lessons. S. & S. Jun. 2021. 224p. ISBN 9781982141493. $26. MEMOIR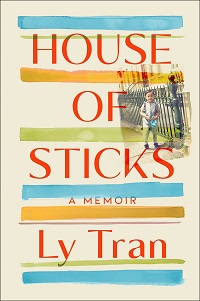 Bratton, Bill & Peter Knobler. The Profession: A Memoir of Community, Race, and the Arc of Policing in America. Penguin Pr. Jun. 2021. 416p. ISBN 9780525558194. $30. Downloadable. MEMOIR
Burns, Ursula. Where You Are Is Not Who You Are: A Memoir. Amistad: HarperCollins. Jun. 2021. 256p. ISBN 9780062879295. $27.99. MEMOIR
Diamond, Cheryl. Nowhere Girl: A Memoir of a Fugitive Childhood. Jun. 2021. Algonquin. Jun. 2021. 304p. ISBN 9781616208202. $27.95. MEMOIR
Henderson, Danielle. The Ugly Cry: A Memoir. Viking. Jun. 2021. 304p. ISBN 9780525559351. $27. Downloadable. MEMOIR
Melvin, Craig. Pops: My Dad, Our Journey, and What I've Learned About Fatherhood. Morrow. Jun. 2021. 304p. ISBN 9780063071995. $27.99. MEMOIR
Myers-Powell, Brenda & April Reynolds. Leaving Breezy Street: A Memoir. Holt. Jun. 2021. 9780374151690. $26.99. MEMOIR
Oluseyi, Hakeem & Joshua Horwitz. A Quantum Life: My Unlikely Journey from the Street to the Stars. Ballantine. Jun. 2021. 304p. ISBN 9781984819093. $28. Downloadable. MEMOIR
Tran, Ly. House of Sticks: A Memoir. Scribner. Jun. 2021. 368p. ISBN 9781501118814. $27. MEMOIR
Williams, Paula Stone. As a Woman: What I Learned about Power, Sex, and Patriarchy after I Transitioned. Atria. Jun. 2021. 288p. ISBN 9781982153342. $27. MEMOIR
Host of the popular advice column "¡Hola Papi!" on Substack, Brammer offers a memoir-in-essays, tracking what it's like to grow up as a queer, mixed-race Chicano kid in America's heartlands (75,000-copy first printing). In The Profession, originally scheduled for fall 2020 and written with the coauthor of his Turnaround, Bratton profiles his life as chief of the Los Angeles Police Department and the New York City Transit Police and subsequently as police commissioner in Boston and New York City. Burns proclaims Where You Are Is Not Who You Are, though as the first Black female CEO of a Fortune 500 company she certainly has been places (75,000-copy first printing). Having achieved success as a teen model and an adult author (Naked Rome), Diamond reveals a childhood both wacky and cliff-hanging in Nowhere Girl; on the run with an outlaw family, she lived in more than a dozen countries, on five continents, under six assumed identities, by age nine (50,000-copy first printing). Twitter famous and noted especially for her "Feminist Ryan Gosling" memes, Henderson offers The Ugly Cry to tell us about being raised Black in a mostly white community by tough grandparents after her mother abandoned her to start another family. Today show news anchor Melvin uses Pops to explore issues of race and fatherhood while recalling his own dad (100,000-copy first printing). Founder of Chicago's Dreamcatcher Foundation, which assists young people in disadvantaged areas, Myers-Powell recalls a childhood fractured by her mother's death and a life of pimps and parties before finally Leaving Breezy Street and making her way back to her daughters (75,000-copy first printing). Growing up scary smart if physically impoverished and emotionally unsupported in inner cities and the Mississippi backwoods, James Edward Plummer renamed himself Hakeem Muata Oluseyi to honor his African heritage and now leads A Quantum Life as a NASA physicist. In House of Sticks, Tran recalls leaving Vietnam as a toddler in 1993 and growing up in Queens, helping her mom as a manicurist and eventually graduating from Columbia (100,000-copy first printing). In As a Woman, Williams, a celebrated speaker on gender equity, LGTBQ+ issues, and religious tolerance, describes what it was like to be a 60-year-old husband, father, and pastor deciding to transition from male to female (60,000-copy first printing).