A miniboom of titles examining the countryside's heart of darkness.
Foster, Fiona King. The Captive. Ecco. Jan. 2021. 256p. ISBN 9780062990976. $26.99. NOIR
Brooke Holland lives with her husband and two daughters in a secessionist state far from any city, happy to have buried her violent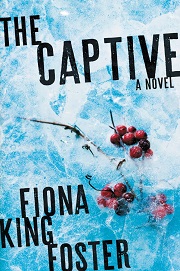 past. When escaped criminal Stephen Cawley attacks their farm, she easily repulses him, but she's convinced that he came to deliver vengeance and persuades her family that they must flee to the nearest sheriff. Her aim: to capture Stephen, claim the bounty on his head, and take her family far from harm. But can her family withstand the awful tensions? With a 75,000-copy first printing.
Thornton, Chris Harding. Pickard County Atlas. MCD: Farrar. Jan. 2021. 288p. ISBN 9780374231255. $26. NOIR
One night during a roasting late-Seventies summer in the Nebraska sandhills, sheriff's deputy Harley Jensen follows young troublemaker Paul Reddick through the streets the night after the Reddick patriarch finally holds a memorial for a son murdered decades ago, his body never found. That brings Harley in touch with Pam Reddick, eager to quit marriage and motherhood, who's attracted to his dark past. With a 30,000-copy first printing.