Indigenous peoples, big tech's corrupted ideals, NXIVM exposure, U.S. military concern about climate change, the problem with money and banking, and women on a roll.
Foroohar, Rana. Don't Be Evil: How Big Tech Betrayed Its Founding Principles—and All of Us. Currency: Random. Nov. 2019. 368p. ISBN 9781984823984. $28; ebk. ISBN 9781984823991. Downloadable. BUSINESS
At a time when the Silicon Valley giants face rising indignation and legal challenge, the award-winning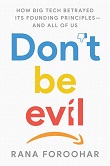 Financial Times columnist and CNN analyst shows how—and why—tech turned its back on Google's initial mantra, "Don't be evil," and got on the greed-and-power train. Unsettling.
Greenberg, Andy. Sandworm: A New Era of Cyberwar and the Hunt for the Kremlin's Most Dangerous Hackers. Doubleday. Nov. 2019. 368p. ISBN 9780385544405. $28.95; ebk. ISBN 9780385544412. Downloadable. COMPUTERS/SECURITY
Expanding on his award-winning Wired cover story, Greenberg chronicles the hunt for the perpetrators of mounting cyberattacks begun in 2014 and culminating in 2017 with a world-shaking attack fomented by the malware NotPetya, which disrupted everything from drug manufacturers to shipping companies and shut down hospitals, railways, and more at the epicenter in Ukraine. Yes, the hackers worked for Russia's military intelligence service, and, no, this is not a thriller.
Hambly, Chris. Soul Full of Coal Dust: The True Story of an Epic Battle for Justice. Little, Brown. Nov. 2019. 384p. ISBN 9780316299473. $30; ebk. ISBN 9780316299497. lib. ebk. ISBN 9780316299459. Downloadable. BUSINESS/NATURAL RESOURCES
Decades ago, black lung disease emerged as a leading public health concern, and Congress took legislative action to protect miners against it. Though now sunk from public consciousness, the disease has resurged, with Big Coal involved in a coverup. New York Times reporter Hamby won the 2014 Pulitzer Prize for Investigative Reporting for a series on coal miners that inspired this book. With a 30,000-copy first printing.
Klare, Michael. All Hell Breaking Loose: Climate Change, Global Chaos, and American National Security. Metropolitan: Holt. Nov. 2019. 352p. ISBN 9781627792486. $30; ebk. ISBN 9781627792493. ENVIRONMENTAL POLICY
Defense correspondent for the Nation, Klare reveals that the U.S. military is deeply concerned about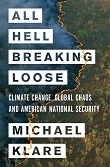 climate change—and not because it's mushy-hearted about polar bears. Armed service members are the first responders to homegrown natural disasters like hurricanes and participants in climate-related conflict abroad, as when drought, famine, or pandemics produce a destabilizing flow of climate refugees. Rescuing flooded coastal cities and bases, defending waterways opened by the melting ice cap—it's all part of a future that should concern everyone.
McDiarmid, Jessica. Highway of Tears. Atria. Nov. 2019. 320p. ISBN 9781501160288. $28; ebk. ISBN 9781501160301. TRUE CRIME
Canadian journalist McDiarmid, who focuses on social justice issues, investigates the long-running disappearance of mostly indigenous women and girls along the 450-mile stretch of northern Canada's Highway 16—over 1,000 victims in all, who have been vanishing since 1969. Canadian Prime Minister Justin Trudeau has finally opened an inquiry into the case. Echoing trauma on our southern border and Native rights issues generally; with a 40,000-copy first printing.
Natalie, Toni & Chet Hardin. The Program: Inside the Mind of Keith Raniere and the Rise and Fall of NXIVM. Grand Central. Nov. 2019. 304p. ISBN 9781538701065. $28; ebk. ISBN 9781538701034. lib. ebk. ISBN 9781538701041. Downloadable. TRUE CRIME
NXIVM bills itself as a provider of self-improvement techniques, but founder Keith Raniere is currently facing trial for coercing women to have sex with him as part of a "women's empowerment" inner circle and even branding them with his initials. Natalie, who was Raniere's Patient Zero and among the first to escape his cultlike dictates, describes the methods he used (e.g., entrapment, blackmail, and hypnosis) to persuade individuals to fork over thousands for his coaching sessions and engage with him intimately. With a 150,000-copy first printing.
Powell, Michael. Canyon Dreams: A Basketball Season on the Navajo Nation. Blue Rider. Nov. 2019. 272p. ISBN 9780525534662. $28; ebk. ISBN 9780525534679. Downloadable. SPORTS
The Pulitzer Prize–winning Powell, "Sports of the Times" columnist for the New York Times, demonstrates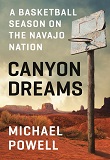 how important sports can be for marginalized communities by profiling a Navajo high school basketball team in Arizona. Chinle High School, located on the 17.5-million-acre Navajo reservation, fields a team that attracts fans from up to 80 miles away, even as players face the tough realities of reservation life and the conflicted fear that they won't be able to leave home and they will have to leave.
Shaxson, Nicholas. The Finance Curse. Grove. Nov. 2019. 304p. ISBN 9780802128478. $27; ebk. ISBN 9780802146380. BUSINESS
Financial journalist Shaxson made his name by investigating the "resource curse" that led to economic and social troubles for Angola after oil was discovered there. Here he investigates the "finance curse" that came with the expansion of banking from its supporting role in business to its becoming a business itself, with an out-of-balance influence on policymaking that ultimately hurts both business and society at large.
Varelas, Christopher & Dan Stone. How Money Became Dangerous: The Inside Story of our Turbulent Relationship with Modern Finance. Ecco. Nov. 2019. 320p. ISBN 9780062684752. $28.99; ebk. ISBN 9780062684776. BUSINESS
Once, money was safe and understandable: a penny saved is a penny earned. Now, much of the public can't grasp how money works, and Wall Street is generally seen as greedy and incautious. Proclaimed as one of the top 100 dealmakers by the New York Times and as a top technology rainmaker by DealMakers Monthly magazine, Varelas gives us a behind-the-scenes look at money and its discontents today. With a 75,000-copy first printing.
West, Lindy. The Witches Are Coming. Hachette. Nov. 2019. 272p. ISBN 9780316449885. $27; ebk. ISBN 9780316449892. lib. ebk. ISBN 9780316449878. CD/downloadable. SOCIAL SCIENCE/FEMINISM
Countering the notion that feminism has gone too far and the witch-hunt accusations she hears by saying,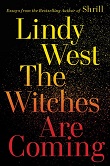 "I'm a witch and I'm hunting you," West looks at Donald Trump, Adam Sandler, and pop culture generally to investigate how deeply patriarchy is embedded in American culture. You'd expect no less from the celebrated New York Times columnist, best-selling author of Shrill (soon to be a Hulu series), and founder of I Believe You/It's Not Your Fault, an advice blog for teenagers. With a 75,000-copy first printing.