Studies of concentrated wealth, suppressed liberties, the Battle of Mosul, and racial identity.
Crump, Benjamin. Open Season: Legalized Genocide of Colored People. Amistad. Oct. 2019. 304p. ISBN 9780062375094. $25.99; ebk. ISBN 9780062375117. MEMOIR/LAW
The president of the National Bar Association and a leading civil rights attorney who recently represented Trayvon Martin's family, Crump has handled cases in state and federal courts nationwide. Here, he relies on those cases when arguing not simply that in our justice system the protections of the Constitution aren't applied equally regarding race and class but that the system is actually rigged to harm people of color. He expands his case by considering factors ranging from the 13th Amendment and the various state Stand Your Ground laws to the impact of increased gun ownership and decreased education spending. With a 40,000-copy first printing; twice scheduled for 2018, so here's hoping three's a charm.
Glantz, Aaron. Homewreckers: How a Gang of Wall Street Kingpins, Hedge Fund Magnates, Crooked Banks and Vulture Capitalists Suckered Millions Out of Their Homes and Demolished the American Dream. Custom House: Morrow. Oct. 2019. 240p. ISBN 9780062869531. $27.99; ebk. ISBN 9780062869555. BUSINESS
The housing crash of 2008 was awful for the dispossessed but good news for Donald Trump, who said in the run-up, "I sort of hope that happens because then people like me would go in and buy." Here, Peabody Award winner Glantz responds by showing how Trump, many of his associates, and others like them took advantage of new mortgage products born of relaxed regulations to make a fortune from human loss. With a 50,000-copy first printing.
Kirby, David. When They Come for You: How Police and Government Are Trampling Our Liberties—and How to Take Them Back. St. Martin's. Oct. 2019. 400p. ISBN 9781250064363. $29.99; ebk. ISBN 9781466870055. CD. POLITICAL SCIENCE
From police and prosecutorial misconduct to SWAT-style raids on the homes of innocent Americans to challenges to the free press and the right to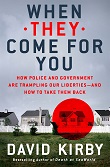 protest, basic American liberties are under threat, argues Kirby, a finalist for the NYPL Helen Bernstein Award for Excellence in Journalism. His critique embraces Right, Left, and Center, and he shows how ordinary citizens are resisting.
Stein, Joel. In Defense of Elitism: Why I'm Better Than You and You're Better Than Someone Who Didn't Buy This Book. Grand Central. Oct. 2019. 304p. ISBN 9781455591473. $28; ebk. ISBN 9781455591466. lib. ebk. ISBN 9781455569472. Downloadable. HUMOR/POLITICS
A Thurber Prize finalist, former Time staffer Stein not surprisingly uses humor to examine the surge of anti-elitist sentiment in the country today. Along with his cheeky defense of academia, the mainstream press, and rare steaks, he also reports on visits to folks who create fake news and to Dilbert cartoonist Scott Adams, a Trump booster, while finding that elitists across the political spectrum are coming out swinging against the populists. With a 30,000-copy first printing.
Stoller, Matt. Goliath: How Monopolies Secretly Took Over the World. S. & S. Oct. 2019. 352p. ISBN 9781501183089. $28; ebk. ISBN 9781501183096. BUSINESS
A former senior policy adviser to the Senate Budget Committee, Stoller builds on his viral Atlantic article, "How the Democrats Killed Their Populist Soul," to show that while America was built on the idea that concentrated power of any kind is detrimental to democracy, we now have a huge concentration of financial power for the first time since the 1929 stock market crash. And that has led to today's populist, authoritarian-leaning tendencies. With a 75,000-copy first printing.
Williams, Thomas Chatterton. Self-Portrait in Black and White: Unlearning Race. Norton. Oct. 2019. 208p. ISBN 9780393608861. $25.95; ebk. ISBN 9780393608878. MEMOIR
The son of a black father from the segregated South and a white mother from the American West, Berlin Prize–winning cultural critic Williams always saw himself as a black man. But he began to rethink his sense of self and the very concept of race after having two children who look decidedly white. So what does race mean? And should race define our identity?
Verini, James. They Will Have to Die Now: Mosul and the Fall of the Caliphate. Norton. 304p. ISBN 9780393652475. $27.95; ebk. ISBN 9780393652482. INTERNATIONAL AFFAIRS
Winner of both Polk and National Magazine awards, Verini puts his journalistic skills to use in this portrait of the Battle of Mosul, in which U.S.-backed Iraqi government forces retook the city from the Islamic State in 2016–17. Verini relies on months of frontline reporting and the stories of two brothers from Mosul, a determined Iraqi major, an equally determined American sergeant, and a bunch of headstrong Kurdish militiamen to unfold his narrative.