From authors to watch: going remote can be dangerous.
Click here for additional new Prepub Alert columns
Chavez, Heather. Blood Will Tell. Morrow. Apr. 2022. 400p. ISBN 9780062936202. $27.99. lrg. prnt. THRILLER
Having launched her career with the rave-reviewed No Bad Deed, Chavez returns with a tale of two sisters: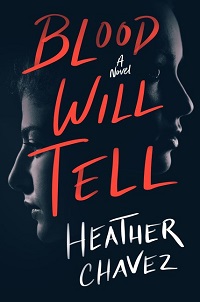 schoolteacher and single mom Frankie Barrera and wild-hare younger sister Izzy, whom Frankie is perpetually rescuing from scrapes. This time, when the police tell Frankie that a truck that looks like hers has been used in an abduction, with Izzy the only other person who has the keys, Frankie must decide how far she can push the understanding big-sister act. With a 50,000-copy first printing.
Downes, Anna. The Shadow House. Minotaur: St. Martin's. Apr. 2022. 320p. ISBN 9781250264848. $27.99 CD. SUSPENSE
After debuting with The Safe Place, which received more than a half-dozen "best-of-summer" or "most-anticipated" recommendations, Australian author Downes returns with the story of single mom Alex, who flees an abusive relationship for what she assumes is the peace and old-fashioned quiet of a remote, pine-skirted village. Alas, eerie events start unfolding when she and her children arrive, even as the town's buried secrets will out. With a 125,000-copy first printing.
Li, Grace D. Portrait of a Thief. Tiny Reparations: Random. Apr. 2022. 384p. ISBN 9780593184738. $26. THRILLER
A Chinese American art history major at Harvard, Will Chen passionately believes that art belongs with its creators. So when a Chinese corporation asks him to surreptitiously reclaim five valuable sculptures stolen from China centuries previously, he organizes an all Chinese American crew to execute the heist. They include Will's can-con-anyone sister Irene, at Duke; premed student Daniel, whose FBI agent father specializes in art crimes; engineering student Lily, who races cars in her spare time (handy for getaways); and Alex, Will's former beloved, who found her way to Silicon Valley after dropping out of MIT. A debut from Stanford medical student Li; soon to be a Netflix series.
Lloyd, Ellery. The Club. Harper. Apr. 2022. 304p. ISBN 9780062997425. $26.99. THRILLER
The Home Group is a worldwide series of members-only clubs catering to A-plus-list celebrities, and its crown jewel will supposedly be Island Home off England's coast. As the guests arrive for the opening, the overworked staffers struggle to keep their own secrets tamped down and the guests' outré behavior out of sight. And then the dead bodies start piling up. From the pseudonymous London-based husband-and-wife writing team Collette Lyons and Paul Vlitos, whose debut, People Like Her, sold to television and 13 territories. With a 35,000-copy first printing.
Pearse, Sarah. The Retreat. Pamela Dorman: Viking. Apr. 2022. 400p. ISBN 9780593489420. $27. Downloadable. THRILLER
At an eco-wellness center off the coast of England, the body of a young woman is found sprawled on the rocks below the yoga pavilion—which is certainly surprising, as she wasn't a guest at the center or even supposed to have been on the island at all. A guest's subsequent drowning ratchets up everyone's anxiety, and Det. Elin Warner arrives for her second outing after the New York Times best-selling The Sanatorium, a Reese's Book Club pick.
Rothchild, Sascha. Blood Sugar. Putnam. Apr. 2022. 336p. ISBN 9780593331545. $27. Downloadable. SUSPENSE
Emmy-nominated screenwriter Rothschild debuts with psychological suspense starring happily married, friendship-affirming, animal-hugging therapist Ruby, who happens to have murdered three people in her past. But she didn't kill husband Jason, whatever the police think. Great expectations for a well-connected author.
Van Rensburg, Laure. Nobody but Us. Grand Central. Apr. 2022. 320p. ISBN 9781538720462. $28. CD. SUSPENSE
Shy if preternaturally smart NYU grad student Ellie and her rich boyfriend, Steven, who teaches at a classy Manhattan private school, are heading out of town for a romantic weekend. Alas, they are quickly snowed in at the house where they're staying, and that's bad news on several counts. Neither of them is what they appear to be, both are hiding dangerous secrets, and one will end up dead. A debut with a 100,000-copy first printing.