Medieval Europe, the British monarchy, and a Cold War superspy.
Click here for additional new Prepub Alert columns
Borman, Tracy. Crown & Sceptre: A New History of the British Monarchy, from William the Conqueror to Elizabeth II . Atlantic Monthly. Dec. 2021. NAp. ISBN 9780802159106. $32. HISTORY
England's joint Chief Curator of Historic Royal Palaces and Chief Executive of the Heritage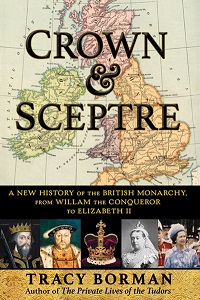 Education Trust and the author of numerous books on British history, Borman here tells Britain's story through its 41 kings and queens: "shining examples of royal power and majesty alongside a rogue's gallery of weak, lazy, or evil monarchs." Interestingly, few were through-and-through English, the throne having been claimed by the Norman French, the Welsh-born Tudors, the Scottish Stuarts, and the Hanoverians and their German successors.
Gabriele, Matthew & David M. Perry. The Bright Ages: A New History of Medieval Europe. Harper. Dec. 2021. 320p. ISBN 9780062980892. $29.99. HISTORY
"Medieval Europe"—the very phrase conjures up images of gloom, superstition, and brutal warfare. Gabriele, a professor of medieval studies and chair of the Department of Religion & Culture at Virginia Tech, joins forces with freelancer Perry to deliver a popular history revealing a more complex world, characterized by greater intercultural linking than we have imagined and progress in the arts—think of those rose windows, composer Guillaume de Machaut, and Dante. Focusing on Europe but with excursions to Africa and Asia; with a 50,000-copy first printing.
Tate, Tim. Agent Sniper: The Cold War Super Agent and the Ruthless Head of the CIA Who Despised Him. St. Martin's. Dec. 2021. 320p. ISBN 9781250274663. $29.99. HISTORY
In the late 1950s, Michal Goleniewski, a Polish lieutenant colonel who ranked high in his country's espionage service, smuggled more than 5,000 top-secret Soviet bloc intelligence and military documents, plus 160 rolls of microfilm, to the West. When he defected in 1961, he went on to expose more than 1,600 Soviet bloc agents operating undercover in the West. Yet he was finally cut lose by the U.S. government because of apparent mental instability. A multi-award-winning documentary filmmaker, investigative journalist, and history book author (Hitler's Forgotten Children), Tate tells the full story. With a 40,000-copy first printing.