Three women of color surmount challenges and advocate for others in key memoirs coming this summer.
Brown, Keah. The Pretty One: On Life, Pop Culture, Disability, and Other Reasons To Fall in Love with Me. Atria. Aug. 2019. 256p. ISBN 9781982100544. pap. $17; ebk. ISBN 9781982100551. MEMOIR
Creator of the #DisabledAndCute viral campaign, journalist/activist Brown relates what it's like to be disabled and African American in a mostly abled, mostly white America. She was born with cerebral palsy and had to learn to love herself, as she explains in essays that explore approaching romance, pursuing her passion for pop culture, and relating to her able-bodied identical twin. With a 60,000-copy first printing; featured at BookExpo.
Girma, Haben. Haben: The Deafblind Woman Who Conquered Harvard Law. Twelve: Hachette. Aug. 2019. 288p. ISBN 9781538728727. $27; ebk.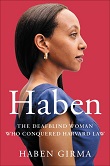 ISBN 9781538728710. lib. ebk. ISBN 9781538733325. Downloadable. MEMOIR
Raised on her parents' stories of Eritrea's decades-long war with Ethiopia (her mother fled Eritrea and met her Ethiopian father here), Girma showed her strength by becoming the first deafblind woman to graduate from Harvard Law School. Now she advocates for those with disabilities. Meanwhile, she's created a text-to-Braille communication system, learned to handle an electric saw, climbed an Alaskan iceberg, and received honors from presidents and prime ministers. With a 60,000-copy first printing; featured at BookExpo.
Ikpi, Bassey. I'm Telling the Truth, but I'm Lying: Essays. Harper Perennial. Aug. 2019. 304p. ISBN 9780062698346. pap. $15.99; ebk. ISBN 9780062698353. MEMOIR
Having emigrated from Nigeria to America with her mother at age four, joining her father here, Ikpi assimilated uneasily but by her twenties was a spoken word artist working with HBO's Russell Simmons Def Poetry Jam and the touring company of the Tony Award–winning show. Strong on the outside but crumbling on the inside, she was eventually hospitalized and diagnosed with Bipolar II. Now she advocates for mental health awareness in the worldwide black community as founder of the Siwe project and creator of #NoShameDay. With a 50,000-copy first printing.