The consequences for everyone when young women disappear.
Click here for additional new Prepub Alert columns
Bailey, Anna. Where the Truth Lies. Atria. Aug. 2021. 384p. ISBN 9781982157166. $27. CD. SUSPENSE
When 17-year-old Abigail disappears from a party in the Colorado woods, best friend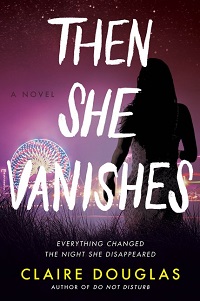 Emma feels guilty for leaving her alone at the event, convinced that Abigail wouldn't simply run away. Finally, the police find troublesome evidence corroborating that belief, and the town's dark secrets start spilling forth. A debut author from the UK, Bailey once lived in small-town Colorado, where she worked as a Starbucks barista; with a 100,000-copy first printing.
Douglas, Claire. Then She Vanishes. Harper. Aug. 2021. 432p. ISBN 9780063092730. $26.99; pap. ISBN 9780063001558. $16.99. lrg. prnt. SUSPENSE
In summer 1994, 16-year-old Flora Powell vanishes like smoke from her coastal English village, and her mother; her sister, Heather; and Heather's best friend, Jess, must carry on without answers. Twenty-five years later, Jess is again looking for answers when happily married new mom Heather walks into a stranger's house and allegedly murders two people in cold blood. From the author of Do Not Disturb; with a 75,000-copy paperback and 25,000-copy hardcover first printing.
Garza, Amber. Where I Left Her. Mira: Harlequin. Aug. 2021. 384p. ISBN 9780778332060. pap. $16.99. THRILLER/DOMESTIC
Amelia is oh-so-insistent that her mother, Whitney, needn't walk her to the door when dropping her off at friend Lauren's for a sleepover, though Whitney would have liked to meet the parents. But when she returns the next day, the elderly couple at the house haven't heard of either girl, and Whitney soon discovers how little she knows about her missing daughter. With a 100,000-copy first printing.
McPherson, Catriona. A Gingerbread House. Severn House. Aug. 2021. 288p. ISBN 9780727850010. $28.99. THRILLER
Unassuming Ivy is only too happy to embrace Kate when she claims to be Ivy's long-lost sister, and she's even happier to enter Kate's magic-wonderland cottage in Scotland. But then Ivy is never seen again, and she's not the only woman going missing. From the author of the LJ -starred Scot and Soda.
Click here for additional new Prepub Alert columns