Predictions for the future, several sharped-eyed looks at the Trump administration, black feminism, and more.
Enrich, David. Dark Towers: Deutsche Bank, Donald Trump, and an Epic Trail of Destruction. Custom House: Morrow. Feb. 2020. 384p. ISBN 9780062878816. $29.99; ebk. ISBN 9780062878823. POLITICS
Award-wining finance editor of the New York Times and author of the well-received The Spider's Network,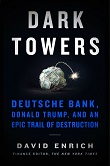 Enrich takes a long, hard look at the scandalous history of Deutsche Bank, from its helping to build Auschwitz to its recently manipulating markets, violating international sanctions, and laundering money—all in the name of grabbing some Wall Street glitter. It also supported real estate magnate Donald Trump when no one else would. The story is told through the suicide of conscientious American executive Bill Broeksmit, whose son got some shock when he started investigating Deutsche files.
Friedman, George. The Storm Before the Calm: America's Discord, the Coming Crisis of the 2020s, and the Triumph Beyond. Doubleday. Feb. 2020. 320p. ISBN 9780385540490. $30; ebk. ISBN 9780385540506. POLITICS
A geopolitical forecaster for the New York Times and author of the New York Times best-selling The Next 100 Years, Friedman here looks back at the cycles defining U.S. history: the 80 year "institutional cycles" comprising the Revolutionary War and founding era, the Civil War, and World War II, and the 50-year "socio-economic cycles" that saw the emergence of the industrial classes, the middle classes, and the baby boomers. These two cycles will converge in the late 2020s, much like the stars aligning, so expect big change.
Hardy, Jason. The Second Chance Club: Hardship and Hope After Prison. S. & S. Feb. 2020. 288p. ISBN 9781982128593. $27; ebk. ISBN 9781982128616. SOCIAL SCIENCE
Fed up with dead-end jobs and hoping to do something useful for his community, Hardy became a parole officer in New Orleans just as the state's incarceration rates became the highest in America; officers handled 220 cases apiece compared with a national average of 100. Here he focuses on seven individuals to show how parolees often leave prison worse off than when they entered—lacking jobs and social support—and how his job ended up being less about helping people and more about spotting impending crises. A few parolees manage to remake their lives, and here he shows how they do it while indicting a system that doesn't work. With a 60,000-copy first printing.
Kendall, Mikki. Hood Feminism: Notes from the Women That a Movement Forgot. Viking. Feb. 2020. 272p. ISBN 9780525560548. $26; ebk. ISBN 9780525560555. SOCIAL SCIENCE/FEMINISM
As Kendall clarifies, today's feminist movement is dominated by white women who often overlook the basic needs of all women, needs like enough food, safe neighborhoods, a living wage, affordable medical care, and access to quality education. Offering a black feminist critique in a series of incisive essays, writer/speaker Kendall draws on her own experience of hunger, violence, and hypersexualization to challenge the feminist movement to be more inclusive and responsive.
Khar, Erin. Strung Out: One Last Hit and Other Lies That Nearly Killed Me. Park Row: Harlequin. Feb. 2020. 352p. ISBN 9780778309734. $27.99; ebk. ISBN 9781488056321. ADDICTION
A writer specializing in addiction, relationships, and self-care whose weekly advice column on Ravishly brings in over 500,000 unique readers a month, Khar explains the attraction of self-medicating and the tough road to recovery by writing about her own addiction. It started with Valium when she was the lonely teenager of divorced parents and escalated to heroin in a habit that lasted until motherhood. With a 75,000-copy first printing.
Markay, Lachlan & Asawin Suebsaeng. Sinking in the Swamp: How Trump's Minions and Misfits Poisoned Washington. Viking. Feb. 2020. 272p. ISBN 9781984878564. $28; ebk. ISBN 9781984878571. POLITICS
Investigative and White House reporters for the Daily Beast, Markay and Suebsaeng can be depended on to dig in deeply as they portray the troublesome behavior of Trumpists ranging from the president's family to Stephen Miller, Sean Hannity, Dan Bongino, and Corey Lewandowski. Definitely knives drawn as it captures moments not otherwise seen in the news.
Salami, Minna. Sensuous Knowledge: A Radical Black Feminist Approach for Everyone. Amistad. Feb. 2020. 208p. ISBN 9780062877062. $25.99; ebk. ISBN 9780062877093. SOCIAL SCIENCE/FEMINISM
Creator of the multi-award-winning blog Ms. Afropolitan, the Nigerian/Finnish/Swedish Salami applies an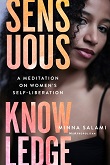 Africa-centered feminist sensibility to her consideration of racism and sexism. Here she considers the cost of compromising oneself, why some women choose authority over the autonomy they could claim, the particular oppression of those of African heritage, and how to find a narrative that heals. Of global import (translation rights are starting to move); with a 25,000-copy first printing.
Teitelbaum, Benjamin R. Untitled: Inside the Hidden Ideology Driving the Far-Right Powerbrokers. Dey Street: HarperCollins. Feb. 2020. 288p. ISBN 9780062978455. $27.99; ebk. ISBN 9780062978479. POLITICS
An expert on Far Right ideology, Teitelbaum takes on Steve Bannon and his commitment to a 20th-century ideology called traditionalism that aims to turn back progress made by women, immigrants, and minorities. With Bannon and his associates working to mobilize on a global scale, this is scary stuff. With a 100,000-copy first printing.
Weiss, Mitch. Broken Faith: Inside the Word of Faith Fellowship, One of America's Most Dangerous Cults. Hanover Square: Harlequin. Feb. 2020. 352p. ISBN 9781335145239. $28.99; ebk. ISBN 9781488055805. RELIGION/CULTS
Pulitzer Prize–winning investigative journalist Weiss chronicles the Word of Faith Fellowship, a dark evangelic cult founded in 1979 by the charismatic Jane Whaley. Having set herself up as a prophet, she demands absolute obedience (lest one suffer eternal damnation), delivers physical abuse, and makes major life decisions for her followers—even when they can have sex. Weiss captures it all, including the stories of those who have escaped. Important reading, especially with the recent conviction of NXIVM leader Keith Raniere; with a 100,000-copy first printing.