Books on regime change, Afghanistan's Pech Valley, and chemical warfare in Syria: perspectives on fighting that never ends.
Gordon, Philip H. Losing the Long Game: The False Promise of Regime Change in the Middle East. St. Martin's. Oct. 2020. 368p. ISBN 9781250217035. $29.99. POLITICS/MIDDLE EAST
Mary and David Boies Senior Fellow in U.S. Foreign Policy at the Council on Foreign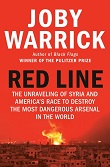 Relations, Gordon shows that around once a decade since World War II ended, the United States has sought to oust governments in the Middle East, from Iran, Iraq, and Egypt to Libya, Syria, and Afghanistan (twice). The aims have ranged from geopolitical power grabs to combatting terrorism, but whatever the purpose, these ousters have failed to achieve their purpose. With a 40,000-copy first printing.
Morgan, Wesley. The Hardest Place. Random. Oct. 2020. 624p. ISBN 9780812995060. $28. HISTORY/AFGHAN WAR
A military affairs reporter at Politico, Morgan first went to Afghanistan in 2010 as a college-age freelancer, visiting the craggy and treacherous Pech valley, where terrorists like to hide and America's military activity has been focused. With missions forever skewing wrong and soldiers uncertain about why they are there, Pech encapsulates war in the country as a whole.
Warrick, Joby. Red Line: The Unraveling of Syria and America's Race To Destroy the Most Dangerous Arsenal in the World. Doubleday. Oct. 2020. 352p. ISBN 9780385544467. $29.95. POLITICAL SCIENCE/TERRORISM
Having declared in 2012 that the use of chemical weapons during Syria's ugly civil war would constitute a red line that could not be crossed, President Barack Obama welcomed Russia's subsequent offer to store the country's chemical weapons after President Bashar al-Assad bombed a Damascus suburb with sarin gas. But the effort to find (and destroy) those weapons, often blocked by Russia, a perfidious Assad ally, proved less triumph than tragedy. A two-time Pulitzer Prize winner—for his Washington Post reporting and for Black Flags: The Rise of Isis.