From Man Booker runners-up Tash Aw and Amitav Ghosh to NEA Big Reads author Goldie Goldbloom and Academy Award winner Nico Giacobone, literary fiction at its most pleasurable.
Aw, Tash. We, the Survivors. Farrar. Sept. 2019. 336p. ISBN 9780374287245. $27; ebk. ISBN 9780374721725. LITERARY
In a Malaysian fishing village, unassuming Ah Hock kills a man, and a local journalist who's done well for herself wants to know why. What unfolds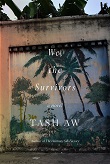 during the interview is a story of rapid and unsettling change in a society that continues to be ruled by power, race, and class. Multiple award winner Aw, born in Taipei and raised in Malaysia, has twice been long-listed for the Man Booker Prize.
Ghosh, Amitav. Gun Island. Farrar. Sept. 2019. 352p. ISBN 9780374167394. $27; ebk. ISBN 9780374719418. LITERARY
When his assured beliefs are challenged, rare books dealer Deen Datta abandons his quiet life and throws himself into a journey that takes him from India to Los Angeles and Venice, as he recalls past events and encounters people who have changed his life, from the Bengali American who prompted his quest to an old friend who helps tie it together. From the author of the best-selling "Ibis" trilogy, which includes the Man Booker short-listed Sea of Poppies.
Giacobone, Nico. The Crossed-Out Notebook. Scribner. Sept. 2019. 256p. tr. from Spanish by Megan McDowell. ISBN 9781501198748. $25; ebk. ISBN 9781501198762. LITERARY
Giacobone, the Academy Award– and Golden Globe–gilded cowriter of Birdman, crafts the story of Argentine novelist manqué Pablo, now a screenwriter, who is kidnapped by Latin America's preeminent film director, locked in a basement, and ordered to write a masterly, game-changing screenplay. The narrative is formatted as Pablo's diary, ranging from the daily grind (a maid brings in food) to the epic confrontations between the two men. With a 40,000-copy first printing.
Goldbloom, Goldie. On Division. Farrar. Sept. 2019. 288p. ISBN 9780374175313. $26; ebk. ISBN 9780374720308. LITERARY
In this new book from Goldbloom, whose The Paperbark Shoe won the AWP Prize and is an NEA Big Reads selection, Surie Eckstein lives on Division
Avenue in Williamsburg, Brooklyn. Her spacious home is packed with her husband; her in-laws, postwar immigrants from Romania; plus daughter Tzila (one of Surie's ten children) and Tzila's husband. Now, at age 57, soon to be great-grandmother Surie learns that she's pregnant and decides to keep it a secret.
Gundar-Goshen, Ayelet. The Liar. Little, Brown. Sept. 2019. 352p. ISBN 9780316445399. $27; ebk. ISBN 9780316445429. LITERARY
In this follow-up to Waking Lions, a Sapir Prize winner and New York Times Notable Book, teenage Nofar is working in an ice cream parlor when an emibttered TV celebrity walks in and ends up humiliating her, forcing her to flee tearfully. She screams as he chases her for his change, neighbors assume he is trying to assault her sexually, and she lets the lie stand. Gundar-Goshen uses dark humor to examine the huge impact of one small action.
Keret, Etgar. Fly Already: Stories. Riverhead. Sept. 2019. 224p. ISBN 9781594633270. $27; ebk. ISBN 9780698166110. Downloadable. LITERARY
Short fiction writer par excellence, with international honors to prove it (e.g., the French Chevalier des Arts et des Lettres), Tel Aviv–based Keret plumbs war and human connection in his latest collection. Trouble finds a lad who just wants to score a joint so he can impress a girl, war is conducted by children in anticipation of prizes, and two disparate people connect during an evening smoke on the beach, though only one of them thinks things might go further.
Krueger, William Kent. This Tender Land. Atria. Sept. 2019. 464p. ISBN 9781476749297. $27; ebk. ISBN 9781476749310. LITERARY
An Edgar Award winner for Ordinary Grace and author of the popular Cork O'Connor mysteries, Krueger mixes things up with a story opening in 1932 at Minnesota's Lincoln School, which houses hundreds of Native American boys and girls torn from their families, plus orphaned white boys Odie and Albert. They befriend Mose, the school's toughest boy, and are protected by widowed teacher Cora Frost until tragedy befalls her. Then the three boys flee down the Gilead River in a canoe. With a 150,000-copy first printing.

Orwell, George (text) & Odyr (illus.). Animal Farm: The Graphic Novel. Houghton Harcourt. Sept. 2019. 176p. ISBN 9780358093152. $22. LITERARY/GRAPHIC NOVEL
Authorized by the Orwell Estate, here's the first-ever graphic take on a classic that needs no introduction. At first glance, Brazilian graphic novelist, cartoonist, and painter Odyr's work is strong and richly colored (no fuss here; think Cézanne), animal-sensitive, and appropriate to the telling and the time.
Prescott, Lara. The Secrets We Kept. Knopf. Sept. 2019. 368p. ISBN 9780525656159. $26.95; ebk. ISBN 9780525656166. Downloadable. LITERARY
As the Cold War glowers, two CIA secretaries—Sally, well versed in spycraft, and naïve young Irina—are tasked with smuggling a manuscript of Boris Pasternak's Doctor Zhivago out of the Soviet Union. Their efforts are intertwined with the love story of Pasternak and his mistress, Olga Ivinskaya, who endured the Gulag and inspired the character of Lara. History, espionage, romance, and great literature—something for everyone. Prescott won the 2016 Crazyhorse Fiction Prize for this debut's first chapter; with a 60,000-copy first printing.
Schine, Cathleen. The Grammarians. Sarah Crichton: Farrar. Sept. 2019. 256p. ISBN 9780374280116. $26; ebk. ISBN 9780374712198. CD. LITERARY
Author of the international best sellers The Love Letter and Rameau's Niece, both made into movies, Schine has built a strong oeuvre; said LJ of 2016's They May Not Mean To, but They Do, she's "a master at limning family dynamics." Here, twin sisters are bound together and finally torn apart by their passion for words, with language columnist Daphne and poet Laurel replicating the age-old descriptivist/prescriptivist debate and coming to blows over who will inherit their father's Merriam Webster's New International Dictionary, Second Edition. Hey, words matter!