The complete Larry Brown stories, the first Dale Peck collection, and books columnist Nina MacLaughlin's feminist retelling of Ovid's Metamorphoses, plus Mark Danielewski's The Little Blue Kite and Peter Kuper's graphic reimagining of Joseph Conrad's Heart of Darkness, among other works.
Brown, Larry. Tiny Love: The Complete Stories of Larry Brown. Algonquin. Nov. 2019. 432p. ISBN 9781616209759. pap. $18.95. SHORT STORIES
A recipient of the Lila Wallace-Reader's Digest Award and the Mississippi's Governor's Award for Excellence in the Arts, as well as a two-time winner of the Southern Book Award for Fiction, fire fighter–

turned–writer Brown published eight books in his too-short life. This volume brings together all Brown's stories from previous publications, plus seven stories that have never been collected. Expect a clear sense of Brown's development as a writer and powerful, honest grit.
Crummey, Michael. The Innocents. Doubleday. Nov. 2019. 304p. ISBN 9780385545426. $26.95; ebk. ISBN 9780385545433. Downloadable. LITERARY
A Canadian poet and novelist who should be better known here—he's been short-listed for the Giller Prize, the Commonwealth Writers' Prize, and the Books in Canada First Novel Award and was long-listed for the International Dublin Literary Award—Crummey gets his chance with the story of an orphaned brother and sister who struggle simply to survive in an isolated cove on Newfoundland's northern coastline. Positioned as a breakout that's more accessible than his previous works.
Danielewski, Mark Z. The Little Blue Kite. Pantheon. Nov. 2019. 96p. ISBN 9781524747695. $25.95; ebk. ISBN 9781524747701. LITERARY
The attention-grabbing author of House of Leaves and The Familiar offers a parable featuring timid Kai, who hides a little blue kite in his closet that could carry him away from the Murk, where he now dwells in fear and sadness. One day, he screws up his courage, grabs the kite, and sails above the clouds of doubt to find a brave new world where everything is possible—if only he'll let go. Aimed at both children and adults; with full-color illustrations.
Kuper, Peter. Heart of Darkness. Norton. Nov. 2019. 160p. ISBN 9780393635645. $21.95. LITERARY/GN
New Yorker cartoonist Kuper, an Eisner Award winner for Ruins, follows up Kafkaesque: Fourteen Stories by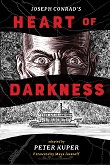 offering his own take on Joseph Conrad's throbbing Heart of Darkness. Now we follow Charles Marlow's journey up the River Congo via illustrations reminiscent of works by Francisco Goya and Honoré Daumier. With a foreword by award-winning Harvard professor Maya Jasanoff.
MacLaughlin, Nina. Wake, Siren: Ovid Resung. FSG Originals. Nov. 2019. 352p. ISBN 9780374538583. pap. $16; ebk. ISBN 9780374721091. SHORT STORIES
Books columnist for the Boston Globe and author of the LJ-starred memoir Hammer Head: The Making of a Carpenter, MacLaughlin retells the metamorphoses of Ovid's women characters from their perspective. Whether demigoddesses, nymphs, or ordinary souls, they endured loss and violence that echoes down the ages in the way women are represented in literature.
Peck, Dale. What Burns. Soho. Nov. 2019. NAp. ISBN 9781641290821. pap. $16; ebk. ISBN 9781641290838. SHORT STORIES
In his quarter-century career, Peck has published short stories in distinguished venues like BOMB, Conjunctions, Granta, the Threepenny Review, Tin House, and Zoetrope: All Story and has earned two O. Henry and a Pushcart Prize for his efforts. But this is the first time stories by the Lambda Award–winning novelist have been collected. A seductive five-year-old, a man who befriends his mother's convicted murderer, a troubled soul whose very time on earth is borrowed—these are stories on the edge.
Pufahl, Shannon. On Swift Horses. Riverhead. Nov. 2019. 320p. ISBN 9780525538110. $27; ebk. ISBN 9780525538134. Downloadable. LITERARY
In post–World War II America, Muriel is a restless newlywed in San Diego who misses rural Kansas, her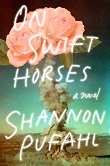 deceased mother, and wry, sly brother-in-law Julius, now working at a Las Vegas casino and in love with a young card cheat named Henry. While Muriel quells her anxieties by sneaking off to the Del Mar racetrack, Julius heads off across America to find Henry, who's been run out of town. Big in-house love ("IN-CRED-IB-LE!!!!!") for this debut from a Stegner Fellow, dealing (unusually) with LGBTQ+ life in mid-century mid-America.