This week's fiction picks are a mix of literary fiction (Russo, Strout), thriller (newcomer Cockram, Denfeld, and Oates), and what looks to be an insightful blend of both genres by "Juniper Songs" author Cha.
Cha, Steph. Your House Will Pay. Ecco. Oct. 2019. 320p. ISBN 9780062868855. $26.99; ebk. ISBN 9780062868862. LITERARY/THRILLER
Noted for her well-reviewed "Juniper Songs" mystery series, the noir editor for the Los Angeles Review of Books writes a story for everyone to read. In a Los Angeles ready to boil over following yet another senseless shooting of an African American teenager, Korean American Grace Park lives quietly with her immigrant parents, wondering how to reel in her estranged sister. Meanwhile, African American Shawn Matthews confronts the reawakened trauma of his sister's 1991 killing and his concern about cousin Ray's readiness to adapt after being release from prison. A subsequent tragedy puts the two families on a collision course that sums up racial tension today. With a 75,000-copy first printing.
Cockram, Jane. The House of Brides. Harper. Oct. 2019. 384p. ISBN 9780062939296. $27.99; ebk. ISBN 9780062939319. lrg. prnt. THRILLER
Australian debut author Cockram shoves off with a 100,000-copy first printing and references to Daphne du Maurier's Rebecca in a narrative that opens with high-flying social media influencer Miranda suddenly failing ignominiously and fleeing to England in disgrace. Seeking a job as nanny to the Summer family at Barnsley House, she hides their connection; her mother was Tessa Summer, whose The House of Brides chronicled the benighted women who married into the family. Miranda is shocked by what she finds: one of the children is in a wheelchair, the house is not the renovated luxury hotel it was advertised to be, and the current bride, celebrity chef Daphne, is nowhere to be seen.
Denfeld, Rene The Butterfly Girl. Harper. Oct. 2019. 272p. ISBN 9780062698162. $26.99; ebk. ISBN 9780062698186. THRILLER
Denfeld debuted with Enchanted, a RUSA Notable book and finalist for the Center for Fiction's Flaherty-Dunnan First Novel Prize. Her follow-up, The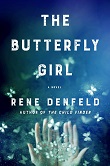 Child Finder, has sold around 80,000 copies in all formats so far and was the HarperCollins Lead Read for Fall 2017. Her new book features child finder Naomi, who's sworn she won't take another case until she locates the younger sister who vanished years ago. That search takes her to Portland, OR, where she learns that missing girls have been ending up in the river. Of course, she cannot keep from getting involved. With a 100,000-copy first printing.
Oates, Joyce Carol. The Pursuit. Mysterious: Grove Atlantic. Oct. 2019. 144p. ISBN 9780802147912. $23. THRILLER
Before her wedding to Willem, Abby's human bone–strewn childhood nightmares return, and not a day after the big event she plunges wildly into traffic—by accident or intentionally, Willem can't be sure. But as she lies in her hospital bed, he starts uncovering clues that lead to an abusive upbringing of epic proportions. Oates in white-knuckling mode.
Russo, Richard. Chances Are…. Knopf. Aug. 2019. 320p. ISBN 9781101947746. $26.95; ebk. ISBN 9781101947753. LITERARY
This just in from the Pulitzer Prize winner, whose newest novel was scheduled for fall but just pushed up to August. Upright, uptight Lincoln, a commercial real estate broker; scholarly, reserved Teddy, a small-press publisher within a university; and ebullient, six-foot-six Mickey, still playing rock at age 66, all gather post–Labor Day at a beach house on Martha's Vineyard Lincoln inherited from his mother. They reminisce about their college years together at a small liberal arts college in New England and the girl who got away—quite literally. She vanished decades ago on a graduation trip to the island. With a 200,000-copy first printing.
Strout, Elizabeth. Olive, Again. Random. Oct. 2019. 304p. ISBN 9780812996548. $27; ebk. ISBN 9780812996555. CD/downloadable. LITERARY FICTION
Among a half-dozen award-spangled titles, No. 1 New York Times best-selling author Strout boasts the Pulitzer Prize–winning Olive Kitteridge, whose heroine here remains in Crosby, ME, trying to understand herself and those around her. And what a crowd: there's a teenager struggling with her father's death, a birth timed for maximum rib-tickling inconvenience, a nurse opening up about a secret high school crush, and a lawyer trying to refuse an inheritance. Calling back Frances McDormand of the HBO series.