Essential titles reviewed in our September 2020 print issue, spanning mystery & suspense, sf/fantasy, romance, fiction, social sciences, and more.
Essential titles reviewed in our September 2020 print issue, spanning mystery & suspense, sf/fantasy, romance, fiction, social sciences, and more.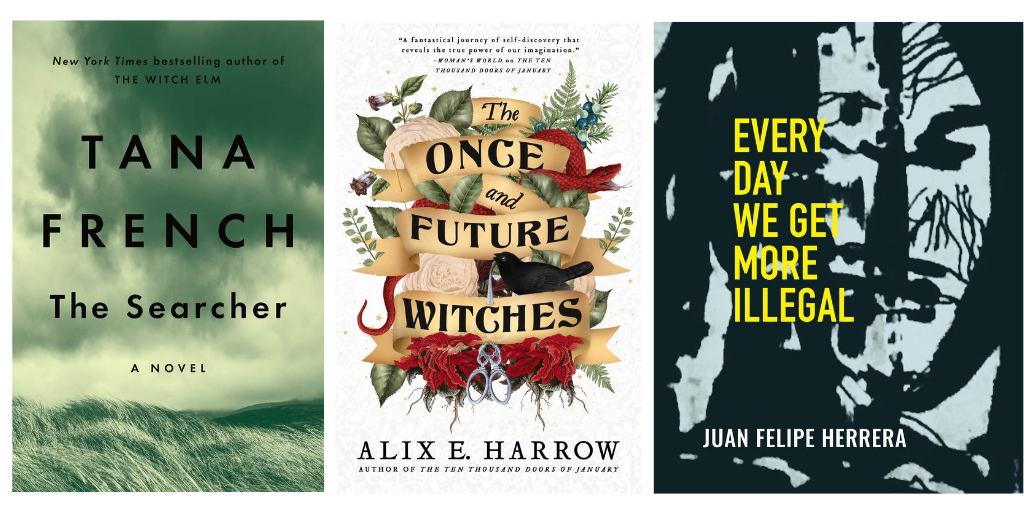 MYSTERY & SUSPENSE
Belli, Kate. Deception by Gaslight. Crooked Lane.
Budewitz, Leslie. The Solace of Bay Leaves. Seventh Street: Prometheus.
French, Tana. The Searcher. Viking.
SF/FANTASY
Hansen, Essa. Nophek Gloss. Orbit
Harrow, Alix E. The Once and Future Witches. Redhook: Orbit.
Walschots, Natalie Zina. Hench. Morrow.
ROMANCE
Lauren, Christina. In a Holidaze. Gallery.
Quincy, Diana. Her Night with the Duke. Avon.
PARENTING
Porges, Marisa. What Girls Need. Viking.
Sawyer, Ethan. College Admission Essentials. Sourcebooks.
SELF-HELP
Eger, Edith with Esmé Schwall Weigand. The Gift. Scribner.
Hanson, Rick & others. Anxiety First Aid Kit. New Harbinger.
FICTION
Abdoh, Salar. Out of Mesopotamia. Akashic.
The Book of Two Ways. Ballantine.
Robinson, Marilynne. Jack. Farrar.
Shocklee, Michelle. Under the Tulip Tree. Tyndale.
ARTS & HUMANITIES
Alone Together: Love, Grief, and Comfort in the Time of COVID-19. Central Ave.
Bennett, Joshua. Owed. Penguin Pr.
Brown, Craig. 150 Glimpses of the Beatles. Farrar.
Herrera, Juan Felipe. Every Day We Get More Illegal. City Lights.
Shone, Tom. The Nolan Variations: The Movies, Mysteries, and Marvels of Christopher Nolan. Knopf.
SOCIAL SCIENCES
Andrews-Dyer, Helena & R. Eric Thomas. Reclaiming Her Time: The Power of Maxine Waters. Dey St: HarperCollins.
Bourdain, Anthony & Laurie Woolever. World Travel: An Irreverent Guide. Ecco: HarperCollins.
Bradley, Mark A. Blood Runs Coal: The Yablonski Murders and the Battle for the United Mine Workers of America. Norton.
Cummings, Elijah & James Dale. We're Better Than This: My Fight for the Future of Our Democracy. Harper.
Hazareesingh, Sudhir. Black Spartacus: The Epic Life of Toussaint Louverture. Farrar.
Macintyre, Ben. Agent Sonya. Crown.
Morgan, Wesley. The Hardest Place: The American Military Adrift in Afghanistan's Pech Valley. Random.
Selingo, Jeffrey. Who Gets in and Why: A Year Inside College Admissions. Scribner.
Sherwin, Martin J. Gambling with Armageddon: Nuclear Roulette from Hiroshima to the Cuban Missile Crisis, 1945-1962. Knopf.
Timm, Tracy. Unstoppable: Discover Your True Value, Define Your Genius Zone, and Drive Your Dream Career. Page Two.
SCIENCE & TECHNOLOGY
Godfrey-Smith, Peter. Metazoa: Animal Life and the Birth of the Mind. Farrar.
Haedrich, Ken. Pie Academy. Storey.
Ko, Lauren. Pieometry: Modern Tart Art and Pie Design for the Eye and the Palate. Morrow.
McDermott, Kate. Pie Camp: The Skills You Need To Make Any Pie You Want. Countryman Pr.
McDowell, Erin Jeanne. The Book on Pie: Everything You Need To Know To Bake Perfect Pies. Rux Martin: Hougton Harcourt.
Rosenbloom, Megan. Dark Archives: A Librarian's Investigation into the Science and History of Books Bound in Human Skin. Farrar.
Saffitz, Claire. Dessert Person: Recipes and Guidance for Baking with Confidence. Clarkson Potter: Crown.
Sodha, Meera. East: 120 Vegan and Vegetarian Recipes from Bangalore to Beijing. Flatiron: Macmillan.
REFERENCE
Voting and Political Representation in America. ABC-CLIO.
AUDIOBOOKS
Birbiglia, Mike & J. Hope Stein. The New One. Hachette Audio.
Foley, Lucy. The Guest List. HarperAudio.
Hibbert, Talia. Take a Hint, Dani Brown. HarperAudio.
North, Alex. The Shadows. Macmillan Audio.
Rochon, Farrah. The Boyfriend Project. Hachette Audio.