Essential titles reviewed in our June 2020 print issue, spanning mystery & suspense, sf/fantasy, graphic novels, fiction, social sciences, and more.
Essential titles reviewed in our June 2020 print issue, spanning mystery & suspense, sf/fantasy, graphic novels, fiction, social sciences, and more.

MYSTERY & SUSPENSE
Hart, Elsa. The Cabinets of Barnaby Mayne. Minotaur: St. Martin's.
Cosby, S.A. Blacktop Wasteland. Flatiron: Macmillan.
SF/FANTASY
Addison, Katherine. The Angel of the Crows. Tor.
Campbell, Lisbeth. The Vanished Queen. Saga: S. & S.
Johnson, Micaiah. The Space Between Worlds. Del Rey: Ballantine.
GRAPHIC NOVELS
Brubaker, Ed (text) & Sean Phillips (illus.). Cruel Summer. Image.
Flenniken, Shary. Trots and Bonnie. New York Review Comics.
Scioli, Tom. Jack Kirby: The Epic Life of the King of Comics. Ten Speed: Crown.
Tomine, Adrian. The Loneliness of the Long-Distance Cartoonist. Drawn & Quarterly.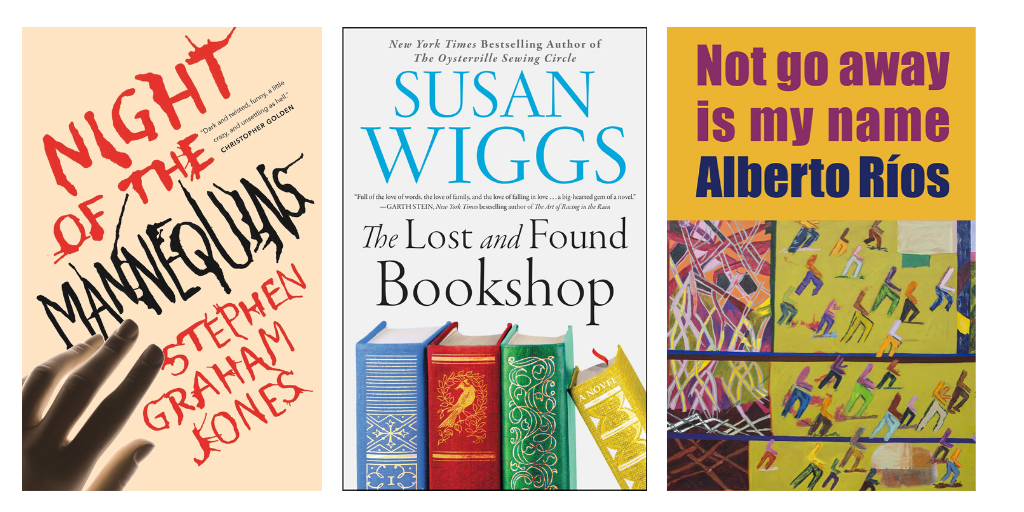 HORROR
Cesare, Adam. Clown in a Cornfield. HarperTeen
Graham Jones, Stephen. Night of the Mannequins. Tor.com.
Miscreations: Gods, Monstrosities & Other Horrors. Written Backwards.
FICTION
Austin, Lynn. If I Were You. Tyndale House.
Bertino, Marie-Helene. Parakeet. Farrar.
Cullen, Helen. The Dazzling Truth. Graydon House: Harlequin.
Dykes, Amanda. Set the Stars Alight. Bethany House.
Gyasi, Yaa. Transcendent Kingdom. Knopf.
Hession, Rónán. Leonard and Hungry Paul. Melville House.
Hilderbrand, Elin. 28 Summers. Little, Brown.
Ho, Lauren. Last Tang Standing. Putnam.
Keyes, Marian. Grown Ups. Doubleday Canada.
Lane, Byron. A Star Is Bored. Holt.
Neuman, Andrés. Fracture. Farrar.
Phoenix, Michèle. Fragments of Light. Thomas Nelson.
Schalansky, Judith. An Inventory of Losses. New Directions.
Wiggs, Susan. The Lost and Found Bookshop. Morrow.
ARTS & HUMANITIES
Ewing, Kateri. Watercolor Is for Everyone. Quarry: Quarto.
Major, Clarence. The Essential Clarence Major. Univ. of North Carolina.
Oney, Tish. Peggy Lee. Rowman & Littlefield.
Ríos, Alberto. Not Go Away Is My Name. Copper Canyon.
Taylor, Tess. Rift Zone. Red Hen.
Weintraub, Robert. The Divine Miss Marble. Dutton.
Wiseman, Bob. Music Lessons. ECW.

SOCIAL SCIENCES
Amore, Anthony M. The Woman Who Stole Vermeer. Pegasus.
Bowden, Mark. The Case of the Vanishing Blonde. Atlantic Monthly.
Dapiran, Antony. City on Fire: The Fight for Hong Kong. Scribe.
Draper, Robert. To Start a War. Penguin Pr.
Frey, Sarah. The Growing Season. Ballantine.
Gates, Robert M. Exercise of Power. Knopf.
Kaufman, Jonathan. The Last Kings of Shanghai. Viking.
Kaur, Valarie. See No Stranger. One World.
Lawson, Shayla. This is Major. Harper Perennial.
McCloskey, Jim & Philip Lerman. When Truth Is All You Have. Doubleday.
Moore, Wayétu. The Dragons, the Giant, the Women. Graywolf.
Ortile, Matt. The Groom Will Keep His Name. Bold Type Books.
Russell, Kent. In the Land of Good Living. Knopf.
Seager, Sara. The Smallest Lights in the Universe. Crown.
Swanson, Doug J. Cult of Glory. Viking.
Whitlatch, Jo Bell & Beth S. Woodard. Competency-Based Career Planning for Reference and User Services Professionals. ALA.
Woodard, Colin. Union: The Struggle To Forge the Story of United States Nationhood. Viking.
Woods, Baynard & Brandon Soderberg. I Got a Monster. St. Martin's.
SCIENCE & TECHNOLOGY
Billis, Stacie. Winner! Winner! Chicken Dinner. Storey.
AUDIOBOOKS
Davidson, Hilary. Don't Look Down. Brilliance Audio.
Greene, Brian. Until the End of Time. Penguin Audio.
Montimore, Margarita. Oona Out of Order. Macmillan Audio.