The next novel from the author of Shuggie Bain.
Click here for additional new Prepub Alert columns
Stuart, Douglas. Young Mungo. Grove. Apr. 2022. 400p. ISBN 9780802159557. $27. LITERARY
After his Booker Prize–winning, one-million-plus-copy best-selling Shuggie Bain, Stuart returns with another largescale tale of queer love and working-class life; young Mungo might be Shuggie's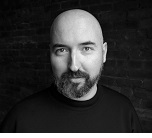 second cousin. Growing up in Glasgow, where religious differences and swaggering masculine prerogative really matter, the Protestant Mungo should not be friends with the Catholic James. But they bond over the pigeon dovecote that James has built for his prize racing birds, a sanctuary for them as well as their feathered friends, and eventually they fall in love. For their safety, they must keep their love quiet from everyone around them, especially Mungo's gang-leading brother Hamish, and Mungo's true grit is tested when his mother sends him on a fishing trip with two shady, whiskey-guzzling men. Will he ever get back to James? And do they have a future? Five years in the making.
Click here for additional new Prepub Alert columns
Photo credit: Martyn Pickersgill