A CIA spy in Africa, Sandford fan favorites Lucas Davenport and Virgil Flowers on the seven seas, and lots of family suspense.
Christy, Bryan. In the Company of Killers. Putnam. Apr. 2021. 368p. ISBN 9780593187920. $27. lrg. prnt. Downloadable. SUSPENSE
Famed investigative wildlife reporter Tom Klay secretly works as a CIA agent, but his cover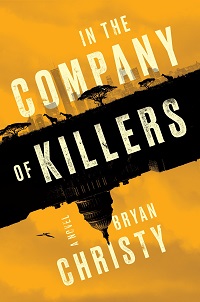 gets shaky after his best friend is murdered while on assignment in Kenya. Klay pursues the killer by accepting a dangerous assignment to infiltrate the office of South Africa's special prosecutor, which pulls him into a bigger conspiracy than he had imagined. Christy is the award-winning former head of Special Investigations at National Geographic.
Hannah, Sophie. Perfect Little Children. Morrow. Feb. 2021. 336p. ISBN 9780062978202. $27.99. lrg. prnt. SUSPENSE
When Beth decides to drive by the house of former best friend Flora, whom she hasn't seen in 12 years, she is shocked to spot Flora with children Thomas and Emily. Flora has gently grayed, but the children—five and three when Beth last saw them—look to be exactly the same age. What's going on? With a 75,000-copy first printing; originally scheduled for February 2020.
Hepworth, Sally. The Good Sister. St. Martin's. Apr. 2021. 320p. ISBN 9781250120953. $27.99. CD. DOMESTIC THRILLER
Good sister Rose responsibly watches over offbeat, introverted sibling Fern, a good-hearted soul who doesn't recognize that their mother has a decidedly sociopathic bent. But long ago Fern herself did something terrible, which Rose keeps hidden even as she panics at the news that Fern wants a baby. From the author of The Mother-in-Law; with a 200,000-copy first printing.
Hooper, Kay. Curse of Salem. Berkley. Apr. 2021. 336p. ISBN 9781984802927. $27. PARANORMAL SUSPENSE
Nash O'Hara once walked the streets of Chicago as a beat cop, but no more. He's now part of the FBI's Special Crimes Unit, whose members use psychic abilities to solve cases. Partnered with Destiny Kincaid, he's facing a first case involving a dark and dangerous curse. Continuing a New York Times best-selling series.
Kepnes, Caroline. You Love Me: A You Novel. Random. Apr. 2021. 400p. ISBN 9780593133781. $28. lrg. prnt. Downloadable. SUSPENSE
Joe Goldberg is back in his third outing, involved in the same kind of creepy obsessing that made You a huge hit—and the basis of a Netflix series. Now he's living on a Pacific Northwest island, working at the local library and falling for librarian Mary Kay DiMarco. He's trying not to stalk her, instead winning her over as a caring soul, but let's see what happens.
Lelchuk, S.A. One Got Away. Flatiron: Macmillan. Apr. 2021. 304p. ISBN 9781250170279. $27.99. CD. SUSPENSE
Bookstore owner Nikki Griffin has an ulterior motive for her private-eye side hustle; as we saw in Save Me from Dangerous Men, she seeks out guys who have hurt women and punishes them. Here, her attempt to protect a woman in danger crashes into a case involving a con man who defrauded a San Francisco matriarch, and she's got tough choices to make. With a 50,000-copy first printing.
McMahon, Jennifer. The Drowning Kind. Gallery: Scout: S. & S. Apr. 2021. 336p. ISBN 9781982153922. $27. NOIR
Social worker Jax is exasperated when she sees nine missed calls on her phone from troublesome older sister Lexie, then horrified to learn that Lexie has drowned in the pool at their grandmother's estate. Lexie was investigating the estate's past, which turns out to be darker than the family imagined. From the author of the New York Times best-selling The Winter People; with a 75,000-copy first printing.
Palmer, D.J. The Perfect Daughter. St. Martin's. Apr. 2021. 384p. ISBN 9781250267924. $27.99. CD. SUSPENSE
With daughter Penny confined to a seedy psychiatric hospital for murder, Grace begins to consider the past. Penny, happily taken in by Grace and her husband after being found abandoned, began exhibiting disturbing multiple personalities as she grew up, and Grace wonders if one of them—a little girl named Abigail—holds the key to the current horror. From the author of The New Husband; with a 75,000-copy first printing.
Parks, Adele. Just My Luck. Mira: Harlequin. Apr. 2021. 368p. ISBN 9780778331902. $28.99; pap. ISBN 9780778331735. $17.99. lrg. prnt. DOMESTIC THRILLER
For 15 years, three couples have played the lottery together, barely winning anything but enjoying one another's company over fish-and-chips and conversations about family. Now Lexi and Jake have a ticket worth £18 million, and their friends want to share it. From No. 1 Sunday Times best-selling author Parks; with a 100,000-copy paperback and 10,000-copy hardcover first printing.
Sandford, John. Ocean Prey. Putnam. Apr. 2021. 416p. ISBN 9780593087022. $29. lrg. prnt. CD/downloadable. CRIME
An off-duty Coast Guardsman gone fishing suspects trouble when he spots a lone diver being picked up mid-ocean by a sleek, swift vessel and calls in backup—three federal officers who are promptly killed. The FBI then calls in Lucas Davenport, who calls in Virgil Flowers, as perennial best seller Sandford unites two fan favorites in the same story.