Once upon a time, humankind only imagined traveling to other worlds. As scientific knowledge progressed, a deeper understanding of the physical universe was made possible. These 30 resources present the work of scientists, philosophers, and writers who pondered what it would be like to explore the heavens and to travel to the moon and other planets.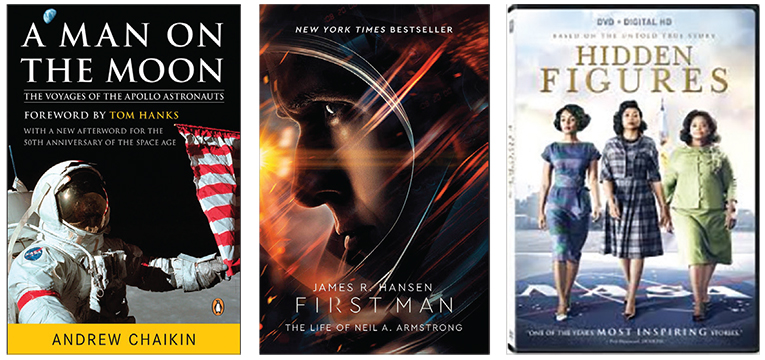 Once upon a time humankind only imagined traveling to other worlds. Myths and legends arose in various cultures to make sense of the existence of the moon, the sun, and other stars. As scientific knowledge progressed and a deeper understanding of the physical universe was made possible by the invention of the telescope, scientists, philosophers, and writers pondered what it would be like to explore the heavens and to travel to the moon and other planets. What was formerly the realm of speculative fiction by authors such as Jules Verne and H.G. Wells and groundbreaking films such as Le Voyage dans la lune (A Trip to the Moon; LJ 6/15/18) by French director Georges Méliès became reality during the 20th century. Engineers such as Robert H. Goddard, Hermann Oberth, and Wernher Von Braun—inspired by these popular imaginative works—endeavored to develop rockets that could propel a ship into space.
During World War II, rocketry took on a darker application as German V2 rockets and American nuclear bombs left a trail of devastation. By 1957, as the United States and the Soviet Union were engaged in the Cold War, the world became transfixed by the Russian satellite Sputnik, the first human-made object to orbit the earth. Sputnik triggered a fierce rivalry between the two superpowers.
BEYOND OUR ORBIT
In 1958, fueled by national security fears and the spread of communism, the United States created the National Aeronautics and Space Administration (NASA) to administer an ambitious civilian space program. The public and press alike were fascinated by the men who were selected to be the astronauts who would fly to the moon. Reporters descended on Cape Canaveral, FL, where the spacecrafts would be launched, and Houston, TX, where astronauts lived and trained. Although Life magazine originally had exclusive access to the astronauts, broadcast journalists like Walter Cronkite helped ignite public interest in the space program by demystifying the complex concepts of spaceflight.
In his famous 1962 speech, President John F. Kennedy called for the United States to become "the world's leading space-faring nation." "We choose to go to the moon," he said, "to gain new knowledge" and "be a force for good." Those words guided a generation through a tumultuous decade of war, riots, and assassinations to achieve a common goal, one that symbolized hope for the future. After progressively successful missions starting with Mercury, then Gemini, and culminating with the Apollo lunar landings, America achieved its dream of visiting Earth's closest celestial ­companion.
For the 50th anniversary of the Apollo 11 moon landing on July 20, 1969, libraries should anticipate increased demand for information about this fascinating period in our history. A galaxy of new titles, including retrospectives and biographies, have been published, as well as books on commercial space travel and the unmanned probes that are exploring the outer reaches of the solar system. With the recent success of Margot Lee Shetterly's book Hidden Figures and its sub­sequent film adaptation, stories about women and people of color and their contributions to space exploration will garner reader interest. Older titles, especially primary sources, should be weeded with care, as many are now out of print. Notably, Italian journalist Oriana Fallaci's If the Sun Dies (Atheneum), which includes interviews with the astronauts and other noteworthy figures, and The NASA Mission Reports (Apogee), which includes mission transcripts and archival documents, remain integral works. The following represents a selection of print and multimedia resources that would appeal to armchair space explorers as well as provide indispensable information for students and researchers.
Starred [
] titles are essential for most collections.
---
Donna Marie Smith is a librarian and research manager at the Palm Beach County Library System, FL. She has been an LJ reviewer since 2002 and was named a 2017 Reviewer of the Year. While getting her MLIS degree at the University of Maryland, she focused on aerospace and aviation research and communication
---
HISTORICAL BACKGROUND
Burrows, William E. This New Ocean. Modern Library. 1999. 752p. photos. notes. bibliog. index. ISBN 9780375754852. pap. $22; ebk. ISBN 9780307765482.
Space reporter Burrows delves into the origins of the space race, drawing from archival resources and interviews with American and Russian scientists and engineers. (LJ 9/15/98)
Capelotti, P.J. The Human Archaeology of Space: Lunar, Planetary, and Interstellar Relics of Exploration. McFarland. 2010. 189p. photos. notes. bibliog. index. ISBN 9780786458592. pap. $39.95; ebk. ISBN 9780786459940.
Archaeologist Capelotti discusses the relevance of studying artifacts such as spaceships, tools, and even footprints left behind on the lunar landings or other planets in relation to the human need to explore.
Chaikin, Andrew. A Man on the Moon: The Voyages of the Apollo Astronauts. Penguin. 2007. 685p. photos. notes. bibliog. index. ISBN 9780143112358. pap. $22.
The definitive history of the Apollo program is meticulously documented by science writer Chaikin. (LJ 5/15/94)
Donovan, James. Shoot for the Moon: The Space Race and the Extraordinary Voyage of Apollo 11. Little, Brown. 2019. 464p. photos. notes. bibliog. index. ISBN 9780316341783. $30; ebk. ISBN 9780316341820.

This accessible history serves as the perfect gateway to learning what it took to land a man on the moon. (LJ 12/18)
Kurson, Robert. Rocket Men: The Daring Odyssey of Apollo 8 and the Astronauts Who Made Man's First Journey to the Moon. Random. 2018. 372p. photos. notes. index. ISBN 9780812988703. $28; ebk. ISBN 9780812988727.
Before Jim Lovell braved the harrowing spaceflight of Apollo 13, he became the first to orbit the moon, along with crewmates Frank Borman and Bill Anders. Best-selling author Kurson describes this historic mission—known for the iconic "Earthrise" photograph—in the context of the turbulent events of 1968. (LJ 1/18)
Launius, Roger D. The Smithsonian History of Space Exploration: From the Ancient World to the Extraterrestrial Future. Smithsonian. 2018. 400p. illus. bibliog. index. ISBN 9781588346377. $40.
This comprehensive history by former NASA historian Launius will intrigue general readers. Libraries will want to order an extra copy for their reference collections. (LJ 9/1/18)
Lovell, Jim & Jeffrey Kluger. Apollo 13. Houghton Harcourt. 2000. 378p. ISBN 9780618056651. $28; pap. ISBN 9780618619580. $15.99.
In what was previously released as Lost Moon: The Perilous Voyage of Apollo 13, astronaut Lovell recounts the gripping drama of how he, Fred Haise, and Jack Swigert survived an onboard explosion en route to the moon. (LJ 10/1/94)
Mailer, Norman. Of a Fire on the Moon. Random. 2014. 480p. ISBN 9780553390612. pap. $16; ebk. ISBN 9780553390629.
Mailer, who along with Tom Wolfe and other writers created the New Journalism movement, chronicles the Apollo 11 moon landing. His sweeping narrative, first published in 1971, gives readers who missed it a sense of what it was like to live through that exciting time.
Pappalardo, Joe. Spaceport Earth: The Reinvention of Spaceflight. Overlook. 2017. 272p. bibliog. index. ISBN 9781468312782. $26.95; pap. ISBN 978146 8316926. $17.95; ebk. ISBN 9781468315646.
Aerospace journalist Pappalardo delves into the thrilling world of commercial spaceflight and tourism. (LJ 11/1/17)
Tyson, Neil DeGrasse. Space Chronicles: Facing the Ultimate Frontier. Norton. 2014. 364p. index. ISBN 9780393350371. pap. $16.95; ebk ISBN 9780393082913.
A variety of topics about space exploration and astronomy are examined in this compilation of previously published articles by renowned astrophysicist Tyson. (LJ 11/15/11)
Wolfe, Tom. The Right Stuff. Picador. 2008. 352p. ISBN 9780312427566. pap. $18; ebk. ISBN 9781429961325.
Noted journalist Wolfe contrasts the bravado of ace test pilot Chuck Yeager, who was the first to break the sound barrier, with the "right stuff" of the Mercury 7 astronauts in this epic yarn.
BIOGRAPHIES & MEMOIRS
Ackmann, Martha. The Mercury 13: The True Story of Thirteen Women and the Dream of Space Flight. Random. 2004. 288p. notes. bibliog. index. ISBN 9780375758935. pap. $18; ebk. ISBN 9781588360373.
Ackmann recounts the compelling story of how 13 daring female pilots who passed the same set of tests as the Mercury 7 astronauts failed to convince NASA that they, too, had the "right stuff." (LJ 6/1/03)
Dean, Margaret Lazarus. Leaving Orbit: Notes for the Last Days of American Spaceflight. Graywolf. 2015. 240p. bibliog. ISBN 9781555977092. pap. $16; ebk. ISBN 9781555973414.
Dean writes a candid first-person account of witnessing the final shuttle launch and contemplates the implications of the end of the first era of American spaceflight. (LJ 4/1/15)
Hansen, James R. First Man: The Life of Neil A. Armstrong. S. & S. 2018. 464p. photos. notes. bibliog. index. ISBN 9781982103163. pap. $18; ebk. ISBN 9781982104344.
In the only authorized biography of Neil Armstrong (1930–2012), former NASA historian Hansen chronicles the life and career of the first man to walk on the moon. (LJ 10/1/05)
Hickam, Homer. Rocket Boys: A Memoir. Delacorte. 1998. 384p. ISBN 9780385333207. $27; pap. ISBN 9780385333214. $17.
This endearing true story of future rocketeer Homer Hickam will inspire readers of all ages. The 2005 feature film October Sky is equally delightful. (LJ 11/1/98)
Holt, Nathalia. Rise of the Rocket Girls: The Women Who Propelled Us, from Missiles to the Moon to Mars. Little, Brown. 2016. 352p. photos. notes. index. ISBN 9780316338929. $27; pap. ISBN 9780316338905. $16.99; ebk. ISBN 9780316268448.
Science writer Holt documents the little-known stories of the women who worked during the postwar years as mathematicians at NASA's Jet Propulsion Laboratory and helped launch America's first satellite, Explorer 1 . (LJ 4/15/16)
Shetterly, Margot Lee. Hidden Figures: The American Dream and the Untold Story of the Black Women Mathematicians Who Helped with the Space Race. Morrow. 2016. 368p. notes. bibliog. index. ISBN 9780062363596. $27.99; pap. ISBN 9780062363602. $15.99; ebk. ISBN 9780062363619.
Despite experiencing racial and gender prejudice, a group of brilliant African American women who worked as "human computers" at the NASA Langley Research Center became crucial figures in helping John Glenn orbit the earth. (LJ 9/1/16)
Smith, Andrew. Moondust: In Search of the Men Who Fell to Earth. Harper Perennial. Jun. 2019. 400p. bibliog. index. ISBN 9780062906694. pap. $14.99; ebk. ISBN 9780061909085.
British author Smith embarked on a quest to interview all the surviving astronauts who walked on the moon.
APPS
NASA. Free. iOS, Android, Kindle Fire.
A portal to current NASA and space news, NASA TV, links to the NASA centers, and other informative content.
NASA Spacecraft 3D. Jet Propulsion Laboratory. Free. iOS & Android.
Download an augmented reality (AR) marker to interact with a variety of NASA spacecraft in a 3-D environment.
Night Sky. iCandi Apps®. Free (with in-app purchases). iOS.
Explore the moon, locate constellations, and spot the International Space Station with this fun app that offers AR and pairs with Apple Watch.
WEBSITES
NASA
Like the app (above), access to the latest space news, NASA TV, a trove of archival and research documents, and links to the NASA centers make this site the ideal launching pad for space enthusiasts.
National Air and Space Museum
With stunning visuals and easy navigation, this website offers detailed information about the museum's exhibits and collections and has links to educational and research materials.
Space.com: NASA, Space Exploration and Astronomy News
This reliable commercial website provides reporting on the latest space and astronomy activities.
---