From an illustrated history to the mothers of great men to the utopian founding of Soul City.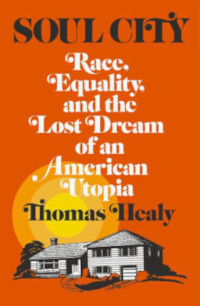 Healy, Thomas. Soul City: Race, Equality, and the Lost Dream of an American Utopia. Metropolitan: Holt. Jan. 2021. 448p. ISBN 9781627798624. $29.99. POLITICS/CIVIL RIGHTS
Winner of the Robert F. Kennedy Book Award for The Great Dissent, Healy reconstructs the story of civil rights leader Floyd McKissick's efforts to build a new city in rural North Carolina that would embrace all races but help Black people especially. Begun in 1969 with federal aid, the project was attacked by racist senator Jesse Helms and suffered when the liberal Raleigh News & Observer wrongly cited fraudulence in its construction practices, leading to its sad demise. With a 40,000-copy first printing.
McCalman, George. Illustrated Black History: Honoring the Iconic and the Unseen. Amistad: HarperCollins. Feb. 2021. 432p. ISBN 9780062913234. $35. HISTORY
Crafted by award-winning designer McCalman, this celebration of Black Americans ranges from Frederick Douglass, Nina Simone, and Audre Lord to Dr. Eliza Ann Grier, born into slavery and the first black woman to practice medicine in America, and Guion S. Bluford, the first black person to travel into space.
Montgomery, Ben. A Shot in the Moonlight: How a Freed Slave and a Confederate Soldier Fought for Justice in the Jim Crow South. Little Brown Spark. Jan. 2021. 304p. ISBN 9780316535540. $28. HISTORY
Pulitzer Prize finalist Montgomery tells the story of George Dinning, a formerly enslaved Kentucky farmer whose homestead was set upon by a mob of white men convinced that he was stealing livestock. Dinning fired back, killing one of his attackers, and with the help of folks like Confederate war hero–turned–lawyer Bennett H. Young became the first Black man in America to win damages after a wrongful murder conviction.
Nti-Asare-Tubbs, Anna. The Three Mothers: How the Mothers of Martin Luther King, Jr., Malcolm X, and James Baldwin Shaped a Nation. Flatiron: Macmillan. Feb. 2021. 272p. ISBN 9781250756121. $28.99. BIOGRAPHY
Berdis Baldwin encouraged her son James's writing, Alberta King pushed Martin toward higher education, and Louise Little asked her children to read to her from the dictionary. And look at the results. From Gates Scholar and Cambridge Ph.D. candidate in sociology Nti-Asare-Tubbs, married to the mayor of Stockton, CA. With a 75,000-copy first printing.
Tresniowski, Alex. The Rope: A True Story of Murder, Heroism, and the Dawn of the NAACP. S. & S. Feb. 2021. 336p. ISBN 9781982114022. $28. HISTORY
New York Times best-selling author Tresniowski revisits the 1910 murder of ten-year-old schoolgirl Marie Smith in Asbury Park, NJ, a case sufficiently flummoxing that local authorities tapped outside help was tapped. Two men—one white, one black—were suspects, and two investigators—one a white maverick, the other formerly enslaved—joined in a delicately crafted sting operation to solve a murder that stirred racial tension and brought out the likes of Ida B. Wells in protest. With a 75,000-copy first printing.