Mysteries from cozies to historicals to international affairs, with Ashley Weaver introducing a new series.
Fletcher, Jessica & Terrie Farley Moran. Murder, She Wrote: Killing in a Koi Pond. Berkley. May 2021. 304p. ISBN 9780593333594. $26.MYSTERY/WOMEN SLEUTHS
Sleuth Jessica Fletcher is back in No. 53 in the USA TODAY best-selling series, investigating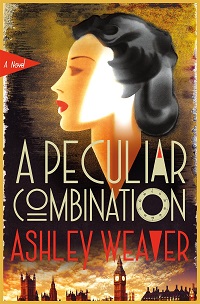 when her friend's rich, obnoxious new husband is found afloat in the koi pond on his sprawling estate. Author Fletcher is now joined by Moran after Jon Land's stint as copilot.
Giordano, Mario. Auntie Poldi and the Lost Madonna. Houghton Harcourt. May 2021. 352p. tr. from German by John Brownjohn. ISBN 9780358251392. $24. MYSTERY/INTERNATIONAL
When a nun throws herself over a balustrade after participating in an exorcism, Auntie Poldi is suspected of contributing to her death; the woman being exorcised gave Poldi's name. When Poldi discovers that events are linked to a stolen statue of the Madonna, even the handsome Vatican commissario in charge of the case gets panicked. Fourth in a popular new series.
Haines, Carolyn. Independent Bones. Minotaur: St. Martin's. May 2021. 320p. ISBN 9781250257871. $26.99. MYSTERY/COZY
When Dr. Alala Diakos arrives at Ole Miss as a visiting professor in Greek literature, her radical feminism inspires jeers as well as cheers; someone even leaves behind a sniper rifle at an equal-pay rally in small-town Zinnia where she's speaking. PI Sarah Booth Delaney entreats her sheriff boyfriend to provide police protection, but the death of a local challenged by Alala for domestic abuse complicates matters. With a 40,000-copy first printing.
James, Miranda. What the Cat Dragged In. Berkley. May 2021. 304p. ISBN 9780593199466. $26. MYSTERY/COZY
The cat in question is Diesel, a Maine coon cat belonging to Mississippi librarian Charlie Harris, and they are now on their 14th romp in this next title in the New York Times best-selling "Cat in the Stacks" series. As Marilyn Stasio said of James's Twelve Angry Librarians, "Let us now praise the cozy mystery, so comforting on dark days, so warming on chilly nights—the literary equivalent of a cat."
Jonasson, Ragnar. The Girl Who Died. Minotaur: St. Martin's. May 2021. 336p. ISBN 9781250793737. $27.99. MYSTER/INTERNATIONAL
Desperate to secure her teaching credentials—and a salary—Una leaves Reykjavík for a position in a remote Icelandic village, where she has only two pupils. The dozen villagers are polite if distant, but as she holes up in her rented room (reputedly haunted), Una discovers a dangerous truth they have kept hidden for generations. With a 50,000-copy first printing.
Klingborg, Brian. Thief of Souls: An Inspector Lu Fei Mystery. Minotaur: St. Martin's. May 2021. 288p. ISBN 9781250779052. $27.99. POLICE PROCEDURAL/INTERNATIONAL
A peasant girl is murdered in a northern Chinese village, her organs removed and her mouth packed with joss paper, and exiled inspector Lu Fei is on the case. Self-serving business folks and local Communist Party bosses soon want to disrupt his efforts to link the murder to other suspect deaths in the region. Next in the series from Klingborg, who long lived and worked in Asia; with a 75,000-copy first printing.
Logan, Kylie. A Trail of Lies. Minotaur: St. Martin's. May 2021. 320p. ISBN 9781250768636. $26.99. MYSTERY/WOMEN SLEUTHS
When the mother of Jazz Ramsey's maybe boyfriend Nick claims that she's spotted a dead man in the backyard, Jazz has her doubts; the woman is prone to alcohol-fueled flights of fancy. But while the yard is empty, a sniffer dog soon leads Jazz to a corpse clutching a photo of Nick's mother holding Nick as a baby. With a 30,000-copy first printing; third in a new series from the nationally best-selling, multi-series-purveying Logan.
Lupica, Mike. Robert B. Parker's Payback. Putnam. May 2021. 432p. ISBN 9780593087855. $28. CD/downloadable. MYSTERY
After a decadelong break, Lupica brought back PI Sunny Randall—Parker's only female series protagonist—in 2018'sRobert B. Parker's Blood Feud. She's here again (following Grudge Match), investigating the suicide of best friend Spike's 20-year old niece at Taft University.
Perry, Anne. Death with a Double Edge: A Daniel Pitt Novel. Ballantine. Apr. 2021. 288p. ISBN 9780593159330. $28. MYSTERY/HISTORICAL
In 1910, a senior barrister is found dead in a notorious London slum called Mile End, and as junior barrister Daniel Pitt investigates with close friend Tom Kitteridge, he encounters a wealthy shipbuilder tasked with building Britain's fleet. Soon the entire Pitt family is receiving threats. Next in the spinoff series from New York Times best-selling author Anne Perry.
Walker, Martin. The Coldest Case: A Bruno, Chief of Police Novel. Knopf. May 2021. 336p. ISBN 9780525656678. $25.95. MYSTERY/INTERNAITONAL
Applying the facial reconstruction tools he saw used on ancient skulls to the skull of a murder victim from a 30-year-old cold case leads Bruno, chief of police in the fictional town of St. Denis, to a reclusive vintner who's not what he appears to be and the activities of a Communist organization during the Cold War era. As always, there's talk of good food with the gorgeous Dordogne as backdrop.
Weaver, Ashley. A Peculiar Combination: An Electra McDonnell Novel. Minotaur: St. Martin's. May 2021. 288p. ISBN 9781250780485. $26.99. MYSTERY/HISTORICAL
Louisiana librarian Weaver takes a detour from her beloved Amory Ames series to introduce Electra "Ellie" McDonnell, who breaks into safes with locksmith uncle Mick to make ends meet in World War II England. Caught in the act, they're spared arrest by Major Ramsey if Ellie agrees to safe-crack her way to liberating some blueprints needed for the British war effort before they're handed to a German spy. With a 40,000-copy first printing.