This preholiday sneak peek of July nonfiction will get you set for the summer with sure-to buzz books in political science and memoir.
Applebaum, Anne. Twilight of Democracy: The Seductive Lure of the Authoritarian State. Doubleday. Jul. 2020. 208p. ISBN 9780385545808. $25; ebk. ISBN 9780385545815.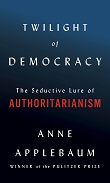 lrg. prnt. POLITICAL SCIENCE
Hughley, D.L. Surrender, White People!: Our Terms for Ending the 400-Year Conflict Between America and People of Color. Morrow. Jul. 2020. 272p. ISBN 9780062953704. $27.99; ebk. ISBN 9780062953728. POLITICS/HUMOR
Leakey, Meave & Samira Leakey. The Sediments of Time: My Lifelong Search for the Past. Houghton Harcourt. Jul. 2020. 416p. ISBN 9780358206675. $30; ebk. ISBN 9780358171911. MEMOIR
Manning, Chelsea. Untitled. Farrar. Jul. 2020. 288p. ISBN 9780374279271. $27; ebk. ISBN 9780374719814. CD. MEMOIR
Padnos, Theo. Blindfold: A Memoir of Capture, Torture, and Enlightenment. Scribner. Jul. 2020. 352p. ISBN 9781982120825. $27; ebk. ISBN 9781982120849. POLITICS/MEMOIR
Stone, Oliver. Chasing the Light: Writing, Directing, and Surviving Platoon, Midnight Express, Scarface, Salvador, and the Movie Game. Houghton Harcourt. Jul. 2020. 304p. ISBN 9780358346234. $28; ebk. ISBN 9780358345664. MEMOIR
In Twilight of Democracy, the Pulitzer Prize–winning Applebaum explains today's surge of strongmen worldwide by arguing that humans are surprisingly attracted to authoritarianism. In Surrender, White People! New York Times best-selling comedian Hughley (How Not To Get Shot) strikes a funny if pointed deal with soon-to-be-minority white America: if white people will stop preventing blacks from voting and will keep their police from killing young black men, blacks won't comment on how white people dance. In The Sediments of Time, leading paleoanthropologist Leakey talks not only about her enduring hunt for human origins but her life with paleoanthropologist husband Richard, giving him a kidney when needed and managing their expeditions when he was badly injured in a plane crash (35,000-copy first printing). Manning's Untitled memoir not only chronicles her leaking of 720,000 classified military documents and decision to transition to a female identity but pleads for greater government accountability. In Blindfold, award-winning journalist Padnos lets us know what it's like to be kidnapped and tortured in Syria by al Qaeda for two years. Of course Stone's Chasing the Light goes behind the scenes of his many films, but the Academy Award–winning writer/director also discusses his childhood and combat in Vietnam (60,000-copy first printing).
This is the last Prepub Alert in 2019. Prepub Alert will returm im 2020 on Wednesdays.