This preholiday sneak peek of July fiction will get you set for the summer with some big-name popular fiction.
Davis, Fiona. Lions of Fifth Avenue. Dutton. Jul. 2020. 368p. ISBN 9781524744618. $27; ebk. ISBN 9781524744625. lrg. prnt. Downloadable. HISTORICAL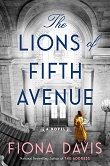 Läckberg, Camilla. The Golden Cage. Knopf. Jul. 2020. 352p. tr. from Swedish by Neil Smith. ISBN 9780525657972. $26.95; ebk. ISBN 9780525657989. lrg. prnt. SUSPENSE
McCall Smith, Alexander. The Geometry of Holding Hands: An Isabel Dalhousie Novel. Pantheon. Jul. 2020. 304p. ISBN 9781524748944. $25.95. lrg. prnt. MYSTERY
Patterson, James & Chris Tebbetts .1st Case. Little, Brown. Jul. 2020. 352p. ISBN 9780316418188. $28; ebk. ISBN 9780316418195. lib. ebk. ISBN 978031641820. CD/downloadable. THRILLERS/TECHNOLOGICAL
Salvatore, R.A. Relentless. Harper Voyager. Jul. 2020. 432p. ISBN 9780062688675. $28.99; ebk. ISBN 9780062688668. FANTASY
Wiggs, Susan. The Lost and Found Bookshop. Morrow. Jul. 2020. 384p. ISBN 9780062914095. $27.99; ebk. ISBN 9780062914132. lrg. prnt. CD. WOMEN'S
In Davis's Lions of Fifth Avenue, which opens in the early 1900s, the enterprising wife of the NYPL superintendent is involved in everything from Greenwich Village's new bohemia to the fight for suffrage but is especially worried about book thefts from the library that decades later impact her granddaughter. In mega-best-selling Camilla Läckberg's The Golden Cage, the increasingly restless wife of a billionaire learns that he is having an affair and exacts luscious revenge. Alexander McCall Smith sends Isabel Dalhousie on her 13th outing, with gossip leading her to The Geometry of Holding Hands. Patterson and Tebbetts join in 1st Case, wherein Angela Hoot gets kicked out of MIT's graduate school, joins the FBI's cyber-forensics unit, and must deal with a messaging app whose beta users are dying without getting killed herself (475,000-copy first printing). Salvatore's Relentless closes his "Generations" trilogy with Zaknafein reunited with son Drizzt Do'Urden and reconciled to life's unpredictability (100,000-copy first printing). In Wiggs's The Lost and Found Bookshop, Natalie Harper feels she must sell the bookshop she's inherited to pay for her grandfather's care, but he refuses to acquiesce, and renovation of the store and its studio apartment push her life in a whole new direction.
This is the final Prepub Alert entry for 2019. Prepub Alert returns in 2020 on Wednesdays.