Jimmy Carter, Adolf Hitler, and Tecumseh and his brother Tenskwatawa, known as the Shawnee prophet, are among those holding court for biography readers in September.
Alter, Jonathan. His Very Best: Jimmy Carter, a Life. S. & S. Sept. 2020. 672p. ISBN 9781501125485. $37.50. CD. BIOGRAPHY
A former senior editor at Newsweek and New York Times best-selling author (e.g., The Center Holds), Alter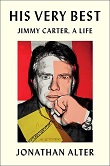 draws on newly tapped archival material and thoroughgoing access to Carter and his family to portray a man raised in the Jim Crow South on a farm lacking electricity and running water who grew up to become president and through his activism completely reshaped the post-presidential story. He still builds housing for the poor in his nineties. With a 150,000-copy first printing—and, hey, there's a national author tour!
Andrews-Dyer, Helena & R. Eric Thomas. Reclaiming Her Time: The Life, Wit, and Wisdom of American Icon Maxine Waters. Dey Street: HarperCollins. Sept. 2020. 240p. ISBN 9780062992031. $26.99. BIOGRAPHY
Acclaimed Washington Post reporter Andrews-Dyer and Thomas, the Elle.com senior staff writer responsible for the ubiquitous "Auntie Maxine" meme, offer a biography of the U.S. congresswoman famed for her head-on clashes with President Trump and his crew: "I'm a strong black woman, and I cannot be intimidated. I cannot be undermined. I cannot be thought to be afraid of Bill O'Reilly or anyone." With original four-color illustrations throughout.
Cozzens, Peter. Tecumseh and the Prophet: The Shawnee Brothers Who Defied a Nation. Knopf. Sept. 2020. 560p. ISBN 9781524733254. $35. lrg.prnt. BIOGRAPHY
Author of the Lehrman– and Bancroft Prize–winning The Earth Is Weeping, among over a dozen other books on the Civil War and the Indian Wars, Cozzens has crafted what's billed as the first biography in more than two decades of famed Shawnee leader Tecumseh. Significantly, it emphasizes the importance of Tecumseh's brother Tenskwatawa as his commensurate partner in building the last major pan-Native alliance against the United States and creator of a unifying religious and cultural vision that earned him the appellation Shawnee Prophet.
Logevall, Fredrik. JFK: Coming of Age in the American Century, 1917–1956. Random. Sept. 2020. 928p. ISBN 9780812997132. $38. Downloadable. BIOGRAPHY
A Pulitzer Prize winner for Embers of War: The Fall of an Empire and the Making of America's Vietnam,
Logevall offers a full-fledged biography of our 35th president, responding to what he sees as a real gap in our current understanding. Since Kennedy's assassination, he argues, there's been too much focus on his political legacy and personal life, and he aims to redress the balance with a two-volume biography, the first of which is covering JFK's life through his 39th year.
Reynolds, David S. Abe: Abraham Lincoln in His Times. Penguin Pr. Sept. 2020. 1088p. ISBN 9781594206047. $40. Downloadable. BIOGRPAHY
A specialist in 19th-century American history whose works include the Bancroft Prize–winning Walt Whitman's America, Reynolds reveals Lincoln to be a man of his place and times—rapidly expanding and rapidly fracturing America—who was still able to rise above the fray to provide a larger vision. He explain Lincoln's genius for balancing opposing forces by highlighting his mixed heritage (New England Puritan on his father's side and upper-crust Virginian on his mother's) and upbringing (he was prodigiously self-taught yet also a jokey wrestler popular with his peers.
Ullrich, Volker. Hitler: Downfall: 1939–1945. Knopf. Sept. 2020. 848p. ISBN 9781101874004. $40. BIOGRAPHY
German critic/historian Ullrich follows up his New York Times best-selling, Los Angeles Times Book Prize–winning Hitler: Ascent, 1889–1939 with a wrap-up volume to this major biography of Adolf Hitler. Here he focuses on Hitler's conduct of the war, focusing on der Führer's supreme insecurity, micromanaging tendencies, blind risk taking, never-take-the-blame attitude, and, in the end, desire to punish the German people for letting him down.