Binder, Matthew. The Absolved. Black Spot. Dec. 2018. 290p. ISBN 9781732400726. $14.99; ebk. ISBN 9781732400733. SF
Binder (High in the Streets) crafts a sardonic and bleak future, in which artificial intelligence has rendered a large percentage of the population permanently unemployed: the Absolved. While the Absolved are excused from working or having to contribute to society, they aren't all uplifted and unburdened by complete freedom. Some are dejected and furious that robots have usurped their purpose. Henri has so far defied the odds and continues working as a doctor, until he spends too much government money on patients and is eventually, unknowingly roped into a plot by a group of the Absolved to dismantle a system in which believing in technology is akin to believing in God. Binder's tale, while engaging as a novel, ­approaches a political treatise on eschewing the march toward exponential technological growth. The ending feels somewhat abrupt, perhaps to leave room for a sequel.
VERDICT An enjoyable, witty read that ponders where automation might actually take us, not just where we want it to go. —­Jennifer M. Schlau, Elgin Community Coll., IL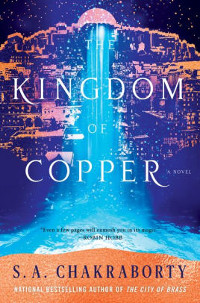 Chakraborty, S.A. The Kingdom of Copper. Harper Voyager. (Daevabad Trilogy, Bk. 2). Jan. 2019. 664p. ISBN 9780062678133. $26.99 ; ebk. ISBN 9780062678157. FANTASY
Five years ago, young con artist Nahri discovered her ability as a Daeva healer and traveled with djinn warrior Dara to ­Daevabad. The city is ruled by King Ghassan, who is descended from the Geziri tribes that conquered the Daevas and seized the magic-controlling Suleiman's seal. At the end of the last book, City of Brass, Dara was killed by Ghassan's younger son, Ali. Nahri was forced to marry Ghassan's older son, Muntadhir, relinquishing her powers and people to his control. As Nahri chafes under ­Ghassan's thumb and increasingly cruel whims, she faces decisions she never thought she'd have to make. Not only is Ali alive, thanks to water magic from the fearsome marid, but Dara has been summoned back to the world to dethrone Ghassan and reclaim Daevabad from the Geziri.
VERDICT With a richly immersive setting and featuring complex familial, religious, and racial ties and divides, Chakraborty's second book in the trilogy wraps readers in a lush and magical story that takes over all the senses. [See Prepub Alert, 7/23/18.] —Kristi Chadwick, Massachusetts Lib. Syst., Northampton
Clark, P. Dejèlí. The Haunting of Tram Car 015. Tor.com. (Dead Djinn in Cairo, Bk. 2). Feb. 2019. 144p. ISBN 9781250294807. pap. $14.99; ebk. ISBN 9781250294784. FANTASY
In 1912 Cairo, the Ministry of Alchemy, Enchantments, and Supernatural Entities takes on cases considered abnormal by the wider world but quotidian enough to the ministry. This latest case is something different. When Agent Hamed Nasr and new partner Agent Onsi Yousef arrive at what seems to be a possessed tram car, they discover more than they were expecting. While trying to solve the case with minimal resources, Hamed and Onsi encounter suffragists, a smuggling ring, and sentient automatons. As they close in on the truth, Hamed and Onsi realize that a tram car is the least of their worries: all of Cairo may be at stake from a danger that spans the magical and mundane, requiring all their skills to stop it.
VERDICT This novella sequel to A Dead Djinn in Cairo keeps a tight hold through its well-crafted characters and absorbing alternate Egyptian landscape. Recommended for fans of the first book in this new series. —Kristi Chadwick, Massachusetts Lib. Syst., Northampton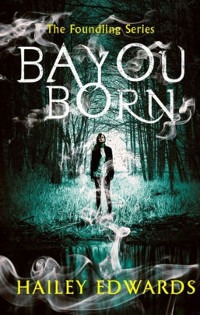 Edwards, Hailey. Bayou Born. Piatkus. (Foundling, Bk. 1). Jan. 2019. 336p. ISBN 9780349417066. pap. $13.99; ebk. ISBN 9780349417059. FANTASY
Found in the Mississippi bayou as a child, Luce Boudreau has no memories of her past or the meanings of the strange markings that cover her body. Adopted by the police officer who rescued her, she follows in his footsteps, determined to prove the assumptions about her wrong. When Luce rescues another young woman from the swamp, similarly covered in markings, rumors start again. With the help of Cole Heaton and his private security company, Luce starts to unravel the mystery surrounding the woman, but the investigation soon gets derailed when she disappears from the hospital. Luce's best friend also vanishes under strange circumstances. While Luce, Cole, and his crew track down leads on both missing women and survive an attempt on their lives, Luce's ability to recover quickly is mirrored by Cole's own healing powers. A strong attraction between Luce and Cole also develops, despite Cole's attempts to distance himself. The unknowns surrounding Luce's backstory and markings are soon revealed to be part of the current dangers facing humankind.
­VERDICT This ­paranormal fantasy/mystery/romance presents a compelling plot and likable characters, promising more to follow after an addictive beginning to this new series. Perfect for fans of Darynda Jones and Patricia Briggs.—Terri Lent, Patrick Henry High Sch., Ashland, VA
Holmberg, Charlie N. Smoke and Summons. 47North: Amazon. (Numina, Bk. 1). Feb. 2019. 365p. ISBN 9781503905436. $24.95. FANTASY
At 14, Sandis was picked up by grafters and taken to live below the city to work for Kazen, a ruthless criminal. She was also chosen as a vessel for the powerful numina Ireth. Brought to a business meeting, Sandis had only a moment to see the name of her brother, presumed dead, in a ledger before Ireth was charged with destroying all present. Now, four years later, Sandis is willing to risk it all to find her family, but the truth might be more than she can bear. A well-developed setting and social, economic, and political systems make it easy to picture how this bleak, unforgiving world shapes the emotional and mental viewpoint of its inhabitants, adding depth to the story. Characters are slowly revealed through their thoughts and actions, while deliberate contradictions in their choices and dark secrets build tension into the relationships.
­VERDICT With scads of action, clear explanations of how supernatural elements function, and appealing characters with smart backstories, this first in a series will draw in fans of ­Cassandra Clare, Leigh Bardugo, or Brandon ­Sanderson. —Stacey Hayman, Rocky River P.L., OH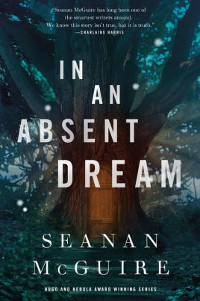 McGuire, Seanan. In An Absent Dream. Tor.com. (Wayward Children, Bk. 4). Jan. 2019. 208p. ISBN 9780765399298. $17.99. FANTASY
When quiet and studious Katherine Lundy realizes the world expects her to conform, grow up, and have children of her own, she searches for something more. Finding a door that leads her to the Goblin Market—a place established in rules of logic and riddles, where everything is valued fairly—feels like a dream come true. As Lundy gets older, forming friendships and family ties, she tries to keep everything in balance. But justice has become a lost concept for much of the world, and at the ­Goblin Market, ­everything has a cost. So when Lundy tries to make a bargain, she discovers that while she may get what she asks for, it will never be what she truly desires. ­
VERDICT ­McGuire's fourth in the "Wayward Children" series takes the concepts of fairness and common sense and twists them through the doorways of a portal fantasy with an amazing landscape and characters. Lyrical prose cuts with an honesty of losing childhood innocence that eases the heartache that sometimes accompanies coming of age. —Kristi Chadwick, Massachusetts Lib. Syst., Northampton
Mihalik, Jessie. Polaris Rising. Harper Voyager. Feb. 2019. 448p. ISBN 9780062802385. pap. $16.99 ; ebk. ISBN 9780062802408. SF
DEBUT Ada von Hasenburg is the fifth of six children, and as a member of one of the High Houses that head the Royal Consortium and rule the universe, she's worth a lot to her family. Rather than be married off to rival house member ­Richard Rockhurst, Ada decides to run away. Discovered after two years, she's locked away with the notorious Devil of Fornax Zero, Marcus Loch. When their ship is intercepted by one from House Rockhurst, captained by none other than Ada's discarded fiancé, she knows that in his hands she will be no more than a prisoner and a detriment to her house. So what else can a space princess do but make a deal with a devil? Smart dialog among sharp-witted characters, as well as tight action scenes and a bit of sex and romance all come together for an exciting tale across the stars.
VERDICT This fun debut frolics through the space opera setup with an exciting and brave new heroine. —Kristi ­Chadwick, Massachusetts Lib. Syst., Northampton
Post, Steph. Miraculum. Polis. Feb. 2019. 320p. ISBN 9781947993419. $26. FANTASY
Post presents a novel with similar supernatural elements as Erin Morgenstern's modern classic The Night Circus, featuring plenty of money men and the seductively strange. But where Morgenstern memorably paints a world of beautiful magic and tragic love, Post delves into the ugliness of the struggle to achieve self-determination within it. She uses a third-person omniscient voice to offer many perspectives on lice-ridden, moonshine-soaked carnie life but ultimately focuses on protagonist Ruby Chole, tattooed lady and enchantress of serpents, vs. antagonist Daniel Revont, a singular geek with bespoke suits and a preternatural power of persuasion. As Ruby learns more of her own powers and Daniel employs his for casual, destructive cruelty, the path to their showdown intertwines with a mutual realization that they understand each other better than anyone else ever could. ­
VERDICT Night Circus fans will inevitably find this a cousin of their favorite, but readers of Katharine Dunn's Geek Love or Neil Gaiman's American Gods are more likely to enjoy it. —Nicole Steeves, Fox River Valley P.L. Dist., IL
Scott, Melissa. Finders. Candlemark & Gleam. Dec. 2018. 372p. ISBN 9781936460885. pap. $12.99. SF
In a future still recovering from a terrible war waged against evil AIs, Cassilde and partner Dai recruit their former colleague Ashe for a routine salvage mission. But when they're attacked by Ashe's previous employer John Vertrage, they realize Ashe hasn't been completely honest. Wounded, Cassilde is guided to an alcove where she's healed by ancestral technology. Ashe then comes clean, revealing information about "Gifts"—which remain a part of their recipients, keeping them safe from harm and extending their lives. To safeguard her crew, Cassilde vows to find Gifts for all of them, but their pursuers have other ideas. Vertrage intends to use Ashe's special knowledge to unleash the imprisoned AIs. In her newest effort, Scott ("Point" series) combines and extends two short stories, creating a fast-paced, futuristic space adventure with room for sequels.
VERDICT Recommended for sf fans seeking a solid romp through a well-built universe with curious technology. —Karin Thogersen, Huntley Area P.L., IL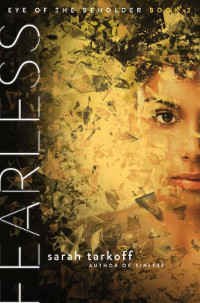 Tarkoff, Sarah. Fearless. Harper. (Eye of the Beholder, Bk. 2). Jan. 2019. 384p. ISBN 9780062456403. pap. $16.99; ebk. ISBN 9780062456410. FANTASY
This sequel to Sinless follows 18-year-old Grace Luther as she embroils herself further in a dystopian future. It's been a decade since the Revelations, when the Great Spirit saved humankind by forming a single religion that punishes wrongdoing with physical pain and deformities and encourages piousness with beauty. Grace has been a double agent, serving Prophet Joseph as well as Dawn, the leader of the local resistance. Taking pills each day that prevent her from receiving punishment, Grace risks her life to bring an end to the mind control and manipulation of her society. With the assistance of two possible love interests, she dives deeper into the resistance and soon learns that right and wrong are not so clearly defined, making her own decisions for which path to follow.
VERDICT While the plot is predictable and almost hackneyed, the social commentary of a person's looks being tied to sin is compelling. Tarkoff's (Arrow) screenwriter background may result in some interest from YA dystopian lovers in this title reminiscent of the "Divergent" series.—Chelsie Harris, San Diego Cty. Lib.
Townsend, Tracy. The Fall. PYR. (Thieves of Fate, Bk. 2). Jan. 2019. 400p. ISBN 9781633884984. pap. $18 ; ebk. ISBN 9781633884991. FANTASY
Eight months earlier, 14-year-old street rat Rowena Downshire was an underworld courier who crossed paths with the Alchemist over a lost package that contained a magical book listing the Nine, whom God is watching to determine whether His grand experiment—the world—is worth keeping. Now working as a clerk for the Alchemist, Rowena has discovered she's one of the Nine and tries to stay under the radar. But then Anselm Meteron and the Alchemist are called to travel partway across the world and escort the Reverend Doctor Phillip Chalmers, a scholar of the Creator's work, to the Grand Library of Nippon. Revelations abound that will lead Rowena and her friends into a race against a nonhuman who wants to destroy the Nine and the Creator's Grand Experiment, along with the universe itself. High-stakes action and a cast of intriguing characters run with the science-as-religion concept to a stunning conclusion. ­
VERDICT This sequel to The Nine is a twisting tale of science, faith, and creatures beyond imagination. Townsend's worldbuilding is rich and complex, illuminating a captivating ­alternate Earth. —Kristi Chadwick, ­Massachusetts Lib. Syst., Northampton
White, Alex. A Bad Deal for the Whole Galaxy. Orbit: Hachette. (Salvagers, Bk. 2). Dec. 2018. 544p. ISBN 9780316412100. pap. $15.99; ebk. ISBN 9780316412094. SF
The crew of the Capricious (first seen in A Big Ship at the End of the Universe) has the funds to get out of adventuring, but the worlds still need saving. They hear about a strange cult called The Children of the Singularity with ties to an old, powerful magic. Chasing down those involved with The Children has not been successful, so the crew has no choice but to infiltrate. Nilah Brio, infamous Pan Galactic Racing Federation driver, goes undercover to find out more. Elizabeth "Boots" Elsworth thought she was out of the treasure-hunting business, but when her old crew lands at her home, Boots realizes there's another quest in front of her that will lead to a face-to-face confrontation with her former double-crossing partner.
VERDICT Compelling characters, clever plot points, and the whole of outer space to roam come together in this fast-paced, second book of the "Salvagers" series, offering a singular blend of sf and fantasy that will attract devoted genre fans. —Kristi Chadwick, Massachusetts Lib. Syst., Northampton
Collections & Anthologies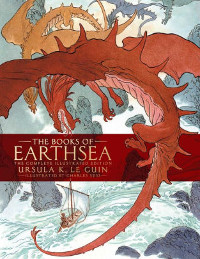 Le Guin, Ursula K. The Books of Earthsea: The Complete Illustrated Edition. Saga: S. & S . Oct. 2018. 1008p. illus. by Charles Vess. ISBN 9781481465588. $59.99. FANTASY
Award-winning author Le Guin and illustrator Vess have collaborated on a beautiful edition of the late Le Guin's "Earthsea" chronicles, gathered here into a single volume for the first time. Le Guin's stories never disappoint, and this epic fantasy is no exception. Decades before Harry Potter, the author created Ged, a brash farm boy who goes to a wizard school in The Wizard of Earthsea. The Newbery Award–­winning follow-up, The Tombs of Atuan, traces ­Tenar, who was forced into becoming a priestess but later questions her faith. In The Farthest Shore, Ged fights a dark mage draining magic from Earthsea. Tehanu sees Tenar in her middle years as a mother examining gender roles through magical power. The final novel, The Other Wind, provides a sequel to Tehanu. Also included is Le Guin's Oxford lecture "Earthsea Revisioned" and a collection of short stories featuring the never-before-published "The Daughter of Odren," about the nature of power, birthright, and justice. Alongside these stories are gorgeous illustrations by Vess, many in rich full color. ­
VERDICT With solid YA crossover appeal but highly enjoyable for all ages, this is especially recommended for admirers of J.R.R. Tolkien, C.S. Lewis, and J.K. ­Rowling. —Lucy Roehrig, Ann Arbor Dist. Lib., MI
---
This article was originally published in Library Journal's Winter 2018 issue.