From retired judge LaDoris Hazzard Cordell, to Congo-born, Rwanda-raised refugee Dogon Mondiant, to Pulitzer Prize winner Farah Stockman, personal perspectives on social justice issues worldwide.
Click here for additional new Prepub Alert columns
Bowen, Sesali. Bad Fat Black Girl: Notes from a Trap Feminist. Amistad: HarperCollins. Oct. 2021. 272p. ISBN 9780063028708. $24.99. SOCIAL SCIENCE
Entertainment journalist Bowen here delineates Trap Feminism, a term she coined to explain how feminism intersects with hip-hop, thus encompassing the range, nuance, and bad-assed edginess she couldn't find in standard-issue, upscale white feminist discussions. She also blends in memoir, going back to her Chicago roots to explain how she steered her way through Blackness, queerness, fatness, friendship, poverty, and sex work and how she found self-love. With a 35,000-copy first printing.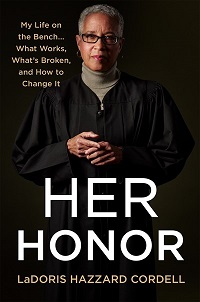 Cordell, LaDoris Hazzard. Her Honor: My Life on the Bench…What Works, What's Broken, and How To Change It. Celadon: McMillan. Oct. 2021. 336p. ISBN 9781250269607. $28. MEMOIR
The first Black woman to sit on the Superior Court of Northern California, now retired and a legal commentator familiar to audiences of CNN, MSNBC, and NPR, Cordell blends memoir with keen professional insight to explain how the U.S. judicial system works—and how it doesn't, as it has always been distorted by bias. She's got recommendations for change. With a 75,000-copy first printing.
Dogon, Mondiant with Jenna Krajeski. Those We Throw Away Are Diamonds: A Refugee's Search for Home. Penguin Pr. Oct. 2021. 336p. ISBN 9781984881281. $28. MEMOIR
"Those we throw away are diamonds," proclaims a poem written by human rights activist and refugee ambassador Dogan, a Bagogwe Tutsi born in Congo whose family was forced to flee Hutu threats of murder, escaping to Rwanda and settling in a UN tent city where the violence continued. Dogon managed to push himself through school and eventually entered the University of Rwanda with the highest national examination grades in his county; in 2019, he received a master's degree in international education from the NYU Steinhardt School of Culture, Education, and Human Development. His aim? To help refugees everywhere get the education they want.
Stewart, Matthew. The 9.9 Percent: The New Aristocracy That Is Entrenching Inequality and Warping Our Culture. S. & S. Oct. 2021. 352p. ISBN 9781982114183. $28. SOCIAL SCIENCE
Today, those claiming the top .1 percent of wealth in America are flying high, while the bottom 90 percent are doing worse than ever. What about the 9.9 percent? Says Stewart, an independent scholar who acknowledges that as a former management consultant he once belonged to their ranks, these money mongers control more than half of the wealth in the country—and their desire to hang on to their wealth and their status works to the detriment of the poorly paid underclass on whom they rely. With a 60,000-copy first printing.
Stockman, Farah. American Made: What Happens to People When Work Disappears. Random. Oct. 2021. 432p. ISBN 9781984801159. $28. POLITICAL SCIENCE/LABOR AND INDUSTRIAL RELATIONS
Jobs mean security, self-worth, and quite obviously the means of survival, so what happens when they are lost? To show us, Pulitzer Prize–winning journalist Stockman considers the recent closure of Indianapolis's Rexnord steel-bearings manufacturing plant, with operations moved to Mexico and Texas. Stockman relates the story through the experiences of three workers: a Black man named Wally who had dreamed of opening his own barbeque business; white machinist John, whose family has deep roots in the union; and Shannon, a single white mother who had been the first woman to run the fearsome furnaces.
Click here for additional new Prepub Alert columns