Seven lead titles for spring that are already buzzing.
Banks, Russell. Foregone. Ecco. Mar. 2021. 320p. ISBN 9780063036758. $28.99. LITERARY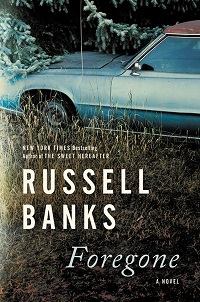 Among the 60,000 draft evaders and deserters who filtered north to Canada during the Vietnam War, leftist documentary filmmaker Leonard Fife is now dying, and a valedictory interview filmed by acolyte Malcolm MacLeod reveals a dark secret that has friends and family reeling. A meditative look-back of his own from two-time Pulitzer Prize finalist Banks; with a 75,000-copy first printing.
Brooks, Malcolm. Cloudmaker. Grove. Mar. 2021. 400p. ISBN 9780802127051. $27. LITERARY
Brooks, who affectingly portrayed the 1950s American West in the best-selling debut Painted Horses, tracks back to 1937 (the year of Amelia Earhart's fated flight) with 14-year-old Houston "Huck" Finn secretly building his own plane and conferring with the black-sheep cousin whose family has sent her to live with his—but she's had flying lessons! Meanwhile, a dead body in the creek bearing a Lindbergh watch presents complications.
Coster, Naima. What's Mine and Yours. Grand Central. Mar. 2021. 352p. ISBN 9781538702345. $28. CD. FAMILY LIFE
In this latest from Coster, author of the beloved Halsey Street, the integration of a North Carolina community brings together a gentle young Black boy named Gee, whose mother is wholly determined to see him move forward, and sparkly Noelle, compelled by her mother to deny that she is half-Latina. The uneasy waltz of these two families captures larger tensions within the community. With a 25,000-copy first printing.
Fernández, Nona. The Twilight Zone. Graywolf. Mar. 2021. 192p. tr. from Spanish by Natasha Wimmer. ISBN 9781644450475. pap. $16. LITERARY
Chilean author Fernández follows up Space Invaders, a National Book Awards long-listee and LJ Best Book, with another unsettling study of the Pinochet dictatorship. In 1984, a member of the secret police spills his story to a dissident magazine, which publishes it under the headline "I Tortured People." A child at the time, the narrator is irrevocably shaped by this confession, with the story raising questions about truth, resistance, and the easy coexistence of the mundane and sheer brutality. Winner of the Sor Juana Inés de la Cruz Prize.
Graff, Andrew J. Raft of Stars. Ecco. Mar. 2021. 304p. ISBN 9780063031906. $26.99. lrg. prnt. LITERARY
In 1990s woodsy northern Wisconsin, ten-year-old Fischer "Fish" Branson and Dale "Bread" Breadwin flee on a raft after believing that they have killed Bread's abusive father. They're followed by four frantic adults: Fish's mother and his grandfather, who knows the wilderness better than anyone; purple-haired gas station attendant Tiffany, looking for connection; and Sheriff Cal, who's starting to doubt his career choice. The publisher's lead read for the season and a debut with a 125,000-copy first printing.
Greenidge, Kaitlyn. Libertie. Algonquin. Mar. 2021. 336p. ISBN 9781616207014. $26.95. LITERARY
Greenidge, who struck gold with her debut novel, We Love You, Charlie Freeman, returns with a novel reimagining the life of Dr. Susan Smith McKinney Steward, the first Black female doctor in New York State, and her daughter, Libertie. As she grows up, Libertie, who narrates, recognizes constraints on her freedom yet discovers new possibilities in Reconstruction-era United States and Haiti.
Whitaker, Chris. We Begin at the End. Holt. Mar. 2021. 384p. ISBN 9781250759665. $27.99. CD. LITERARY
A 13-year-old toughie living the outsider's life in a coastal California town, Duchess Day Radley watches out for her little brother and dysfunctional single mother, Star, while chief of police Walk watches over Duchess. But he's got other troubles: decades ago, his testimony sent best friend Vincent to jail, and now Vincent has finally been released. In the past, British author Whitaker's books have been billed as thrillers, but the publisher is stressing how his writing has broadened here to be literary in scope. Great expectations; a 500,000-copy first printing.