In several of the works below, the main characters are thrown together by circumstance, and while they may—or may not—have a choice to stay together, outside influences almost always make that necessary or desirable, conveniently creating an environment for love to bloom.
CLOSE QUARTERS As anyone who has had roommates knows, there's nothing like living with someone to get to know them. Of course, in real life, as adults, we usually get to choose our roommates. In fiction, of course, that's not always the case, and romance titles, in particular, make good use of this trope. In several of the works below, the main characters are thrown together by circumstance, and while they may—or may not—have a choice to stay together, outside influences almost always make that necessary or desirable, conveniently creating an environment for love to bloom.
UNDER THE SAME ROOF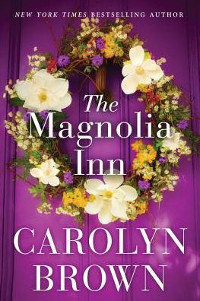 Brown, Carolyn. The Magnolia Inn. Montlake Romance. Jan. 2019. 285p. ISBN 9781503904392. pap. $12.95; ebk. ISBN 9781503959408. CONTEMPORARY ROMANCE
When Jolene Broussard's aunt gives her half ownership in her beloved Magnolia Inn, Jolene is ecstatic, but she's reserving judgment on her new partner Tucker Malone, the widowed cop–turned–­carpenter who bought the other half from her money-hungry cousin. It's not that Tucker isn't a hard worker or is difficult to get along with—their renovation of the inn is going wonderfully—but he's still mourning his late wife, and he drinks a little too much on the weekends, something that makes Jolene, who dealt with an alcoholic mother, a little bit wary, yet it tugs at her heart. A trio of meddling but adorable septuagenarians keep the laughter flowing in a story that skillfully walks the line between women's fiction and romance and will attract fans of both.
VERDICT Two resilient protagonists with ghosts to lay to rest find healing in a touching story brimming with down-home East Texas charm. Author of more than 90 books, Brown (Cowboy Honor) lives in Davis, OK.

Feather, Jane. Tempt Me with Diamonds. Zebra: Kensington. (London Jewels Trilogy, Bk. 1). Feb. 2019. 304p. ISBN 9781420143607. pap. $7.99; ebk. ISBN 9781420143614. HISTORICAL ROMANCE
Diana Somerville has just returned from Africa and is appalled to learn that her brother Jem, killed in the Boer War, left his half of their inheritance (including the houses) to his best friend—and her ex-fiancé—Col. Rupert Lacey. Of course, living in the same house with Rupert will not be easy—or proper—for either of them, so they agree to let everyone think the engagement was never broken and they married abroad. The only problem is the annoying attraction that still sizzles between them. Well-matched protagonists spar their way to love and trust in a romance awash in deception and unanswered questions.
VERDICT An ingenious plot, well-developed characters, an unfortunate misunderstanding, a dash of mystery, and a delightful final twist result in a sensual Edwardian romance sure to please Feather's many fans. Feather ( Trapped by Scandal) lives in Washington, DC. [Previewed in Kathryn Howe's "Love Changes Everything," LJ 10/15/18.]
Quinn, Julia. The Other Miss Bridgerton. Avon. (Rokesbys, Bk. 3). Dec. 2018. 391p. ISBN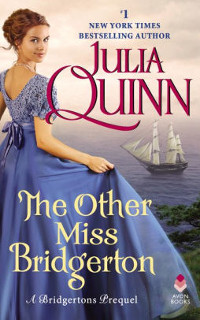 . pap. $7.99; ebk. ISBN 9780062388216. HISTORICAL ROMANCE
Thrilled to discover what can only be a pirate's treasure cave during a seaside walk, Poppy Bridgerton is far less elated when she's captured by said pirates, carried off to their ship, and summarily dumped on the captain's bed. Stunned by his most inconvenient passenger, privateer Capt. Andrew James Rokesby, with secret documents to get to Portugal without delay, has little choice but to sail immediately—and take Poppy with him. Furious words fly and passions flare as Poppy and Andrew clash all the way to Lisbon, trying in vain to ignore the chemistry that bubbles in their wake. As Poppy doesn't know Andrew's true identity, things are even more dangerous. Moments of peril, an adorable cabin boy, and sweet sensuality are bonuses to a well-crafted romp.
VERDICT A risk-taking pair thrown together by chance find love on the high seas in this fast-paced, passionate adventure graced with quick-witted dialog and a marvelous sense of fun. Another worthy addition to the ever-increasing Bridgerton saga. Quinn (The Girl with the Make-Believe Husband) lives in the ­Pacific Northwest. [Previewed in Kathryn Howe's "Love Changes Everything,"
LJ 10/15/18.]
SEPARATE HOUSING
Carr, Robyn. The Best of Us. Mira: Harlequin. (Sullivan's Crossing, Bk. 4). Jan. 2019. 288p. ISBN 9780778351306. $26.99; ebk. ISBN 9781488088681. CONTEMPORARY ROMANCE
After saying farewell to her high-­pressure life in Chicago and coming to ­Timberlake, CO, to run the local clinic, it doesn't take Dr. Leigh Culver long to know she's made the right decision. She loves the town, the people, the slower pace, and, surprisingly, she might even come to care for Rob Shandon, widowed pub owner and single father of two teenage sons. The only thing she misses is the aunt who raised her, so how wonderful that Aunt Helen, a globe-­trotting mystery writer, has come to visit. Now Helen can discover, as well, that there is more to Colorado to love than one would imagine.
VERDICT Realistic, down-to-earth folks you'll want to call friends, a Rocky Mountain setting as picturesque and appealing as they come, and two poignant love stories add another superb chapter to a series that will please both romance and women's fiction fans. Carr ( The Family Gathering) lives in Las Vegas, NV.

Jarecki, Amy. The Highland Renegade. Forever: Grand Central. (Lords of the Highlands, Bk. 5). Jan. 2019. 368p. ISBN 9781538729618. pap. $7.99; ebk. ISBN 9781538729625. HISTORICAL ROMANCE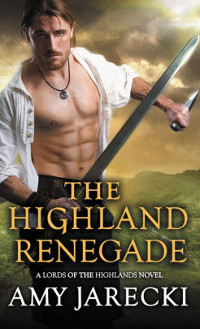 The Grants and the Camerons had feuded for centuries, but when lovely, blue-eyed Janet Cameron is taken by the English Redcoats, Laird Robert Grant doesn't think twice as he rides to her rescue and carries her into the snow-covered Highlands to eventual safety. With their families at odds, Janet is the last woman ­Robert should be rescuing. But as the danger mounts, the lure between the pair slowly grows, though they know their relationship can never be.
VERDICT With passion, precision, and consummate skill, Jarecki has penned an adventurous romance that is greatly enhanced by an exquisite depiction of life in the early 18th-century Scottish Highlands. Beautifully done. Jarecki (The Duke's Fallen Angel) lives in southwest Utah.
Krahn, Betina. The Girl with the Sweetest Secret. Zebra: Kensington. (Sin & Sensibility, Bk. 2). Dec. 2018. 320p. ISBN 9781420143492. pap. $7.99; ebk. ISBN 9781420143508. HISTORICAL ROMANCE
American silver heiress Frances "Frankie" Bumgarten is disheartened to find that the man she bashed with a wooden bread paddle when she found him in her kitchen in the middle of the night is none other than Reynard Boulton, aka "The Fox." One of the ton's foremost information brokers and collector of secrets—and as handsome and arrogant as they come—Reynard was simply bringing Frankie's drunk uncle home, but she wants nothing to do with the notorious gossip hawk. Yet fate has other plans, and as events continue to throw them together, they can't deny the unwanted sparks that ignite between them. A colorful cast of characters, including an overbearing mother; a lovable but dangerously irresponsible uncle; a love-blinded and musically gifted sister; and an imperious Prussian duke, add depth and intrigue to a romance that keeps the action lively and the pages turning.
VERDICT A fearless, irrepressible heroine and a hero who matches her every move meet in a complex, richly plotted story, adding another sparkler to Krahn's engaging series. Krahn (A Good Day To Marry a Duke) lives in Bradenton, FL. [Previewed in Kathryn Howe's "Love Changes Everything," LJ 10/15/18.]
Krentz, Jayne Ann. Untouchable. Berkley. Jan. 2019. 320p. ISBN 9780399585296. $27; ebk. ISBN 9780399585302. ROMANTIC SUSPENSE
Leaving the academic world to write books on the criminal mind and privately pursue cold cases (especially those dealing with fire), Jack Lancaster quietly excels at his job. Still, when his unusual talent for using lucid dreaming to resolve his investigations begins to threaten his grip on reality, he reluctantly seeks help—and finds it in tiny, out-of-the-way Eclipse Bay in the form of meditation instructor Winter Meadows, who has an unusual hypnotic talent of her own. As Winter helps Jack sort out the fiery mazes of his visions—and nightmares—their relationship turns romantic. Then things turn deadly as Winter is accosted by a client-turned-stalker who ends up dead, and Jack realizes this is connected to his decades-long search for the madman responsible for his mother's death.
VERDICT Incorporating emotional electricity, smart dialog, and her trademark soupçon of paranormal glamour, Krentz pens a twisted tale of insane greed and obsession that brings an uncommonly wicked villain to justice and deftly concludes the story begun in When All the Girls Have Gone ( LJ 12/16) and Promise Not To Tell (LJ 12/17). Krentz also writes historical romantic suspense as Amanda Quick and futuristic/­paranormal romantic suspense as Jayne Castle; she lives in Seattle. [See Prepub Alert, 7/9/18; previewed in Kathryn Howe's "Love Changes Everything," ­LJ 10/15/18.]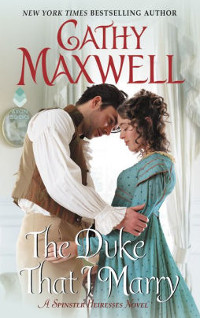 Maxwell, Cathy. The Duke That I Marry. Avon. (Spinster Heiresses, Bk. 3). Dec. 2018. 352p. ISBN 9780062655783. pap. $7.99; ebk. ISBN 9780062655790. HISTORICAL ROMANCE
Wealthy Willa Reverly had hoped to marry for love, but when Matthew Addison, the newly minted but woefully impoverished Duke of Camberly, offers for her, her father gives her no choice but to accept. Despite her unsuccessful attempt to jilt Matt, Willa marries him and hopes for the best, never thinking she'll be drawn into the web of a vicious blackmailer who bankrupted Matt's family and whom Matt is now determined to unmask.
VERDICT With quick-witted plotting, delicious chemistry, sparkling wit, and a serious dollop of danger, Maxwell delivers another Regency gem and gives the third of her spinster heiress heroines a husband who is definitely worth loving. Maxwell (If Ever I Should Love You; A Match Made in Bed) lives in
Buda, TX.
More Seasonal Gifts
Balogh, Mary. Someone To Trust. Berkley Jove. (Westcott, Bk. 5). Dec. 2018. 384p. ISBN 9780399586101. pap. $7.99; ebk. ISBN 9780399586118. HISTORICAL ROMANCE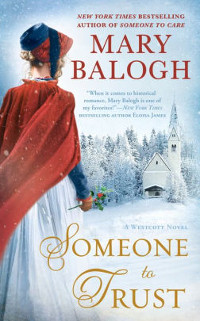 From the first time they meet, Elizabeth Overfield and Colin Handrich, Lord Hodges, have enjoyed a special connection. Nothing romantic, of course—after all, she is a 35-year-old widow and he is a dashing young buck of 26. They simply like being together as friends—or so they tell themselves until they land in a snowbank on Christmas Day and an impulsive kiss surprises them both. Naturally, they agree it was nothing, but when they return to London for the Season to begin their separate matrimonial quests, it soon becomes clear that what each looks forward to most is the first waltz of the evening, which they have promised to share at every ball they both attend. Beautifully rendered characters; a solid blend of spirited banter and serious conversation; and the expert handling of emotionally draining issues (abuse, social obligations, cruelty, family dysfunction, personality disorders, and gossip, among others), tempered by love and support, fill in a few blanks and make this another wonderful addition to Balogh's compelling series.
VERDICT With tenderness, humor, and infinite finesse, Balogh turns the classic younger woman/older man pairing on its well-worn ear in another sigh-worthy that readers are sure to savor. Balogh (Someone To Care) lives in Canada.
Maynard, Janice. Blame It on Christmas. Harlequin Desire. (Southern Secrets, Bk. 1). Dec. 2018. 224p. bibliog. ISBN 9781335971937. pap. $5.25; ebk. ISBN 9781488092435. CONTEMPORARY ROMANCE
When Mazie Tarleton was a starry-eyed 16-year-old, J.B. (Jackson Beauregard) Vaughan crushed her heart and stomped on her fragile ego—and she's hated him ever since. Now a wealthy businessman, J.B. wants to buy Mazie's elegant, high-end jewelry store in the historic district of Charleston, SC, as part of his redevelopment plan, and she's intent to make him work for it. Then they accidentally get trapped in an old bank vault while J.B. is showing her an alternate site for her store. Mazie tries to distract J.B. with a kiss from having a claustrophobic meltdown, and the atmosphere shifts to steamy. Neither Mazie nor J.B. can deny the pull, but they know it would never work—until a family crisis and an impulsive decision take things in a different direction.
­VERDICT Two stubborn people finally come to terms with their pasts and learn to trust each other in a heart-tugging romance that sparkles with holiday spirit. Maynard (Million Dollar Baby) lives in eastern Tennessee.

Oliveras, Priscilla. Their Perfect Melody. Zebra Shout: Kensington. (Matched to Perfection, Bk. 3). Dec. 2018. 352p. ISBN 9781420144307. pap. $4.99; ebk. ISBN 9781420144338. CONTEMPORARY ROMANCE
The last thing victim's advocate Lilí ­Fernandez needs when she answers a terrified call from one of her clients being attacked by a violent spouse is a hotshot, macho cop barring her way. But Chicago PD officer Diego Reyes is not happy about letting the little spitfire he pegs as a society miss into an active crime scene, no matter who she is. The fireworks ignite between them from the start, and the sexual magnetism heats up, but with initial misunderstandings and similar social goals but conflicting ideas of how to get there, anything more than friendship seems out of the question. Serious abuse and drug issues, gritty urban neighborhood ambience, and genuine Cubs enthusiasm add a realistic touch.
VERDICT Sexy, sassy, and overflowing with music, complex emotions, and family-loving Latinx American and Puerto Rican characters, this romance is a compelling, often joyful read and perfectly wraps up the "Perfection" trilogy. ­Oliveras (Her Perfect Affair) lives in Gainesville, FL.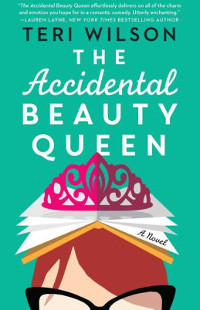 Wilson, Teri. The Accidental Beauty Queen. Gallery: S. & S. Dec. 2018. 291p. ISBN 9781501197604. pap. $16; ebk. ISBN 9781501197611. CONTEMPORARY ROMANCE
Low-key elementary school librarian Charlotte Gorman is more than happy to cheer her identical twin sister Ginny on as she pursues her lifelong beauty pageant goal of becoming Miss American Treasure. Then Ginny has a dis­figuring allergic reaction that temporarily nixes her chances the night before the competition. She convinces a reluctant Charlotte to take her place until she recovers, something that has completely unintended results. An intelligent rescue dog, a bevy of likable beauty contestants, a bit of family tension, and a remarkable amount of insider beauty pageant info—not to mention a gorgeous contest judge hero—add spice to the mix and keep the plot on track.
VERDICT Upbeat, lighthearted, and flush with Harry Potter and Jane Austen references, this enjoyable romance draws readers in and leaves them smiling; just plain fun! Wilson (A Daddy by Christmas) lives in San Antonio. [Previewed in Kathryn Howe's "Love Changes ­Everything," LJ 10/15/18.]
A VALENTINE PREVIEW
Miller, Emma & others. The Amish Sweet Shop. Kensington. Jan. 2019. 304p. ISBN 9781496718600. pap. $15.95 ; ebk. ISBN 9781496718624. CONTEMPORARY ROMANCE
Famous for producing the best fudge in Lancaster County, Beechy's Sweets in tiny Bluebird is at the center of this heartwarming, mouthwatering anthology that will have readers heading for Pennsylvania—or wishing that the fudge recipe had been included. A mother's plan to find her bachelor, candy-maker son a bride by hiring a young widow to work in their shop almost backfires in Miller's "The Sweetest Courtship"; a young woman facially scarred by a fire is skeptical of the "secret admirer" gifts that keep appearing in Laura Bradford's "The Sweetest Truth"; and a young pregnant widow follows her instincts to right an old wrong and gains a business partner—and possibly a husband—in "Nothing Tastes So Sweet" by Mary Ellis.
VERDICT This exquisitely written trio of delectable Amish confections from some of the genre's favorite authors are the perfect Valentine's Day treat. Miller, Bradford, and Ellis live in Dover, DE; Mohegan Lake, NY; and Hinckley, OH, respectively.
Notables
A film adaptation of Beverly Jenkins's popular Deadly Sexy (Avon, 2007) premiered at the Black History Museum and Cultural Center of Virginia, Richmond, on November 17. The screenplay was written by romantic suspense author Iris Bolling; the film was produced by Siri Austin Entertainment.
RWA Conference Speakers
The featured speakers for the Romance Writers of America's (RWA) 2019 annual conference, which will be held in New York, July 24–27, are Jennifer L. Armentrout, keynote; Darynda Jones, Golden Heart Awards emcee; Sarah MacLean, emcee for the RITA Awards; and Alyssa Cole, Librarians Day luncheon. The annual Librarians Day event is currently slated for Saturday, July 27. Stay tuned for more information.
---
Kristin Ramsdell is Librarian Emerita, California State University, East Bay. She is the author of the romance section of What Do I Read Next? A Reader's Guide to Current Genre Fiction (Gale, annual) and Romance Fiction: A Guide to the Genre. 2d ed. (Libraries Unlimited, 2012) and editor of The Encyclopedia of Romance Fiction (Greenwood, Aug. 2018)