Dolnick, Edward. The Writing of the Gods: The Race to Decode the Rosetta Stone. Scribner. Oct. 2021. 336p. ISBN 9781501198939. $28. CD. HISTORY
Discovered in 1799, the Rosetta Stone bears an inscription in three languages—Egyptian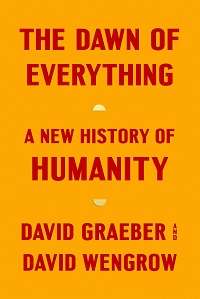 hieroglyphics, Egyptian Demotic, and ancient Greek—that in 196 BCE disseminated a decree on behalf of Ptolemy V. With all three texts the same, it thus allowed hieroglyphics finally to be deciphered. A former chief science writer at the Boston Globe and Edgar Award winner for The Rescue Artist: A True Story of Art, Thieves, and the Hunt for a Missing Masterpiece, Dolnick tells the story. With a 75,000-copy first printing.
French, Howard W. Born in Blackness: Africa, Africans, and the Making of the Modern World, 1471 to the Second World War. Liveright: Norton. Oct. 2021. 464p. ISBN 9781631495823. $35. HISTORY
Enlightenment ideals, European economic firepower, American democracy: all were achieved by the exploitation of Black Africans and the African diaspora, whose history and accomplishments were consciously blotted out. Pulitzer Prize finalist French here forefronts 600 years of African history and historical figures, first introducing medieval African emperors who traded with Asia, then moving through Kongo sovereignty's challenge to European colonizers and the liberation of Haiti to more recent events during World War II. Woven throughout is the story of international trade in gold, tobacco, sugar, cotton, and, horrifically, human beings.
Graeber, David & David Wengrow. The Dawn of Everything: A New History of Humanity. Farrar. Oct. 2021. 608p. ISBN 9780374157357. $35. HISTORY
For centuries, history—at least as told by the West—has portrayed humanity's early ancestors as either wide-eyed innocents or nasty brutes, with both needing correction if society were to flourish. But with current challenges to Eurocentrism, that view is getting a makeover. Here, the recently deceased Graeber (anthropology, London School of Economics) and Wengrow (comparative archaeology, University College London) argue that in the 18th century, Europeans took exception to criticism directed at them by non-Europeans and concocted a self-serving story. So what really happened? The authors have some ideas. With a 75,000-copy first printing; note that Graeber, who was a caustic critic of economic and social inequality, is credited with coining the slogan "We are the 99 Percent."
Holton, Woody. Liberty Is Sweet: The Hidden History of the American Revolution. S. & S. Oct. 2021. 800p. ISBN 9781476750378. $37.50. HISTORY
Bancroft Award winner Holton draws on over 1,000 eyewitness accounts to offer a revisionist history of the American Revolution. In particular, he shows how women, Indigenous peoples, Black Americans, and religious dissenters shaped the American Revolution, even as they clashed with the Founding Fathers, and how these stories have been suppressed. He also addresses how overlooked factors like weather, geography, propaganda, and especially disease played key roles. With a 40,000-copy first printing.
Indyk, Martin. Master of the Game: Henry Kissinger and the Art of Middle East Diplomacy. Knopf. Oct. 2021. 672p. ISBN 9781101947548. $30. HISTORY
A former U.S. ambassador to Israel and special envoy to the 2013 Israeli-Palestinian negotiations, Indyk considers America's ongoing and ever challenging participation in Middle East diplomacy by returning to the politician who launched the process: Henry Kissinger. Indyk draws on interviews with Kissinger, newly available documents from American and Israeli archives, and his own experiences with key players to help us understand what happened and how—and how not—to make peace.
Jones, Dan. Powers and Thrones: A New History of the Middle Ages. Viking. Oct. 2021. 656p. ISBN 9781984880871. $35. HISTORY
Author of the New York Times best-selling The Plantagenets and The Wars of the Roses, plus the popular presenter of television's four-part Britain's Bloodiest Dynasty (those Plantagenets again), Jones offers a thoroughgoing reappraisal of the 1,000-plus years that unfolded from the 410 sack of Rome to the early 1500s to offer a new history of the European Middle Ages. Along the way, readers meet everyone from Attila the Hun to Eleanor of Aquitaine while visiting the great cities of antiquity and the Islamic West. Climate change, pandemic, mass migration, and technological revolutions: all shaped this time and place as they shape the world today.
Loyn, David. The Long War: The Inside Story of America and Afghanistan Since 9/11. St. Martin's. Oct. 2021. 320p. ISBN 9781250128423. $29.99. HISTORY
An Orwell Prize short-listed foreign correspondent for the BBC with 30 years' experience, Loyn has visited Afghanistan every year since 1994. As such, he is well situated to write about America's longest war. His account unfolds from the perspective of eight generals (seven American, one British) with the aim of showing why the seemingly endless fighting turned out to be inevitable.
McCalman, George. Illustrated Black History: Honoring the Iconic and the Unseen. Amistad: HarperCollins. Oct. 2021. 432p. ISBN 9780062913234. $35. HISTORY
Crafted by award-winning designer McCalman, this celebration of Black Americans ranges from Frederick Douglass, Nina Simone, and Audre Lorde to Dr. Eliza Ann Grier, born into slavery and the first Black woman to practice medicine in America, and Guion S. Bluford, the first Black person to travel into space. With a 75,000-copy first printing.
O'Meara, Mallory. Girly Drinks: A World History of Women and Alcohol. Hanover Square: Harlequin. Oct. 2021. 352p. ISBN 9781335282408. $27.99. HISTORY
Never mind those men-only bars and gender-specific "girly drinks." As this feminist take on women and drinking attests, from the ancient Sumerian beer goddess Ninkasi to iconic 1920s bartender Ada Coleman and countless female distillers and brewers in between, women have played a key role in the consumption of alcohol throughout history. From the cohost of the literary podcast Reading Glasses; with a 50,000-copy first printing.
Pearl, Matthew. The Taking of Jemima Boone: The True Story of the Kidnap and Rescue That Shaped America. Harper. Oct. 2021. 240p. ISBN 9780062937780. $27.99. lrg. prnt. HISTORY
Shortly after the signing of the Declaration of Independence, Daniel Boone's daughter, 13-year-old Jemima, and friends Betsy and Fanny were kidnapped from their Kentucky outpost by a Cherokee-Shawnee raiding party challenging the settlers' theft and decimation of their land. Hanging Maw, the raiders' leader, soon recognized Jemima's value as a bargaining chip, and she planned to use Jemima to secure a peaceful resolution of tensions. As New York Times best-selling novelist Pearl argues in his nonfiction debut, Jemima's rescue in an ambush led by her father upended Hanging Maw's plans—and possibly changed how America's colonists and its original peoples would interact in the future. With a 150,000-copy first printing.
Picardie, Justine. Miss Dior: A Story of Courage and Couture. Farrar. Oct. 2021. 400p. ISBN 9780374210359. $35. BIOGRAPHY
Former editor in chief of the British edition of Harper's Bazaar and author of the Sunday Times best-selling Coco Chanel, Picardie here tells the story of French designer Christian Dior's sister, Catherine, whose rose gardens inspired the popular perfume Miss Dior. As Picardie reveals, Catherine's story goes way beyond fashion. A Resistance fighter during World War II, Catherine was captured by the Gestapo and sent to the Ravensbrück concentration camp. She survived to influence the work of her famous brother, who eventually bequeathed her his chateau, La Colle Noire. With a 25,000-copy first printing.
Pomfret, John. From Warsaw with Love: Polish Spies, the CIA, and the Forging of an Unlikely Alliance. Holt. Oct. 2021. 368p. ISBN 9781250296054. $29.99. HISTORY
In 1990, the newly elected democratic government of Poland sent a veteran spy to rescue six American officers trapped in Baghdad, which launched an era of significant intelligence cooperation between Poland and America. Agents who once spied on the West now spied for the West in locales from Havana to Tehran, and the CIA even based a "black site" program for suspected terrorists in Poland after 9/11. A Pulitzer Prize finalist for his reporting at the Washington Post and author of the award-winning The Beautiful Country and the Middle Kingdom, Pomfret highlights changing alliances in an ever-changing world. With a 40,000-copy first printing.
Veidlinger, Jeffrey. In the Midst of Civilized Europe: The Pogroms of 1918–1921 and the Onset of the Holocaust. Metropolitan: Holt. Oct. 2021. 480p. ISBN 9781250116253. $35. HISTORY
Between 1918 and 1921, over 100,000 Jews were killed by both civilians and soldiers in the Ukraine and Poland, with houses burned to the ground and Torah Scrolls shredded in violence that made world headlines. This study draws on newly unearthed trial records, official orders, and eyewitness testimonies to show how these pogroms set the stage for the Holocaust. From the award-winning Veidlinger (In the Shadow of the Shtetl); with a 75,000-copy first printing.
von Tunzelmann, Alex. Fallen Idols. Harper. Oct. 2021. 272p. ISBN 9780063081673. $26.99. HISTORY
From America to New Zealand to Bangladesh, from Gen. Robert E. Lee to Belgian king Leopold II, monuments worldwide have been defaced or toppled in recent years by protestors objecting to the oppressive histories they represent. Busy essayist/author/tweeter von Tunzelmann, based in London, offers context by examining 12 statues famously shoved down in the more distant past. Pointing out that these statues typically represented so-called great men whose actions are now deemed unacceptable, she also asks whether such public statuary has had its day. With a 30,000-copy first printing.